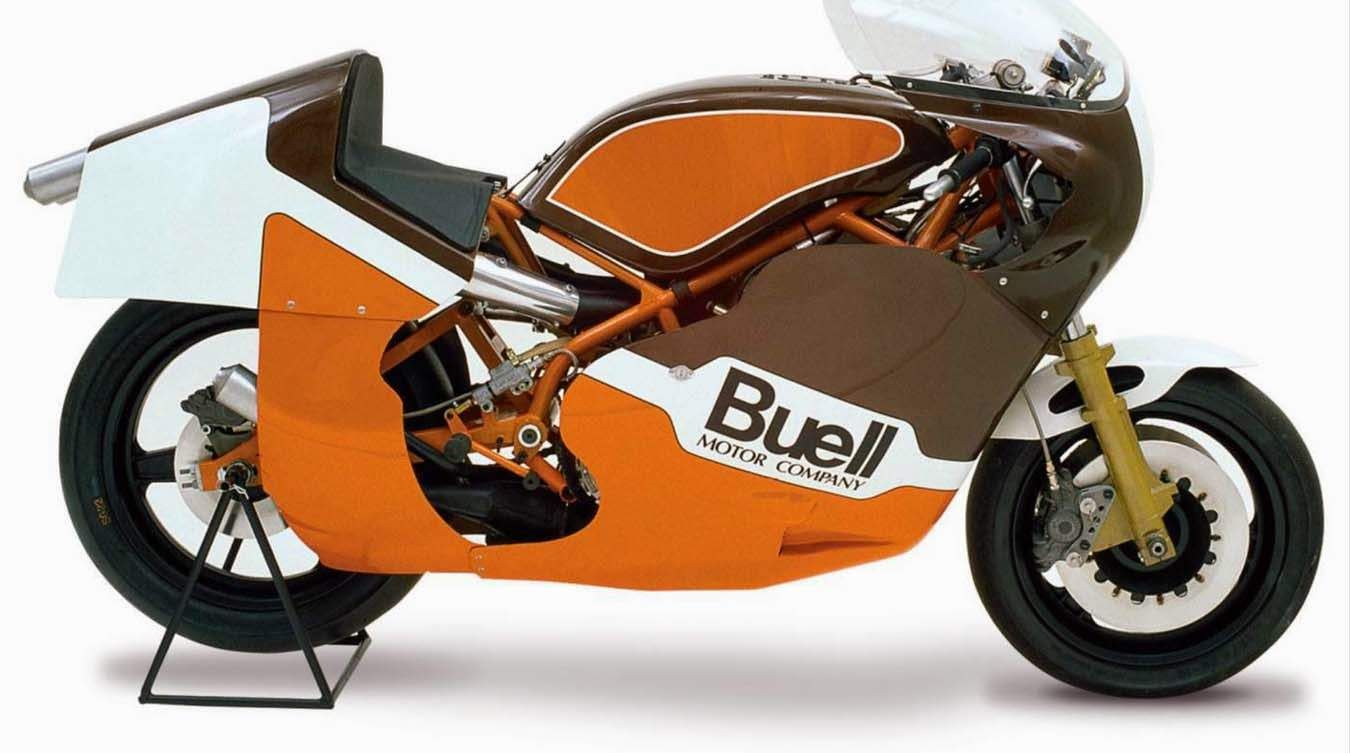 10 Best Buell Motorcycles Ever Made
Over the past forty years, Erik Buell, and his namesake motorcycle company, have become the stuff of legends. If you haven't heard of him, his biggest claim to fame was getting Harley-Davidson to produce sport bikes.
That's the short story. The slightly longer story is that he was a former racer and Harley engineer that created his own motorcycle company. A true pioneer of race technology, he eventually formed a partnership with his former employer, the bar and shield company, which ultimately proved to be his undoing. Harley-Davidson had invested a 51% interest in the Buell Motorcycle Company by the mid 90s, eventually folding it completely under its umbrella. In 2009, claiming the economic down turn of the time, Harley closed the doors to Buell for good, electing to shutter rather than sell it.
But that wasn't the end of Erik Buell and his motorcycles, as he continued to manufacture bikes with Erik Buell Racing, and eventually, FUELL, his e-vehicle partnership. Before HD pulled the plug on the whole operation, Buell managed to produce over thirty different models and model variations. And they weren't all just one-off, racing machines. His operation ran the gamut of motorcycle styles and trends. And some of the models produced remain beloved to this day, with a loyal and dedicated fan base.
RELATED: Buell Motorcycles… Then, Now, Forever!
10
Buell RW750 Production Racing Motorcycle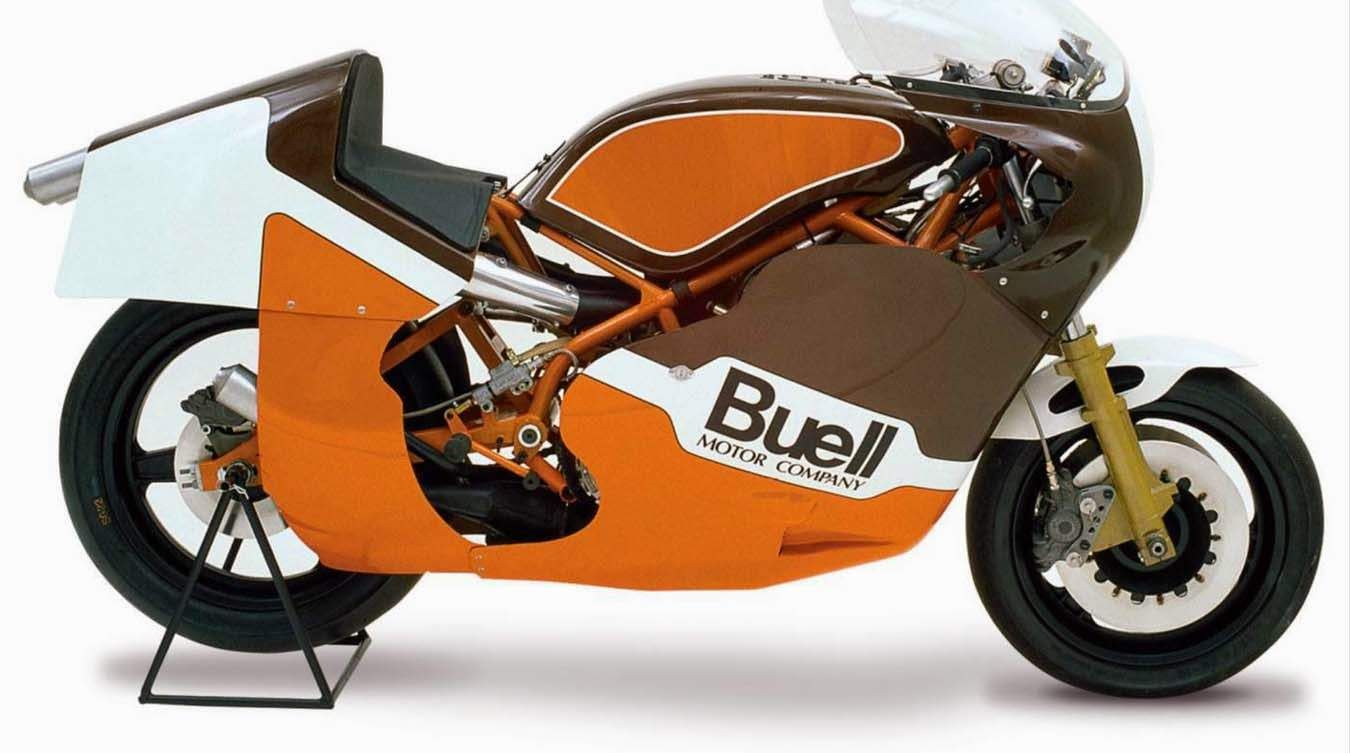 Motorcycle In White Room On Center Stand
The O.G. The one that started it all. The Road Warrior. Buell built this motorcycle from a box of scraps, in a cave. No wait, that may have been someone else. But he may as well have been Tony Stark. The RW750 had started as an unreliable Barton Formula One racing bike. In the early 80s, Buell had purchased the poorly made parts from the failing company and the rest was history.
He took the original 2-stroke square-four engine, and along with the chassis, revamped it to be more reliable and performance oriented. He'd rebuilt the bike to race himself, and to sell to privateer riders. Buell eventually quit Harley-Davidson, started his own company and began offering the RW750 for sale. However, he wasn't able to do much with it, as the AMA canceled the Formula One class soon after.
9
Buell S2 Thunderbolt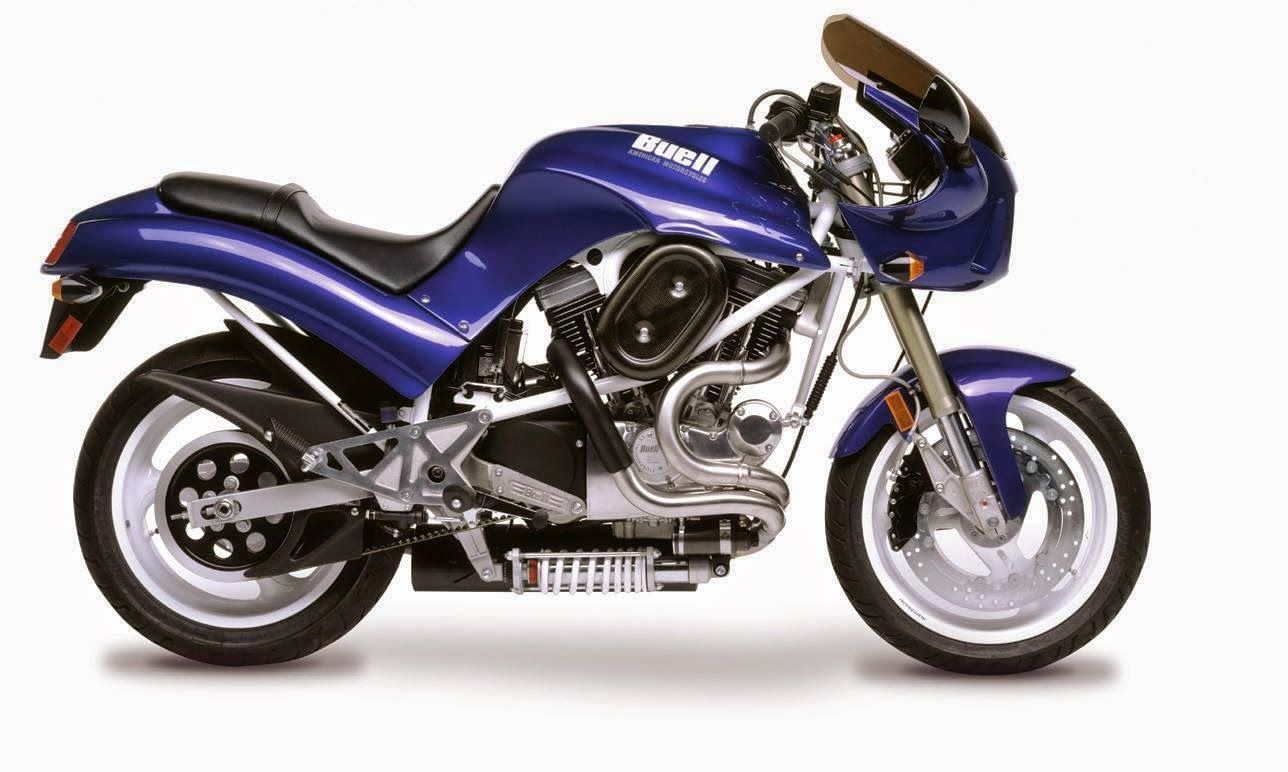 Buell Motorcycle Standing Facing Right
The S2 Thunderbolt wasn't the first Buell motorcycle to use a Harley-Davidson engine. That honor goes to the various Battletwins that began production in 1987. It is, however, the first Buell to use a Sportster engine, and have the full support of the bar and shield company. Envisioned as a sport touring cruiser hybrid, the Thunderbird came in around 480 lbs, and had a relaxed sport bike riding position.
Buell squeezed out 76 hp out of the twin, which was used as stressed member of the chassis. The bike also featured an inverted fork, subverted shock, carbon-fiber air cleaner cover and a 6-pison caliper. Later models came with saddlebags, fairings, touring handlebars and footpegs. And though the bike was rumored to be very expensive to develop, it handily outpaced Buell's sales projections of just 300 units.
8
Buell Blast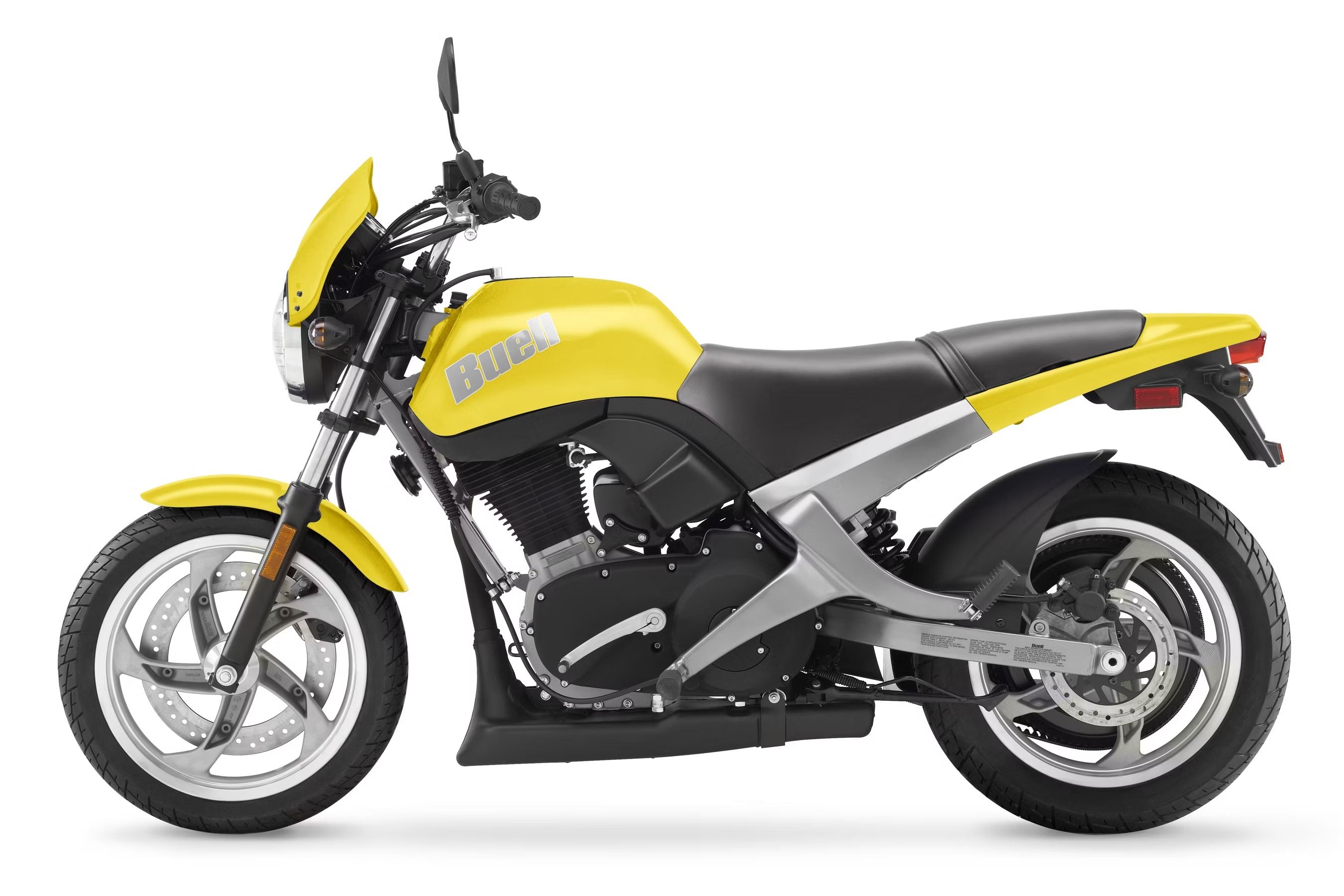 Sunfire Yellow 2009 Buell Blast left profile
Harley-Davidson had long hoped to develop their own bike to utilize in their motorcycle training classes. And the Buell Blast filled that need perfectly. A single cylinder thumper, Buell originally chopped the Sportster 883 V-twin in half for this. It was always designed with beginner riders in mind. The 492cc air-cooled engine put out a gentle 34 hp and the bike itself only weighed 360 lbs (dry).
The standard seat height was 27.5 inches, with a lower 25.5 seat available as an option. It had a Showa rear shock and front fork, a Kevlar final-drive belt and a claimed fuel economy of 68 miles per gallon. No one will ever mistake the Blast for a peak performance machine that Buell was typically known for. What it turned out to be instead, was an unintimidating beginner motorcycle that managed to bring new riders into Harley dealerships for many years to come.
RELATED: 2009 Buell Blast: Performance, Price, and Photos
7
Buell XR9R Firebolt
This bike looked mean. Angry, even. It projected an attitude that belied its light weight (386 lbs, dry). The engine was still a Harley V-twin, but the chassis was a whole new beast. It was made out of lightweight aluminum, but that wasn't the wackiest thing about it. To bring the weight down as much as possible, Buell had created a hollow frame that doubled as a gas tank.
He applied the same principle to the swing arm, which housed the oil tank for the dry-sump engine. It also had a rim mounted front brake, a first on a production bike, and a large airbox where the gas tank traditionally sits. But what people will remember most about this bike, are the angry demon headlights. Yamaha was clearly paying attention in 2009.
6
Buell Ulysses XB12XT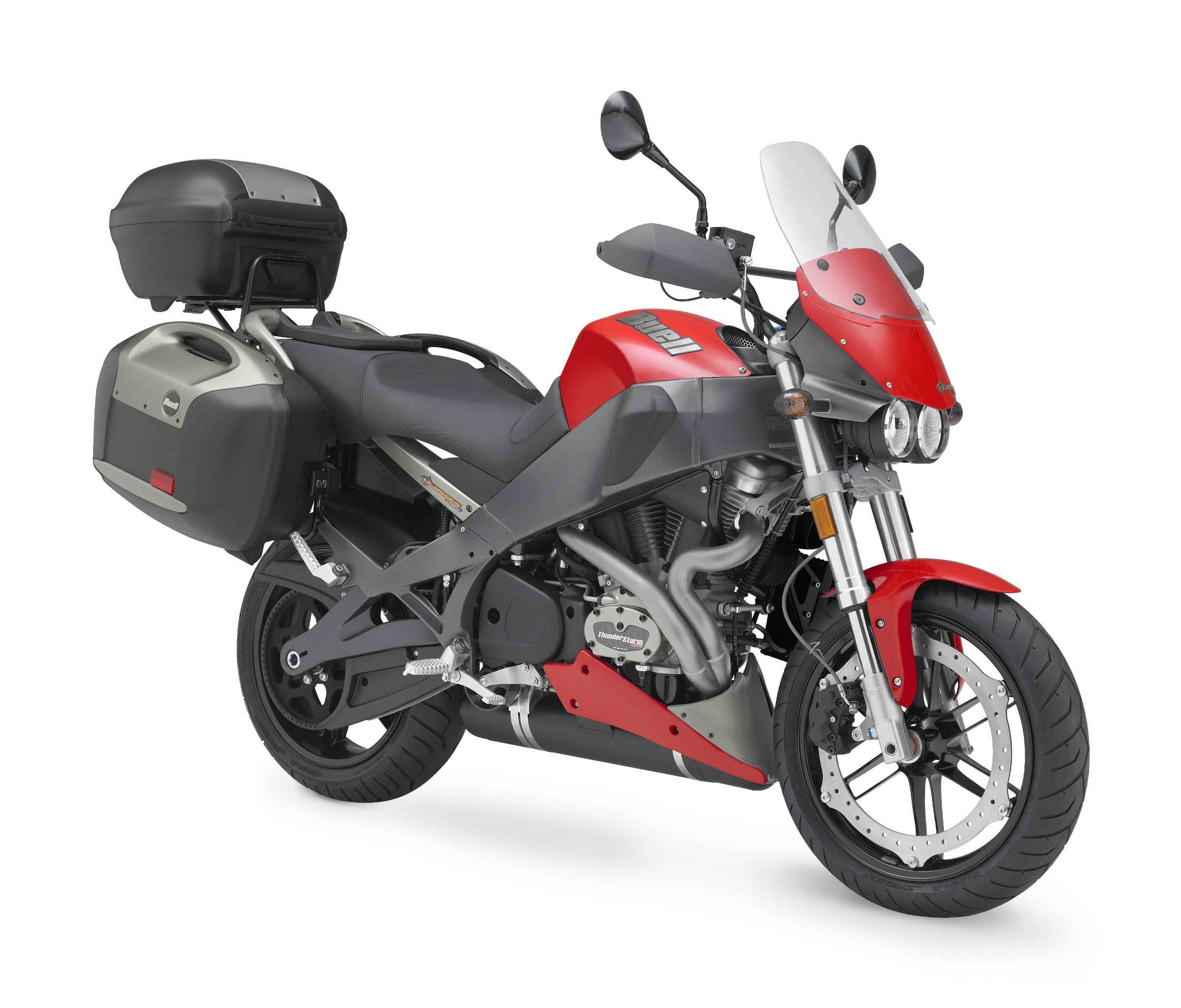 An expansion of the already introduced and fairly popular Ulysses XB12X, the XB12XT was tailor-made for pushing long distances. It had a comfortable, lower seat, an updated, stiffer suspension and came with travel ready hard cases. The bike continued Buell's long-standing tradition of polarizing design, by keeping the XB12X's Street Triple-like headlights, funky windshield and massively thick frame. And though this version of the XB12 didn't last long, it did introduce an American-made option to the ever expanding adventure and sport touring market.
5
EBR 1125R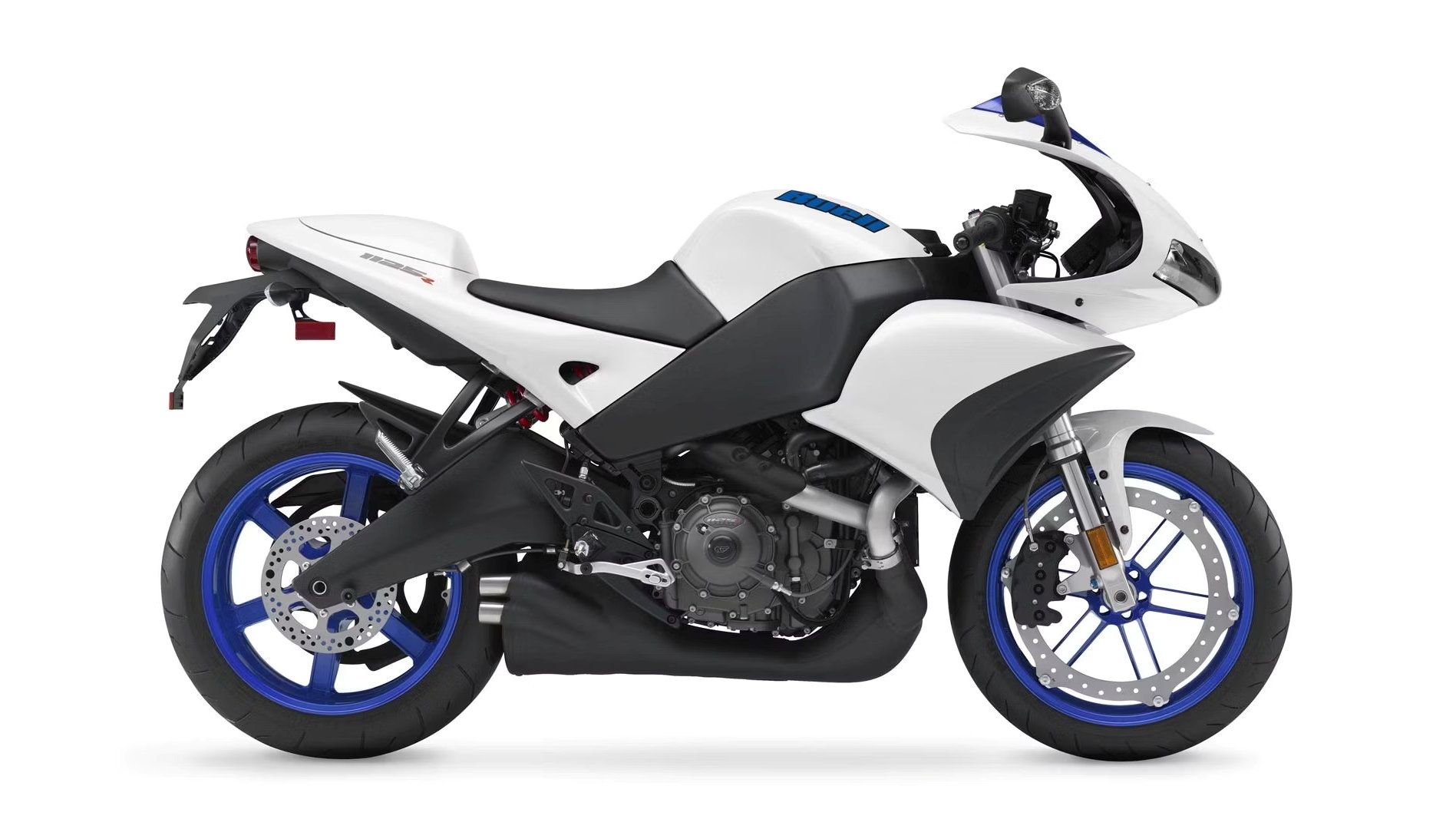 White 2009 Buell 1125R, static profile shot
Around the time the world entered into a recession, back in 2008, Harley-Davidson had finally had enough of Buell, and shuttered the company for good. Buell, in turn, felt that his feelings were mutual and ditched the air-cooled Harley motors, when it came time to build the 1125R. Armed with a new, liquid-cooled Rotax engine, Buell was finally able to make the sport bike he'd always dreamed of making, for the past 20 some years. It had a claimed 146 hp, familiar fuel in frame design and Showa suspension. Buell had also applied his 'Trilogy of Tech' methodology to the bike, in the form of mass centralization, low weight and chassis rigidity.
RELATED: 2009 Buell 1125 R: Performance, Price, And Photos
4
EBR 1190RS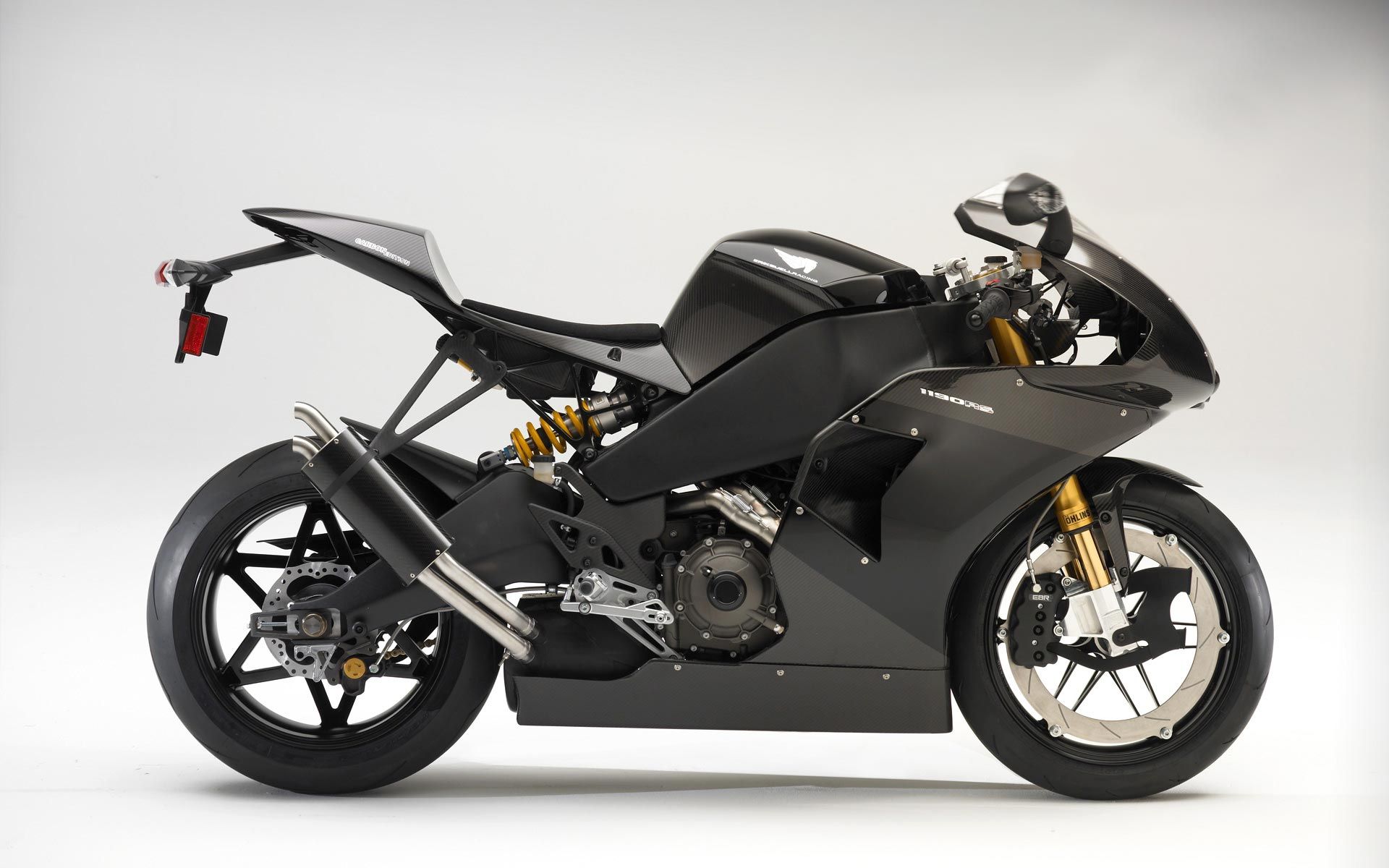 Motorcycle standing in room, facing right.
After Harley-Davidson pulled the plug on Buell, Erik hit the ground running and immediately formed Erik Buell Racing. Finally free of Harley's restrictions, and buoyed by the earlier success of the 1125R, Buell pulled the covers off the 1190RS in 2011 to great fanfare. Gone were the trademark polarizing looks in favor of a more tradition, albeit still modern, sport bike design. The 1190RS looked like it was lightning fast. It still had a V-twin as its heart, but it produced an astounding 175 hp and 97 lbs of torque.
For a motorcycle that weighed in at 389 lbs with everything in it but fuel, that amount of speed was face-melting. Buell had also moved on to using Öhlins suspension for front and rear. Add to all of that aluminum and carbon fiber, an approachable 30.5″ and you had yourself a real serious toy. Unfortunately, a toy is all that it was meant to be. With the price that was north of $40,000 you could buy multiple SV650's and still have enough money left for a Vespa and a cappuccino.
3
EBR 1190SX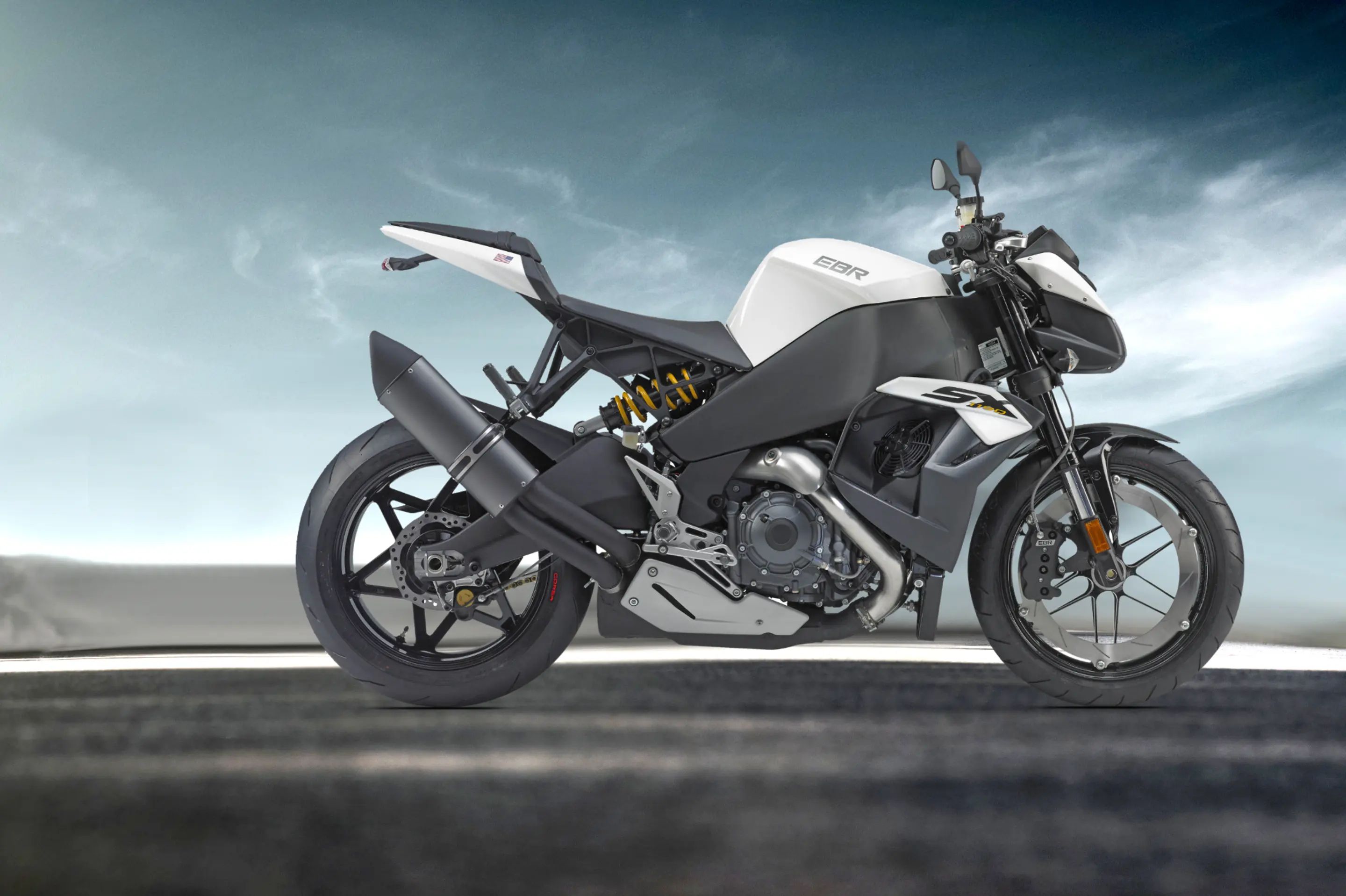 Motorcycle standing on asphalt, facing right.
If the 1190RS was a track weapon of the highest order, then the 1190SX was its naked street cousin. Stripped off all its track armor, the 1190SX was a streetfighter, ready to rumble in the urban environment. It had all the signature Buell quirks, like the 'Trilogy of Tech', hubless wheels, perimeter brake rotor and the EBR proprietary Controlled Swirl Induction – which improved power and fuel economy.
It was also comparatively inexpensive, with the starting price of $16,995. But the best part of the bike was its looks. Balanced, handsome and sharp, the 1190SX was one of the last bikes Buell had developed before EBR ended its run as a company, though it is still listed as a production model for the recently reformed Buell Motorcycle Company.
RELATED: A Closer Look At The Buell 1190 SX
2
Buell Baja Dune Racer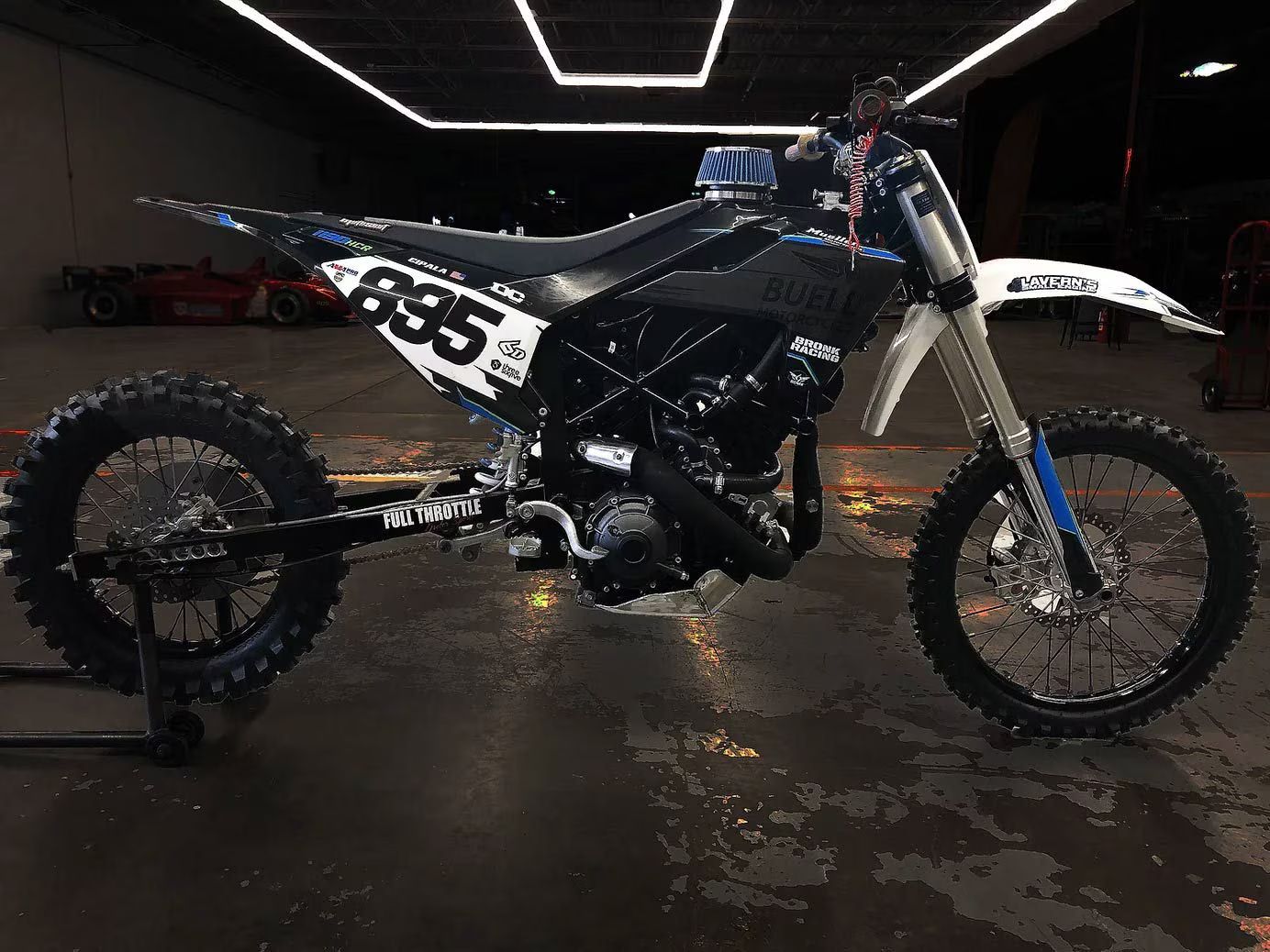 Dirt Bike Facing Right In Dark Room
When EBR ceased being a company, Erik Buell moved on to form FUELL, his new e-bike venture. After a brief hiatus, the Buell Motorcycle Company reformed in 2021, though sadly, without its namesake founder. The new company announced several new models in development, including their first ever dirt bike, the Buell Baja DR, or Dune Racer.
It's a 2025 model, so details are a bit sparse. But supposedly it has an 1190 cc liquid-cooled V-twin engine (of course), with a claimed 175 hp and 101 lbs of torque. It will have a trellis frame, adjustable swingarm and an atmospheric 37-inch seat height. And if all of that sounds like something up your alley, start saving up now, because the price is rumored to be as tall as the seat height – around $20,000.
1
Buell Super Cruiser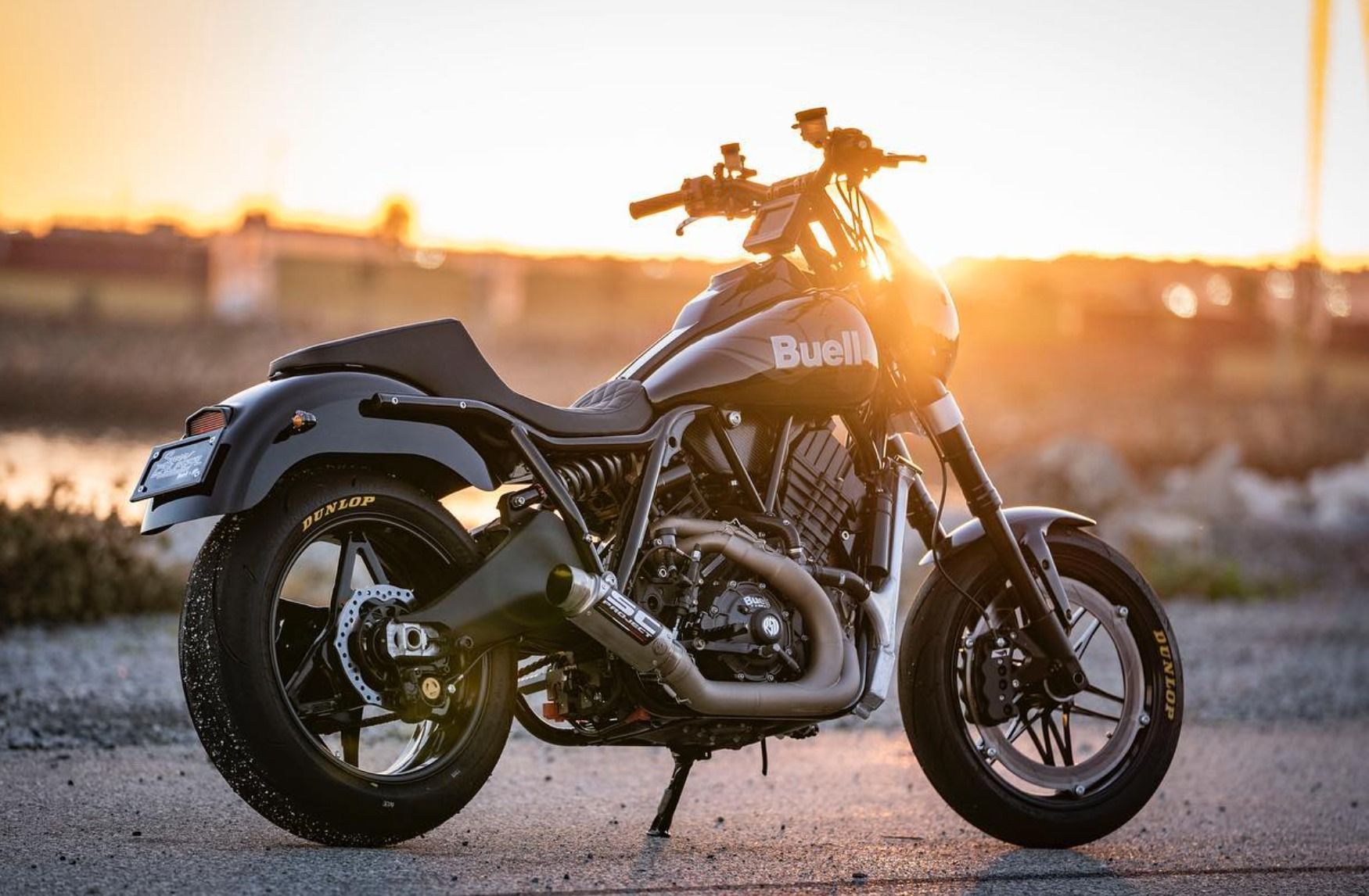 The SC-Project exhaust won't make it to the production variant 
There's just something so poetic about Buell making a cruiser to compete with Harley-Davidson. Buell himself would never have done so, when he was in charge of the show, choosing instead to stick with mostly sport bikes. But this new iteration of the company is determined to diversify its portfolio, which to bring it around full circle, is not something Harley-Davidson has been doing lately. But here we are, and here's the Buell Super Cruiser in all its potential glory. It certainly looks the part, with the 175 hp V-twin engine at the center. The cruiser was designed in partnership with Roland Sands Design and should hit the market some time in 2025.