15 Best Electric Motorcycles
Love them or hate them, electric motorcycles are fast becoming a reality. From daily commuters to enduro and race bikes, we've seen all kinds of electric bikes hit the road over the past couple of years, and it's about time we accept that we'll have to eventually switch to one soon too. Lucky for us, there's a vast array of electric bikes catering to riders of all shapes, sizes, and kinds. Here are our top 15 picks in the e-motorcycle space.
Updated March 2023: New electric motorcycles seem to be popping up every month these days! In an effort to keep our readers up to date, we're updating this article with all the latest and greatest models available on the market.
Related:This Sci-Fi-Inspired Motorcycle Will Leave You Speechless With Its Monocoque Design
The Metacycle, with its latest price cut, has become great value for money
Sondors had recently made waves by dropping the pricing on the already affordable Metacycle by more than a few pennies. That's an astonishing tactic in a market where most electric motorcycles cost more than your average Harley-Davidson. It's a handsome bike, with some nifty features, like low seat height and weight.
The 60-mile range will get you to work and back, provided you're not too heavy on the throttle. The brakes are a little bland and the rear shock may be inadequate, but even all those caveats aside, you simply can't beat that price. And if all you're doing is going to and from work, it may just be the best vehicle for you, hands down.
Related: Too Good To Be True: Sondors Metacycle At Just $4,000
Super Soco TC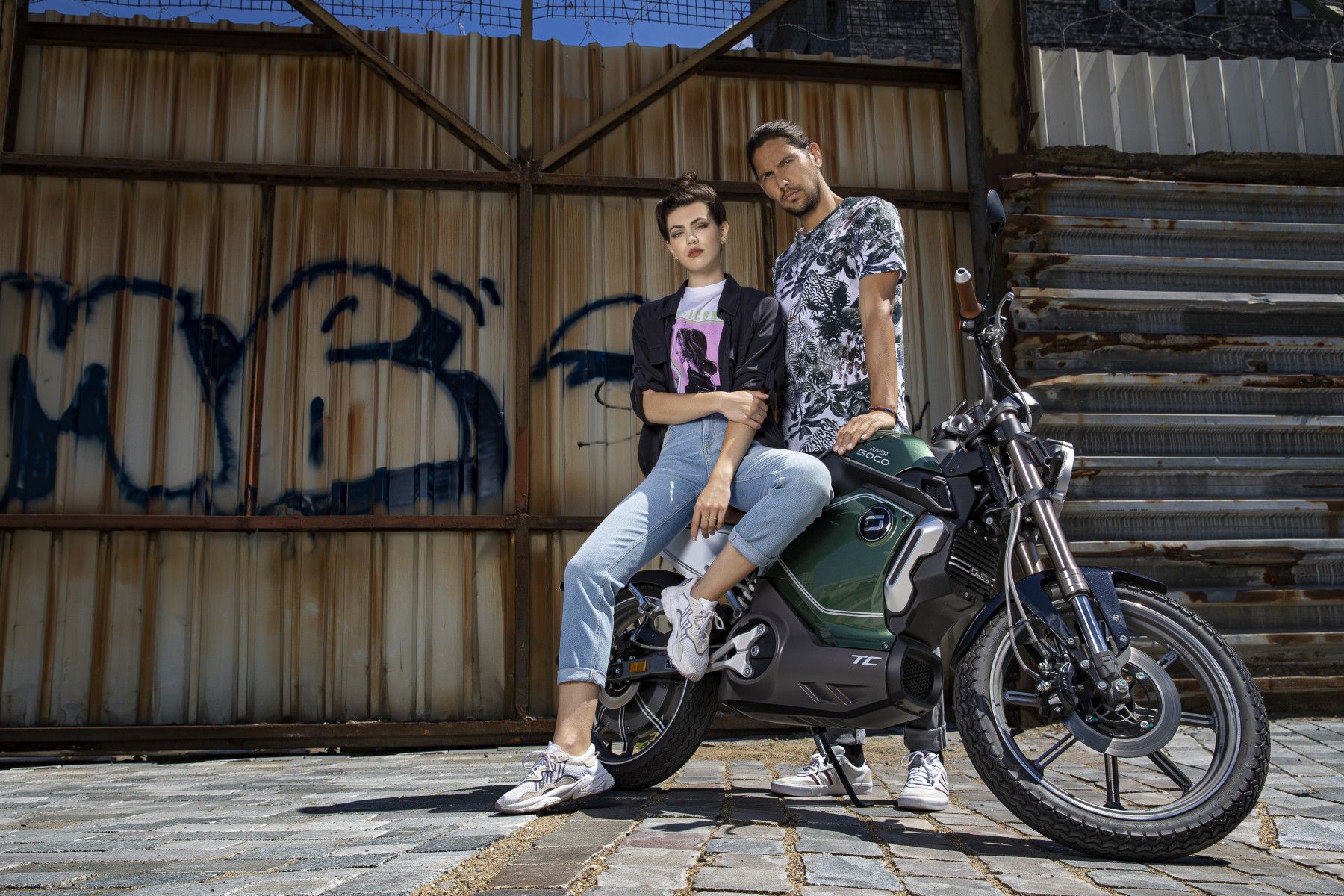 Couple sitting on motorcycle in urban area.
As much as we love high-performance bikes, an electric motorcycle will probably spend most of its life in the city. And, this is why the Super Soco TC is on our list. The Super Soco TC not only looks retro in a stylish way, but it also makes for a great commuter electric bike. With a top speed of 75 mph, it comes with a single or a double battery pack setup, claiming an impressive range of 78 Miles (with the dual battery setup), which is more than enough for city duties. Meanwhile, features like LED lights, an anti-theft alarm, keyless ignition, and a semi-digital instrument cluster top off the package. It's pretty cheap, at approximately $4,140, but here comes the bad news. You can't get it in the U.S.
Pursang E-Tracker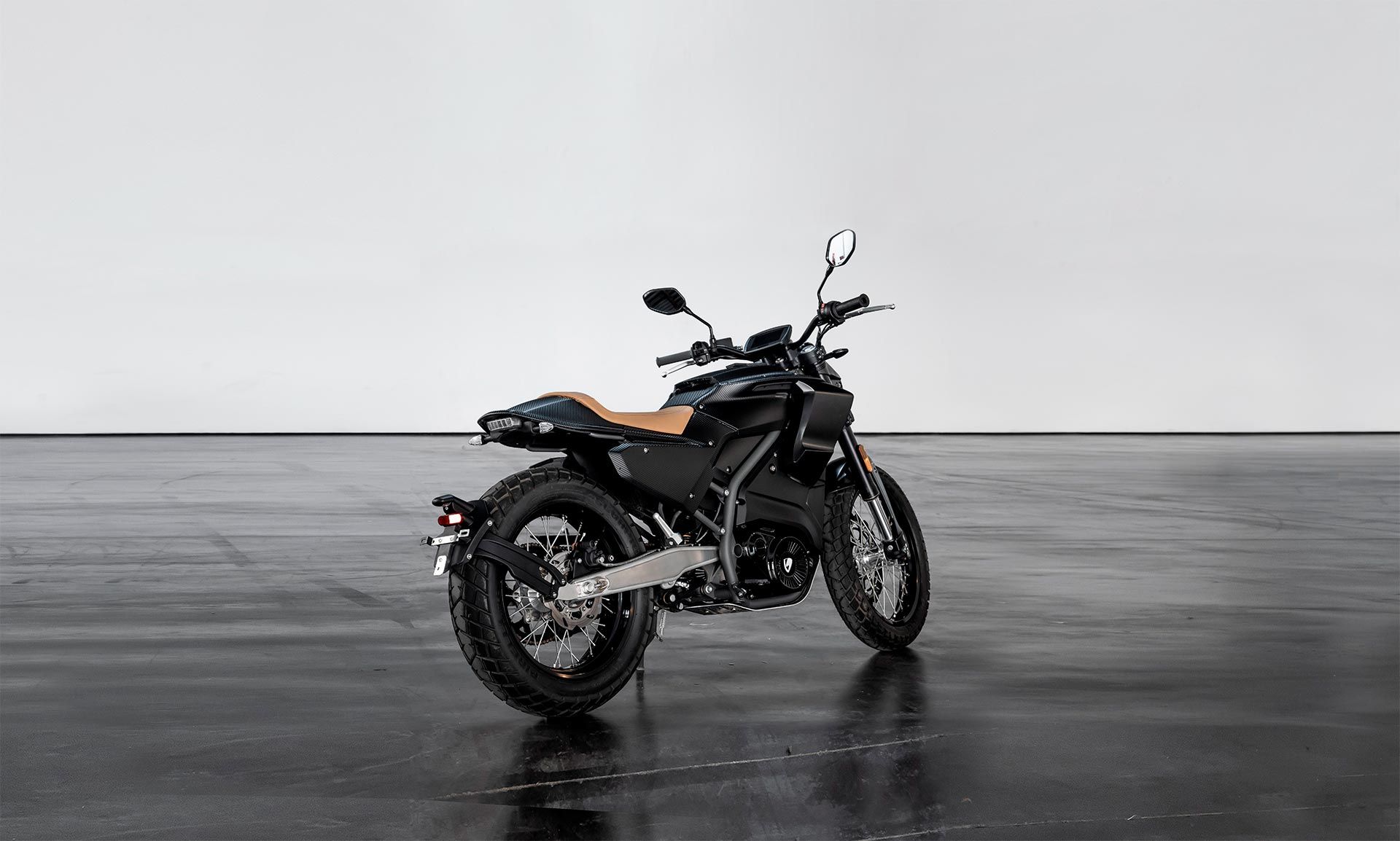 Motorcycle standing in empty room.
If the more modern styling excesses of electric motorcycles are too much for you (and your wallet won't stretch to a Curtiss One!) and what you really feel you need is a flat-track-inspired electric bike, then the Pursang is the best ev motorcycle for you. Taking its name from an old Bultaco model, the Pursang E-Tracker is a relatively normal-looking electric motorcycle, featuring a tubular chrome-moly tubed frame and carbon-fiber bodywork.
The range is quoted as 74 miles, but recharge time is a bloated six hours, which rules it out for any sort of competition riding, if that was ever a goal. It boasts a full-color TFT display that shows speed, range, riding mode, engine power regeneration, and of course, battery life. It even features smartphone connectivity and can be connected via the Bosch mobile app. It's now available in Europe for roughly $10,052.
Fuell Fllow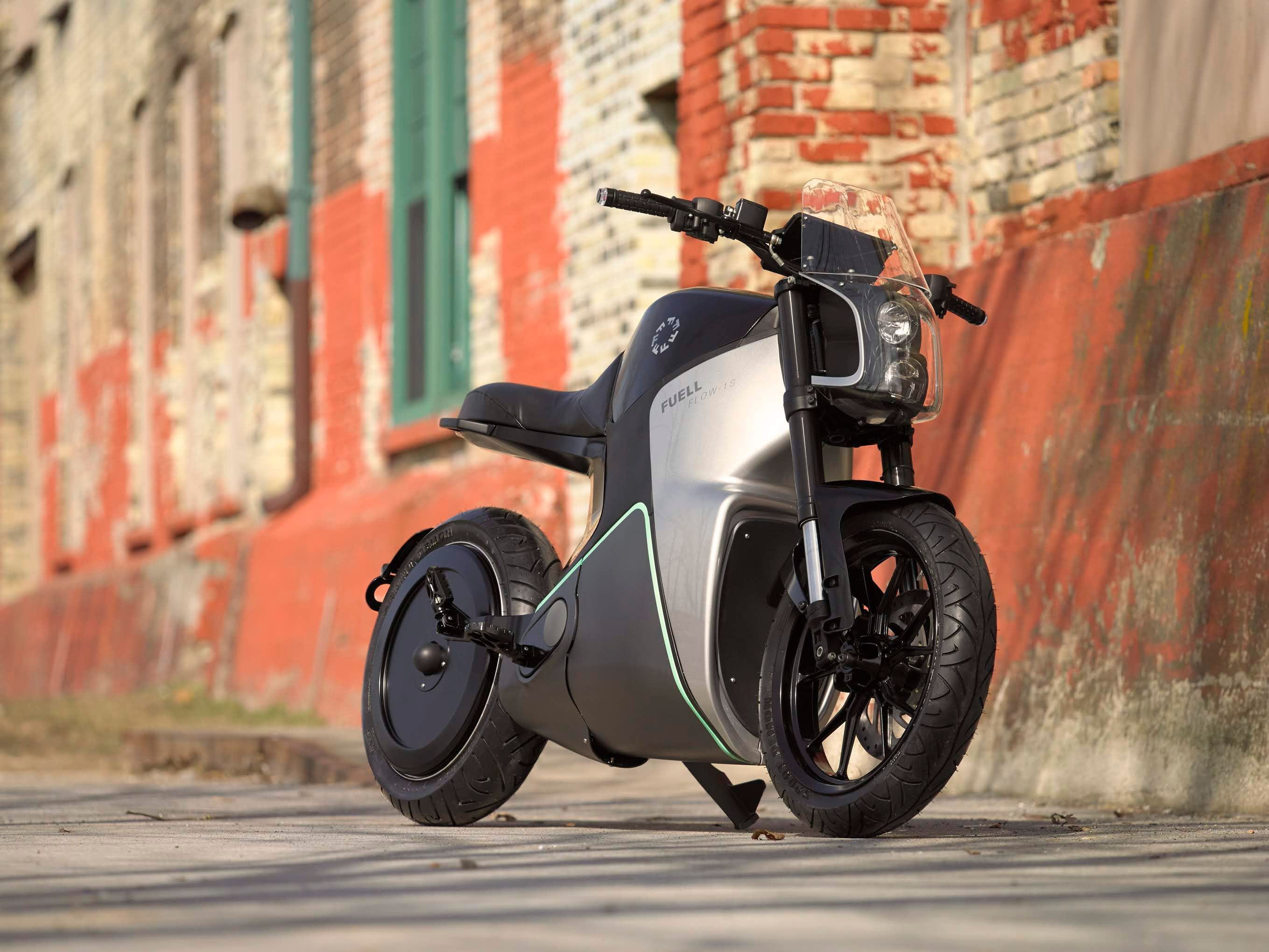 Front three-quarters shot of a Fuell Fllow
From the fertile engineering brain of Erik Buell comes the Fuell Fllow. Featuring a magnesium monocoque chassis and housing for the battery, the electric motor is housed in the rear wheel and produces a quite frankly astonishing 553 pound-feet of torque! Twist the throttle on this, and you don't move forward, the earth rotates underneath you. The top speed is 85 mph (max sustained) and a range of 150 miles. Regenerative braking is employed, and using a CCS Type 2 charger gives you a full charge in 30 minutes. There is 1.76 cubic feet of storage in what used to be the fuel tank, which Fuell claims can take a full-face helmet and a soft bag. Unusually for Buell, he has not fitted the rim-mounted brake rotors that were such a feature on his gas-powered sport bikes.
Related: Endless Juice: The Mokwheel Basalt E-Bike Is A Power Bank On Two Wheels
Cake Kalk&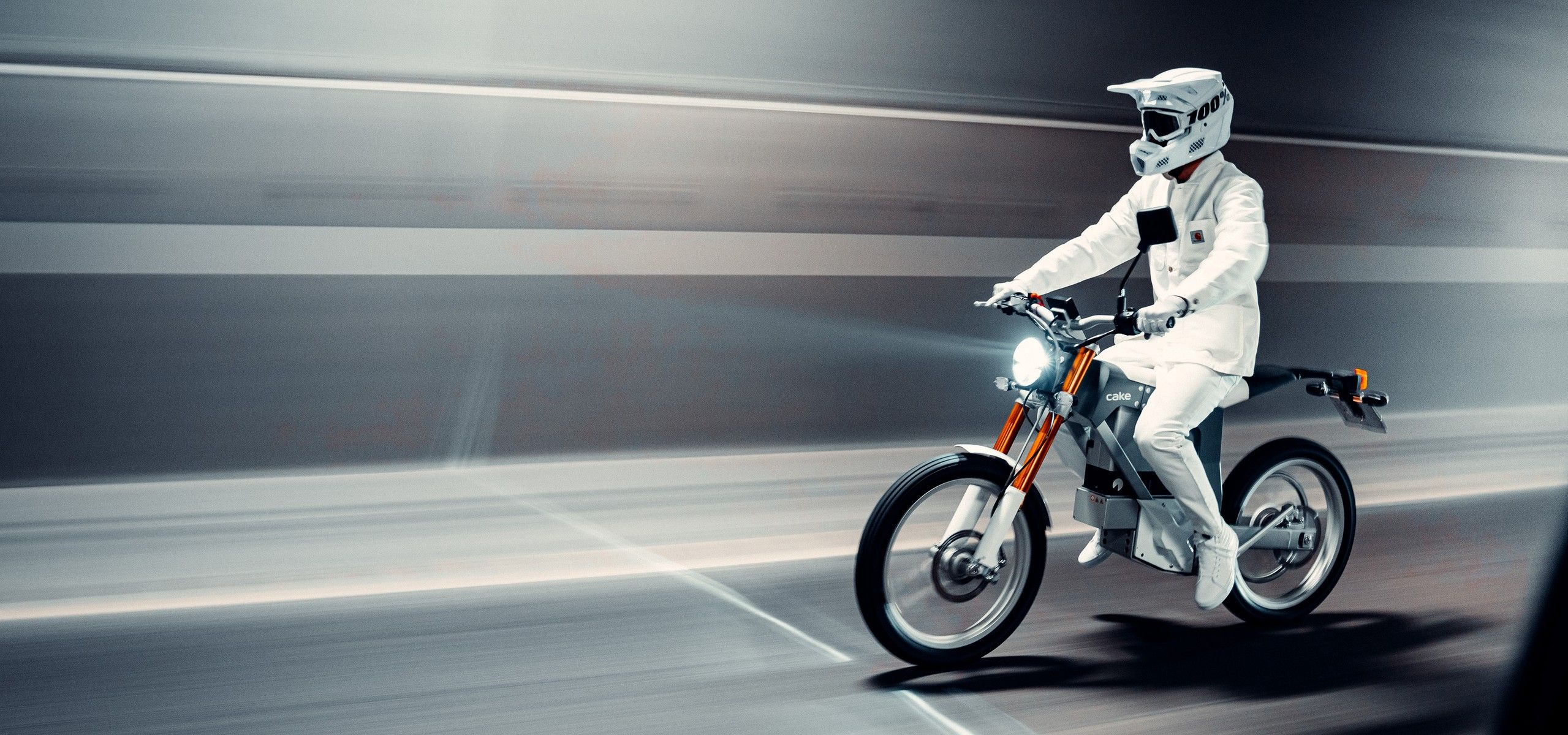 Rider in white suit, riding motorcycle in tunnel.
The good thing about electric motorcycles is that there are plenty of start-up companies that are manufacturing new models that have no corporate design language to adhere to and the results are refreshingly different. Swedish company Cake set out to create the ultimate, spare-no-expense, lightweight, high-performance electric dirtbike. Having done this, it then turned its attention to a street-legal version.
The oddly-named Kalk& is the result, and you could be forgiven for thinking it is a glorified bicycle, such is its skimpy design and construction. Skimpy it might be, but there is nothing skimpy about the specification: extruded, forged, and CNC-machined 6061 aluminum chassis, Öhlins suspension front and back, and bespoke forged and machined wheels. It's not cheap, but if you are looking for personal transport that is light and agile, then the Cake might just be what you are looking for.
LiveWire Del Mar S2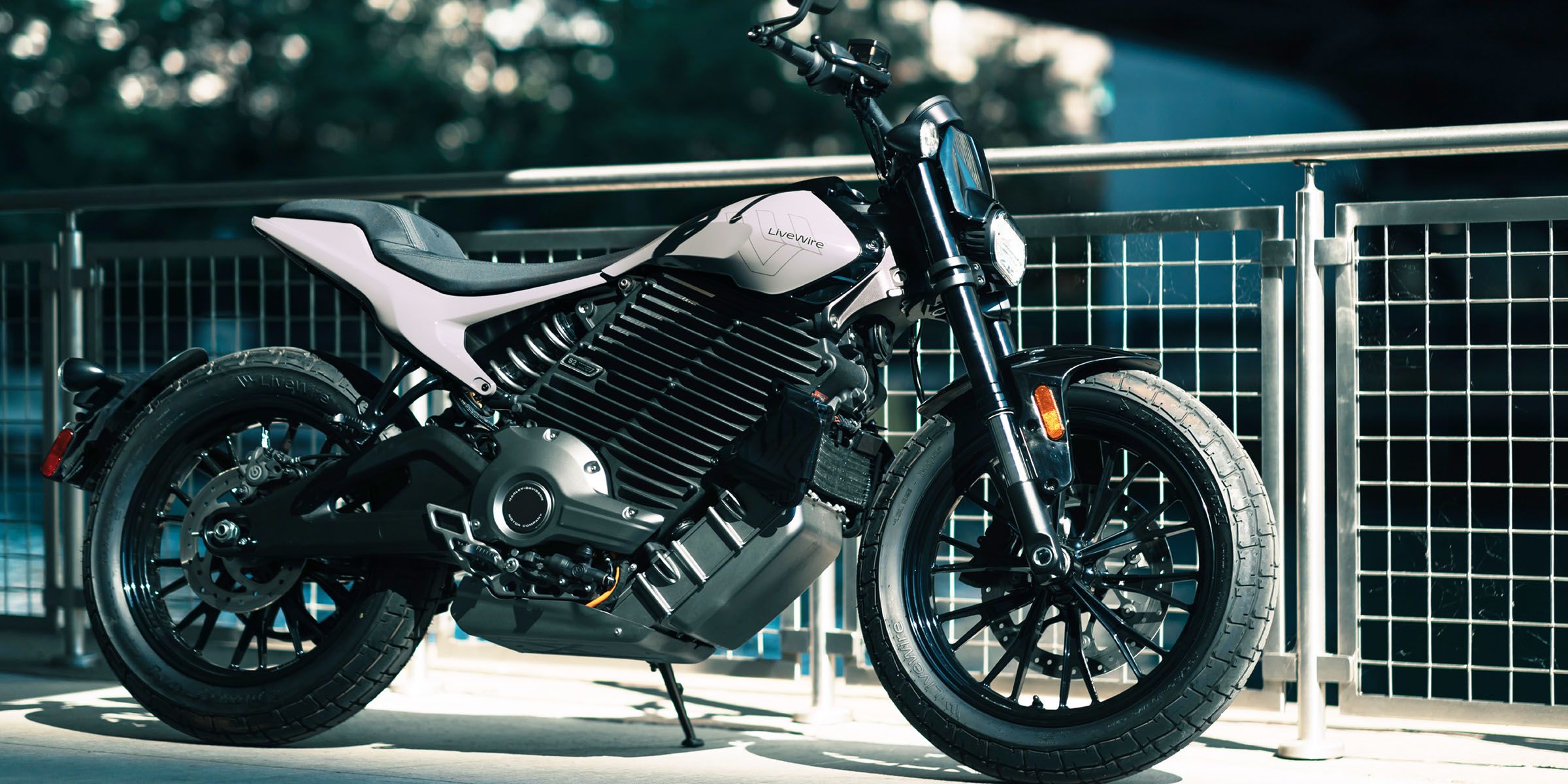 Side profile shot of a Livewire Del Mar
Designed around a modular Arrow platform, the Del Mar is the first of a series of models that will be released in the coming years and is certainly aimed squarely at the mass market of electric bikes. The platform includes batteries, electronics, a motor, and can have different steering heads and swing arms bolted to it to create the different variants.
It is due to arrive in showrooms by the second half of 2023. The power output is a claimed 80 horsepower, while it weighs in at 431 pounds. The city range is expected to be 110 miles, with a 0-80% charge time in about 75 min.
Damon Hyperfighter
Motorcycle standing in front of rock formation.
Do you like sporty naked motorcycles? Let us introduce you to the newly launched Damon Hyperfighter. Unveiled in early 2022, the Damon Hyperfighter is an epic all-electric naked motorcycle that has a rather striking design. This radical design is complemented by equally striking numbers including a peak power of 200 horsepower, 170 mph top speed, and a 146-mile claimed range. The bike also packs a unique Shift technology, that lets the rider adjust the handlebar and footpeg position on the fly, along with 360-degree cameras to warn the rider about potentially dangerous objects and vehicles.
Related: Every Zero Electric Motorcycle Ranked by Price
Zero SR/F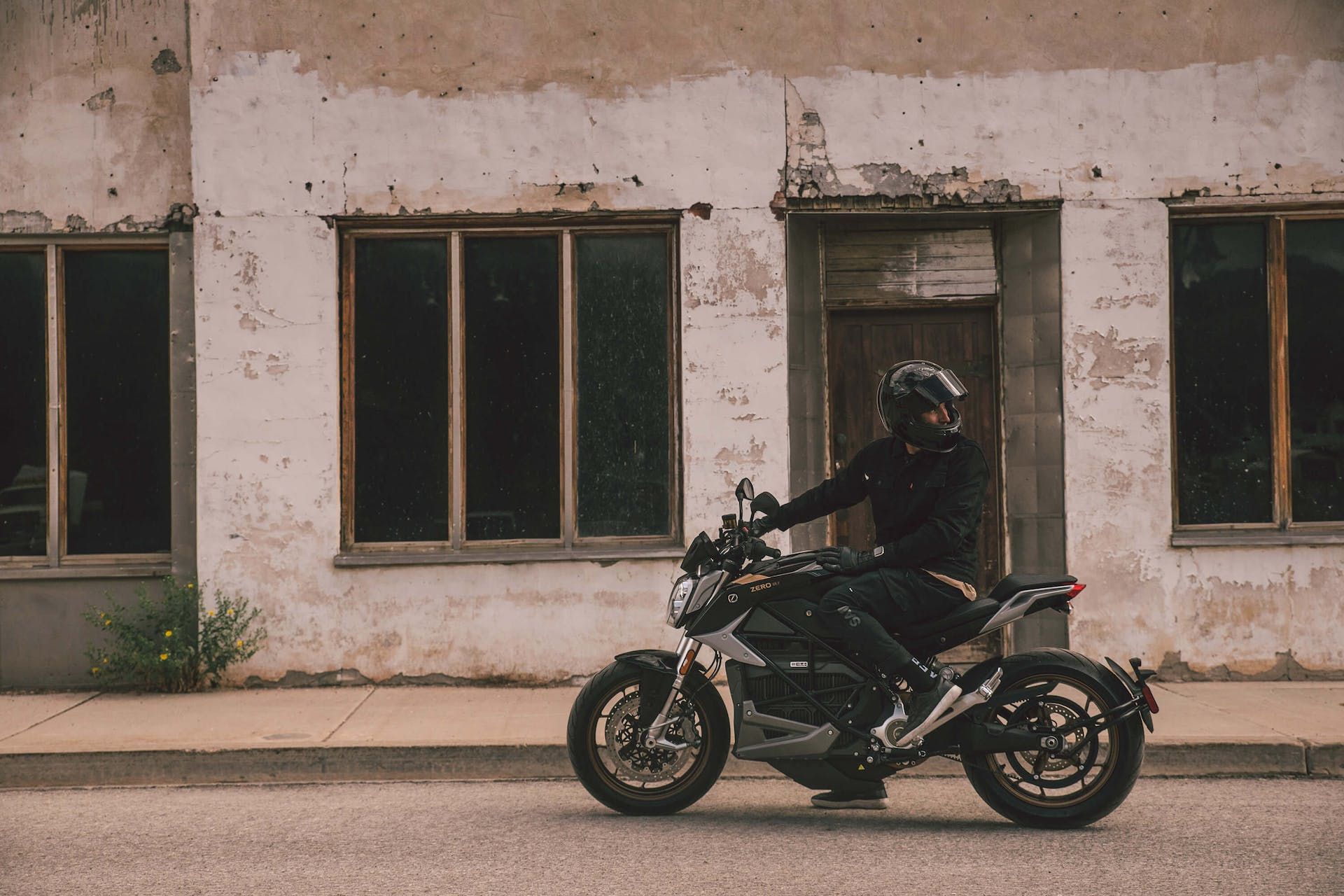 Rider on motorcycle in urban environment.
Looking for a do-it-all e-motorcycle? Well, we believe it's the Zero SR/F. Sure, its price of nearly $23,795 isn't for everyone, but this is one of the most sought-after bikes out there. It comes equipped with a powerful motor-battery combo that has a claimed top speed and range of 124 mph and 187 miles (city) of range, respectively.
This ensures you'll have plenty of power to have fun while steering clear of range anxiety. Then, you have high-quality underpinnings comprising fully adjustable Showa Big Piston forks and Showa monoshock, alongside Pirelli Rosso III tires. It also comes with all modern-day features likeride modes, TFT instrumentation, smartphone connectivity, LED lighting, and even a stability control from Bosch.
LiveWire One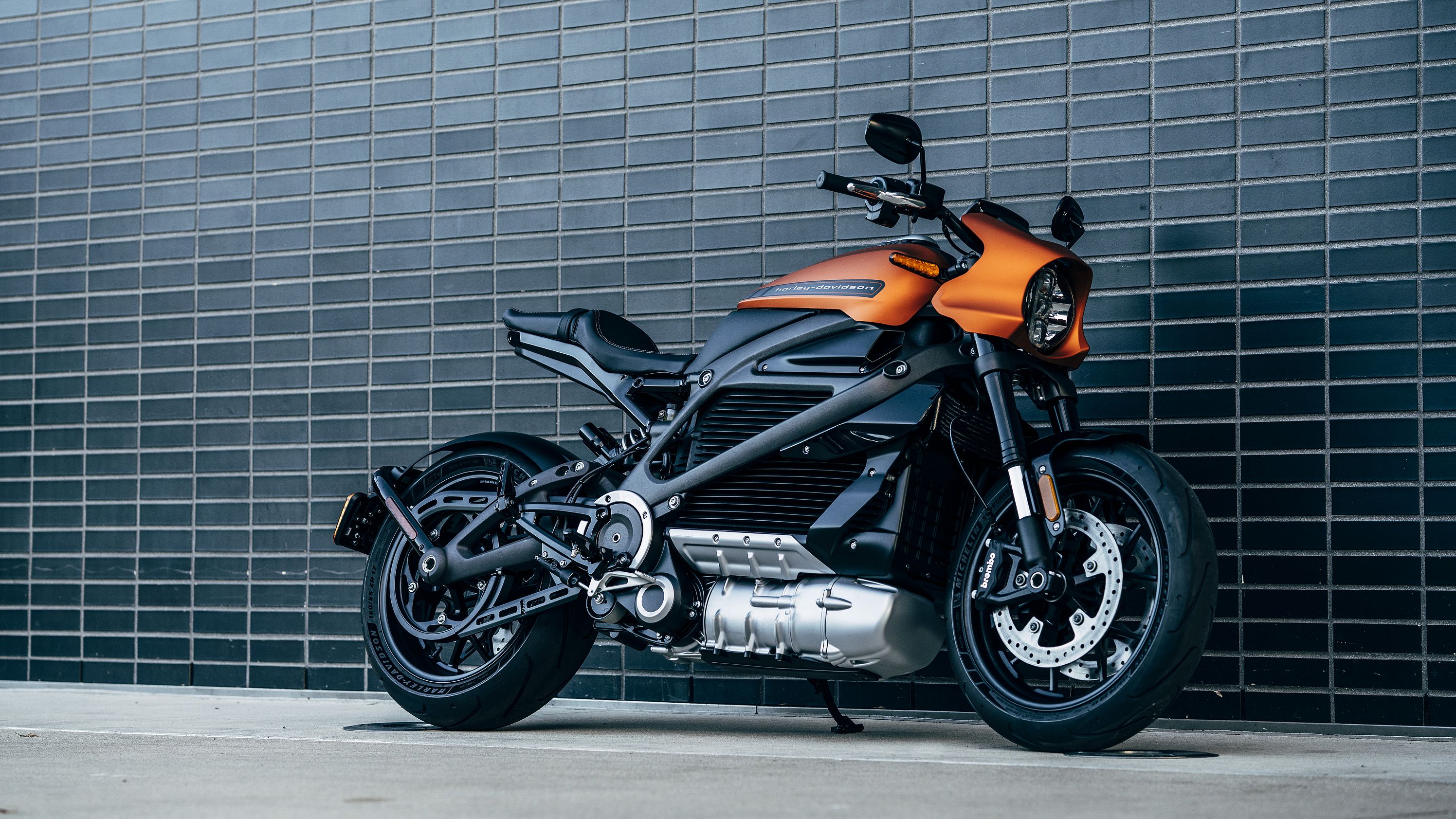 Harley-Davidson's All-Electric LiveWire orange 
The Harley-Davidson LiveWire features a likable design, which shouts Harley in its own special way while promising a familiar torquey riding experience, too. Of course, there is no glass-shattering rumble here, but you do get 100 horsepower and 84 pound-feet of torque, right on par with Harley's ICE bikes. Plus, all this power is instantly available and monitored by a handful of electronics to ensure you stay upright.
The LiveWire boasts a claimed range of 146 miles and a top speed of 95 mph, both more than enough for most riders. One item to note is that Harley spun LiveWire out into its own company, and is now producing LiveWire One in addition to the previously mentioned Del Mar.
Tarform Luna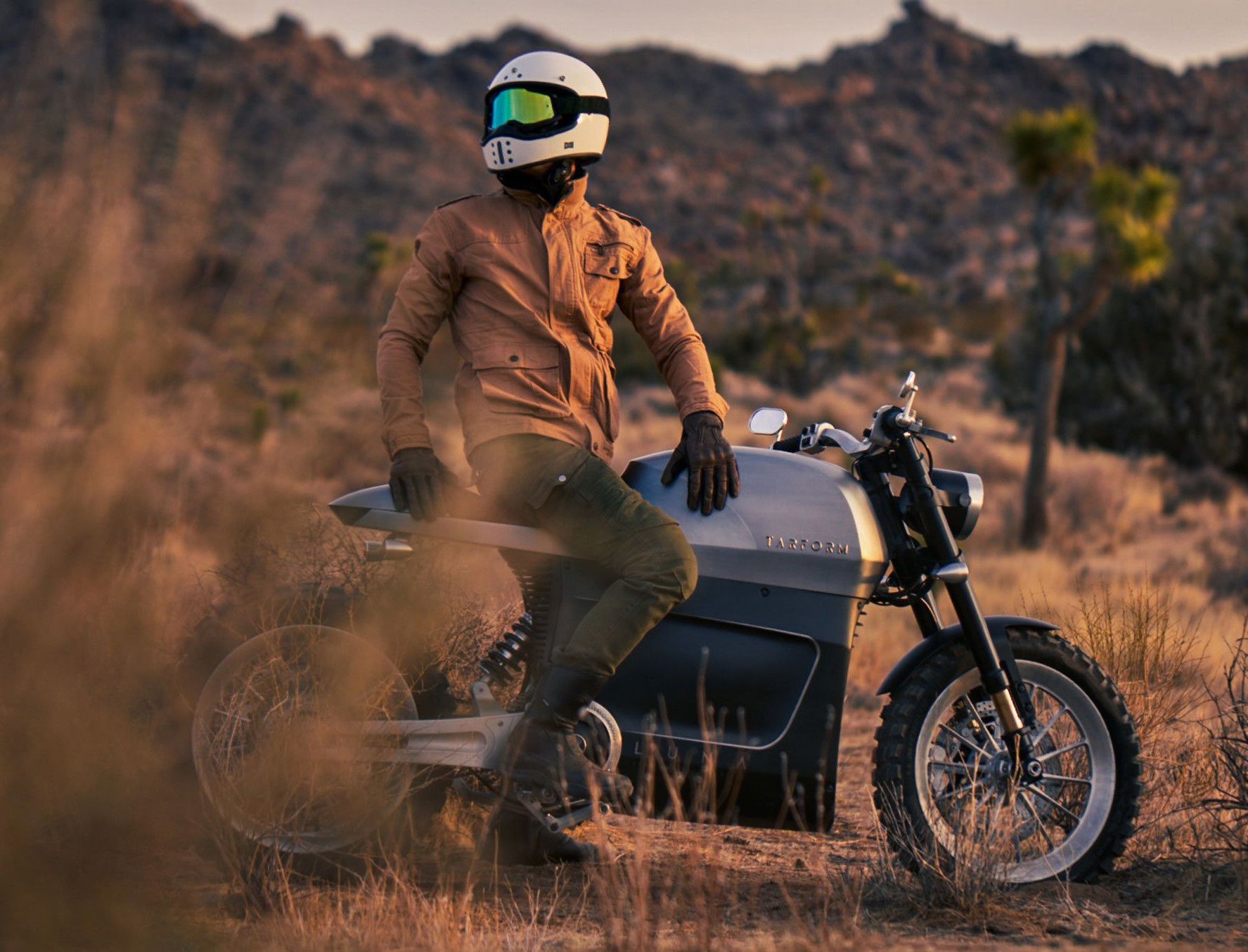 Rider on motorcycle in a field.
The main point of EVs is to offer a sustainable means of getting around and if that's your motive too, it doesn't get any more eco-friendly than the Tarform Luna. I say this because nearly 55-percent of the bike's parts are 3D-printed from recycled materials like pineapple-leaf fibers and recycled aluminum. But, Tarform didn't stop there and threw in an impressive motor and battery combo which gives the bike a claimed range of 120 miles and a top speed of 120 mph. Not to forget, this is accompanied by features like a circular digital instrument cluster with an HD display, all-LED lighting, three ride modes, a 180-degree rearview camera, keyless ignition, and smartphone connectivity via Bluetooth.
Related: This Mad Max-Inspired Electric Bike is Beyond Extreme
Evoke 6061
Motorcycle standing in street at night.
Rarely do we see electric cruiser bikes, but the Evoke 6061 happens to be one of them. However, this isn't why it's on this list. You see, the Evoke 6061, while being an e-cruiser, can also charge from zero to 80-percent in JUST 30 minutes! That's just a quick lunch! Before you get suspicious, let us tell you that this isn't a marketing gimmick achieved by using a tiny battery. In fact, the Evoke 6601 packs a huge 25 kWh battery, giving it a range of 410 miles (city), which is accompanied by a beefy 120kW motor.
Energica Ego+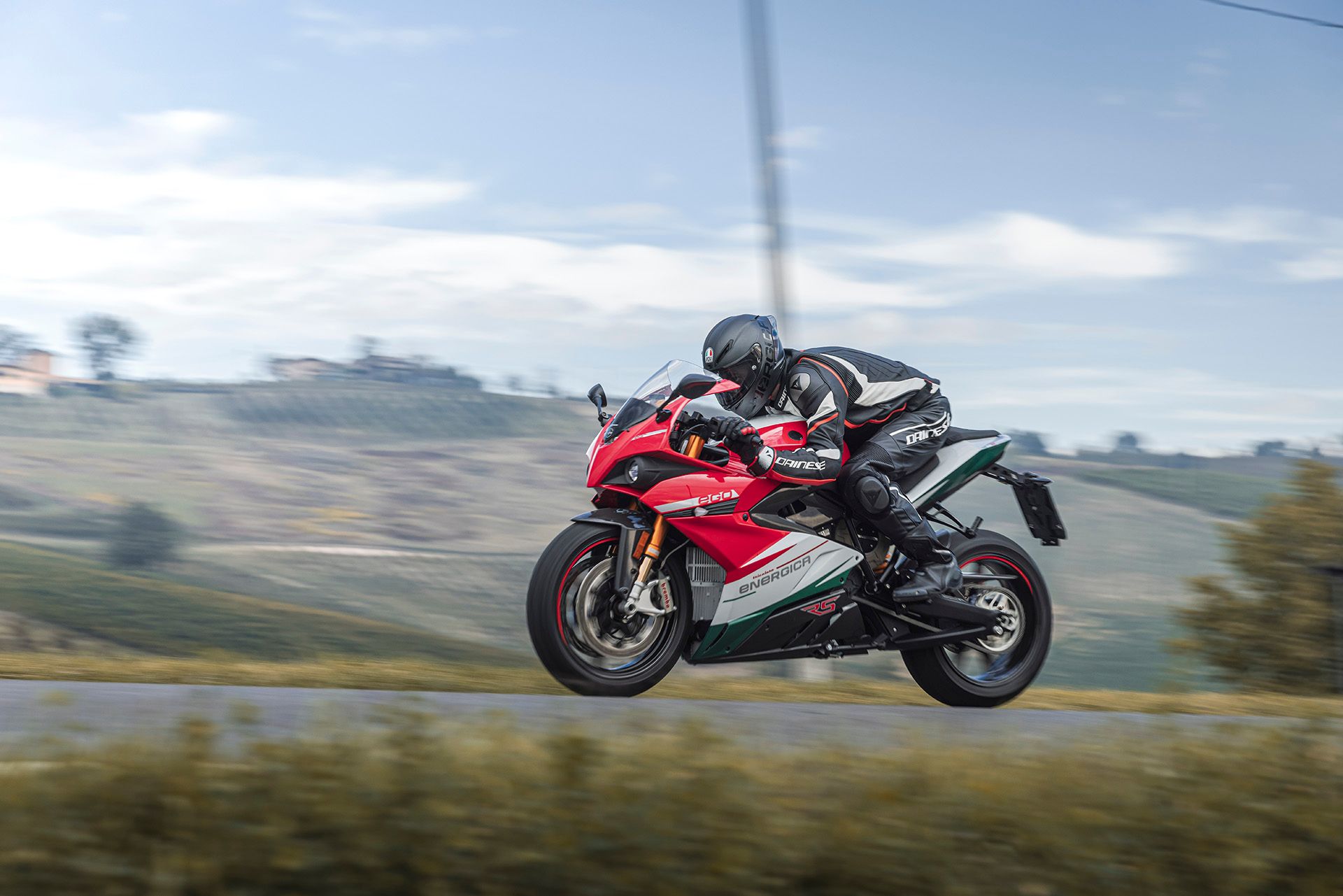 Motorcycle sport bike on race track.
If you're a sportbike fanatic who wants to go electric, the Energica Ego+ is probably THE best electric motorcycle for you. Not only does it offer sport bike-like performance, 170 horsepower and a limited top speed of 150mph, the Ego+ also has a claimed range of 261 miles which is a lot more than your ICE sport bike can manage. Along with this, the Energica Ego+ boasts top-shelf underpinnings comprising a trellis frame, cast aluminum wheels, Marzocchi USD forks, and Brembo brakes at both ends. Not to forget, the Ego+ was also used in the MotoE world championship up until last year, so it's safe to say that the bike is well kitted-out to tackle a racetrack.
Verge TS Ultra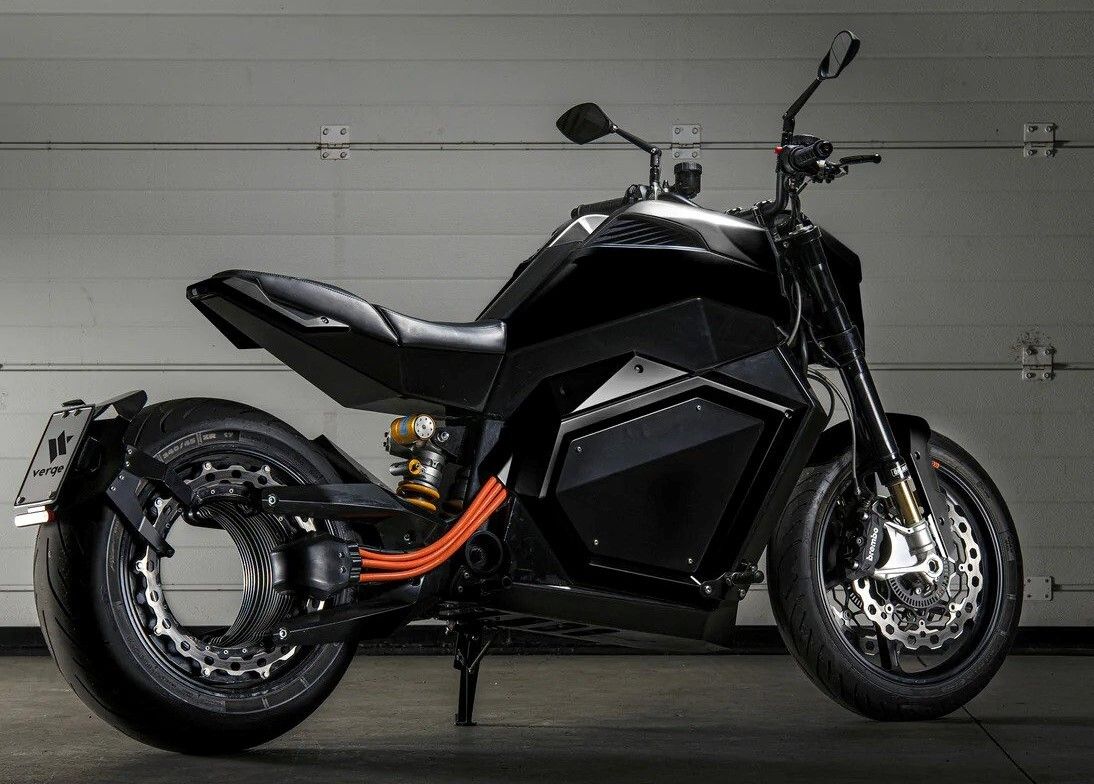 Side profile shot of a black Verge TS
One important consequence of the rise of the electric motorcycle is that much of the early development has been undertaken by small, and until now, obscure companies that previously had no presence on the world motorcycling stage. This in turn has led to more innovative engineering solutions than you can shake a stick at.
The specs are quite astonishing: 885 pound feet of torque is delivered instantaneously directly to the road, with no power-sapping chains or cogs to get in the way. Nor does the motor require cooling fluids. Four ride modes configure the power delivery to suit your mood or riding requirements and 80-percent charge is available in 25 minutes with the optional DC fast charger and range is quoted as up to 233 miles.
Related: Honda's First Electric CBR1000RR Is Just As Gorgeous As The Real Deal
BMW CE 04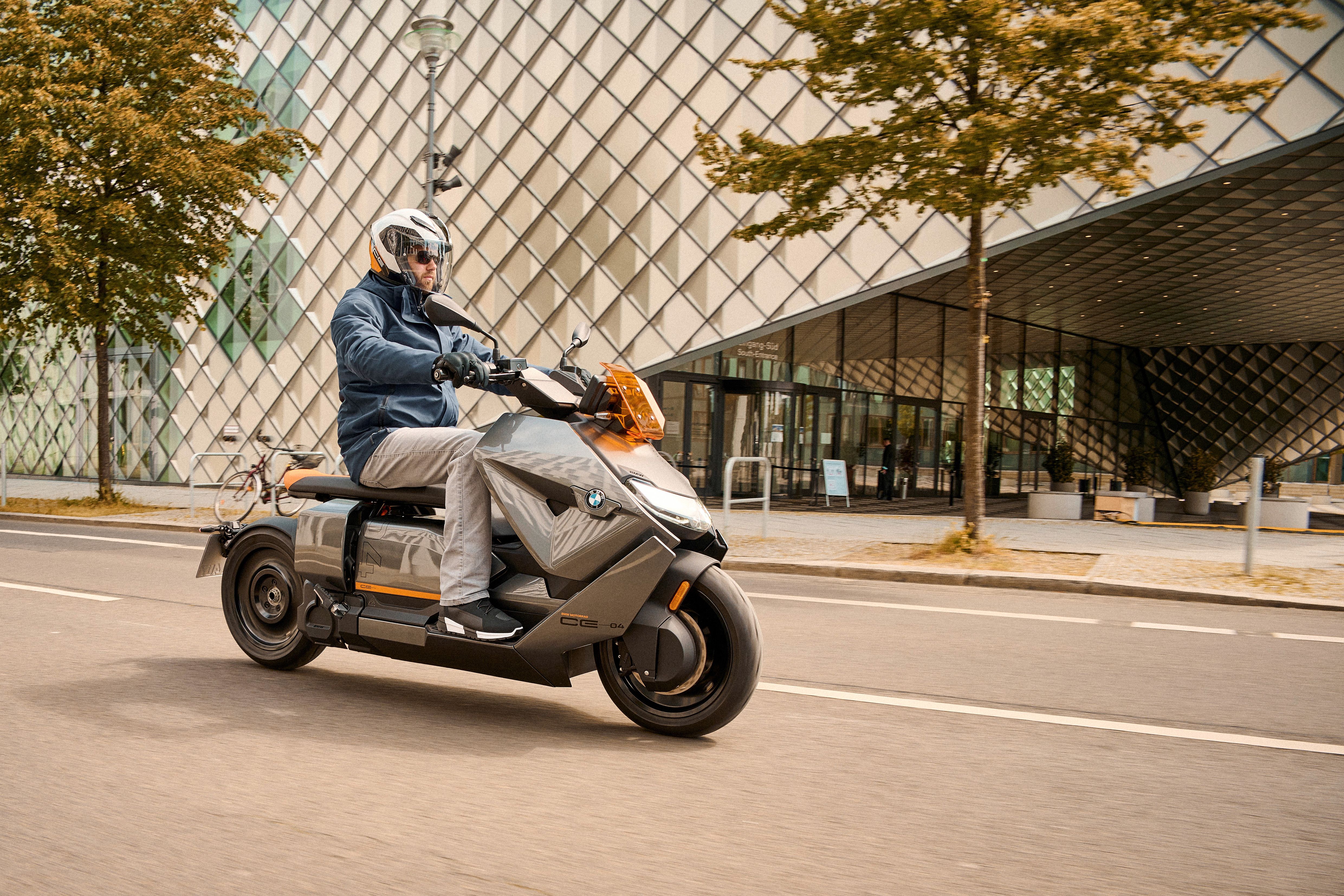 BMW is taking a smart approach as it dips its toe into the electric motorcycle pool. They know that electric motorcycles are best suited for city commuting, and what better motorcycle to use in an urban environment than a scooter. It's loaded with premium features like large TFT display and large storage compartments. Its design aesthetic is futuristic. It comes with a 3-year BMW warranty and its pricing is not too shabby either, starting at $11,795. It's built for urban commuters, with a range of 80 miles. You can pull up to work, plug it and have it ready to take you home when you're done.
Arc Vector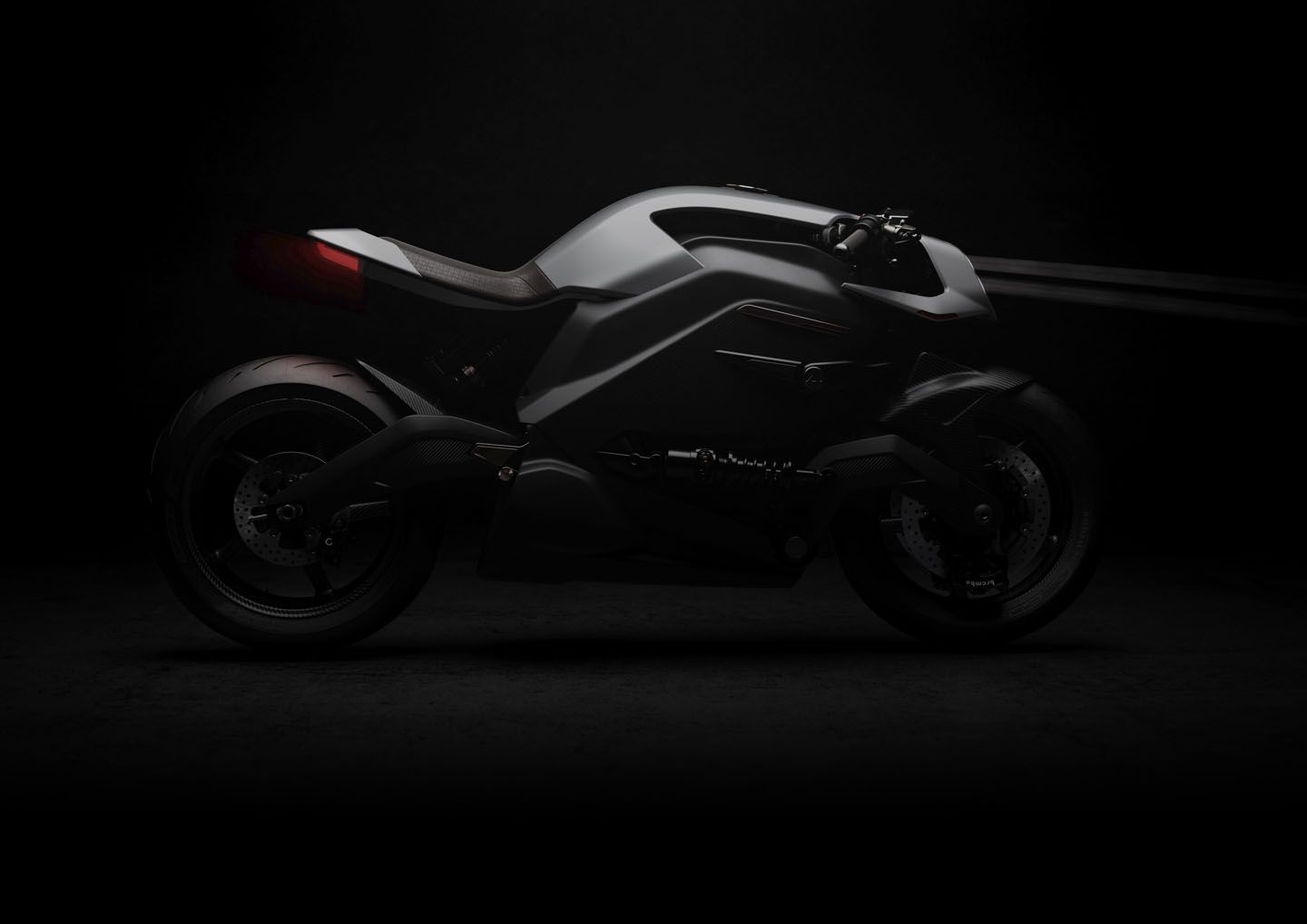 Motorcycle standing in dark room.
Range anxiety is a major concern for most people planning to go electric. But, there's a radical solution to it, and it's called the Arc Vector. The bike offers a range of over 270 miles, and if you still happen to run out of charge, it can be juiced up in just 40 minutes. Apart from this, the bike has a top speed of 124 mph and can get to 60 mph in merely 3.2 seconds. The Arc Vector is built around a unique monocoque chassis featuring Öhlins TTX mono shocks and Brembo Stylema brakes at both ends, making the package ever-so-premium.