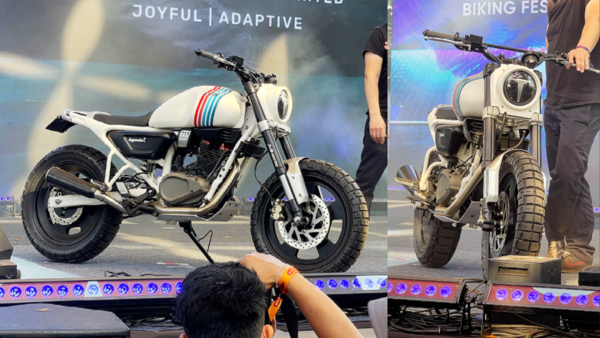 2023 Tvs Motosoul: Motosoul bike fest 2023: How TVS plans to be the next aspirational motorcycle brand with Gen-Z appeal
TVS Motor Company is working towards becoming the next big homegrown brand that caters to the aspirational motorcycle buyer in the country. We recently got a glimpse of this undefined goal's foundation at the 2023 TVS Motosoul biking festival that was held in Goa. From showcasing the customisation capabilities of the newly launched Ronin platform to offering Flat-Track racing experiences, between TVS Motor Company and TVS Racing, the manufacturer is going full throttle in its bid to transition into a brand that resonates with the motorcycle community of today.
Custom Ronin motorcycles:
The first day packed a lot of action, with stunt riding activities taking place across the venue. However, the highlight of Day 1 was when Vimal Sumbly, Business Head, Premium Two-Wheelers, TVS Motor Company, came on the main stage and unveiled four fully-customised Ronin motorcycles.
1. The Agonda:
The first custom TVS Ronin to come on stage was the Agonda, as the name suggests, it is inspired by the Agonda beach in Goa and has been built by JvB Moto of Germany. It gets a beach scrambler theme, with white paint and red and blue livery. The headlight gets a bikini fairing and the big block rims are covered in sand friendly tyres. It also featured a custom instrument cluster.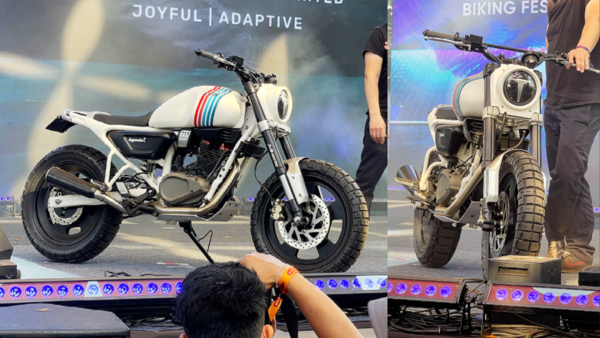 TVS Ronin: Agonda
2. The Musashi:
The Musashi Ronin was the next on-stage and was built by Indonesia's Smoked Garage. It featured large knobby balloon tyres and carbon fibre wheel caps, the rear wheel was wrapped in a wider section 120/70 tyre. It also gets a horizontally positioned rear shock hidden on the underside, a custom hidden exhaust system and a headlight grille highlighting the Ronin's LED DRL. The instrument cluster was removed from the handlebar and placed on the left side of the motorcycle.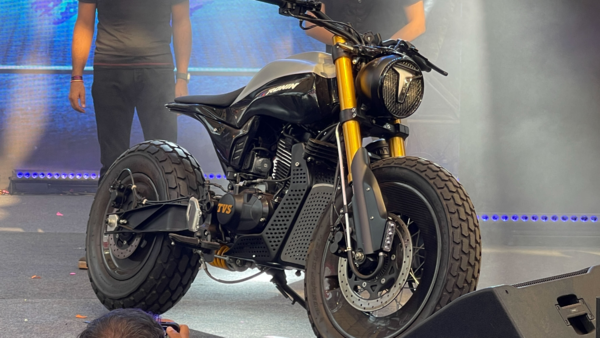 TVS Ronin: Musashi
3. The Wakizashi:
Coming closer to home, Rajputana Customs, Jaipur, had a completely customised TVS Ronin in the showcase as well. The motorcycle had been converted into a custom cafe racer, featuring brushed metal tank and rear cowl, a flat seat and a custom swingarm at the rear. The Wakizashi also gets blacked out spoked rims and a signature fuel cap. All instrumentation has been removed and replaced with a tiny digital display. The headlight unit has also been replaced with a custom unit.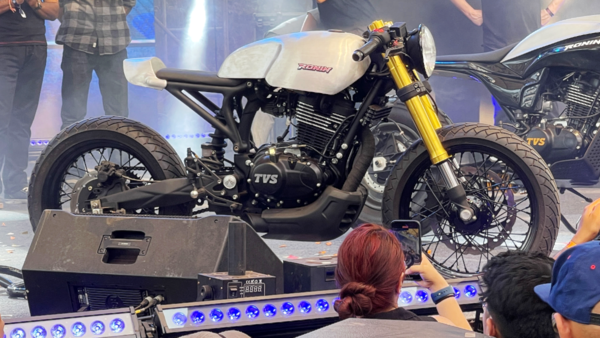 TVS Ronin: Wakizashi
4. The SCR:
Among all these builds, TVS could not help but take part in the action themselves. The TVS Design Team came up with the Ronin SCR, a proper scrambler take on the 225 platform. It got large knobby off-road tyres, a bash plate on the underside and an upswept, twin-pod exhaust system as well. The tank and plastic parts featured a brushed metal finish and it even got a small windscreen on top of the custom LED headlight unit. Bar-end mirrors and longer travel in the front suspension were added as well, along with hand-made leather single-seat to the SCR.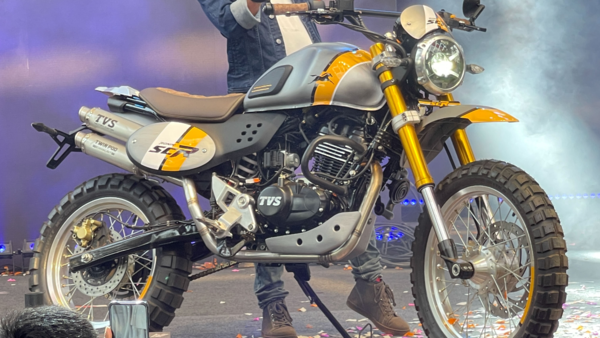 TVS Ronin: SCR
Addressing the four custom avatars of the Ronin, Vimal Sumbly spoke about the custom world of Ronin and how it will help in bolstering the connected community of TVS riders which we will talk about shortly. If you think that this was the last custom Ronin we saw, then keep on reading because there is more.
Flat-Track Racing:
At the 2023 Motosoul fest, TVS also announced its foray in the world of flat-track racing. The company will enter this form of racing with another custom avatar of the Ronin 225 motorcycle and we got the chance to experience this bike hands-on. As one would expect the Flat-Track Ronin was devoid of anything that was not needed on the bike. The headlight unit was replaced by a plastic panel, it got a flat seat and a plastic rear cowl. The exhaust system was in an upswept configuration and the footrests were made of metal for better grip. The Flat-Track Ronin also had all-terrain tyres and there was no front brake on offer.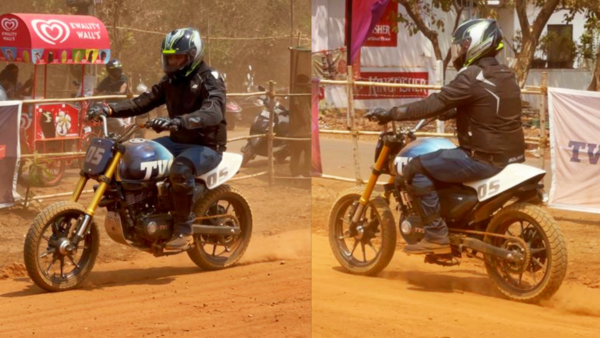 TVS Ronin: Flat-Track racer
It was a very different experience to ride a motorcycle in loose sand with no front brakes, one needs to carefully modulate the rear brake and throttle in order to take a corner and ride out of it without letting the motorcycle slip out of control. However, the single-cylinder Flat-Track Ronin's low-end grunt was perfect for an action packed session around the experience circuit that had been built at the venue.
Overall, the TVS 2023 Motosoul venue was home to a number of racing experiences, including Flat-Track Racing, Dirt Racing, Moto CrossFit, Obstacle Race, Stunt Show, Motorcycle Gymkhana and Slow Race.
So TVS was clearly showcasing the diverse application that the Ronin platform can be subjected to, from an urban commuter to a dirt tackling flat-track machine. The message was, that this motorcycle can do it all. Based on this observation, it would not be too far-fetched to expect different production avatars of the Ronin in the coming times, with different build characteristics to bigger capacity engines. Think of it as a Ronin-verse where new products are launched and buyers are aggregated via community experiences offered through Ronin Cult group.
Mercedes-AMG E53 Cabriolet Review: A car with no competition! | TOI Auto
Community riding experience with tech-based approach:
The TVS Apache series has reached the 5 million global sales milestone recently, then there is the over 2.5 lakh strong community of AOG (Apache Owners Group). In its bid to become a lifestyle brand, TVS wants to leverage its growing community in bringing in new customer. The brand also has a tech-based approach to keep the engagement quotient high.
For this, the TVS SmartXonnect platform and newly launched tech peripherals will be utilised to increase engagement. At the festival, TVS announced the Connect 2.0 mobile application for customers, AOG group members and Ronin Cult group members. According to Vimal Sumbly, the application could be an exclusive Instagram built just for TVS buyers, the beta goes live in end of March 2023. Currently, the SmartXonnect platform has 150,000 active monthly users and 14.5 million registered users.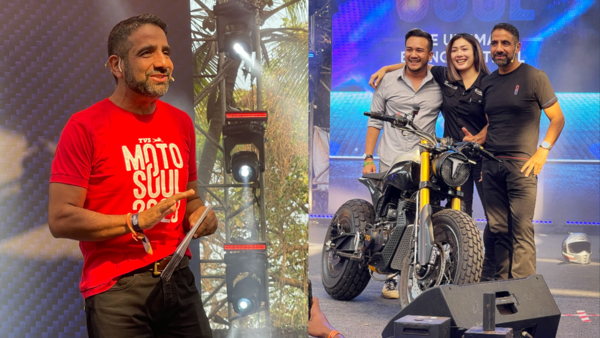 Vimal Sumbly, Business Head, Premium Two-Wheelers, TVS Motor Company.
In a nutshell, the brand wants to develop an ecosystem where the bike, rider and community are connected and able to communicate with each other.
This biggest announcement in this regard, was the launch of two new Bluetooth intercom systems under TVS Racing Performance Gear. The S10X and S20X's mesh intercom system allows up to 20 riders to stay connected for up to 1.2 km in distance. These supports group to clusters, phone and music merge, private groups and self healing groups functionalities. The devices come with a set of large 40 mm in-helmet speakers by JBL and a boom mic. Both devices have a battery backup of up to 16 hours and are IP67 rated dust and water proof. The best part is the affordability of these devices with the S10X priced at Rs 8,499 and Rs 10,999 for the S20X with RideGrid feature. Both devices are universal and can be connected with devices of other makes as well.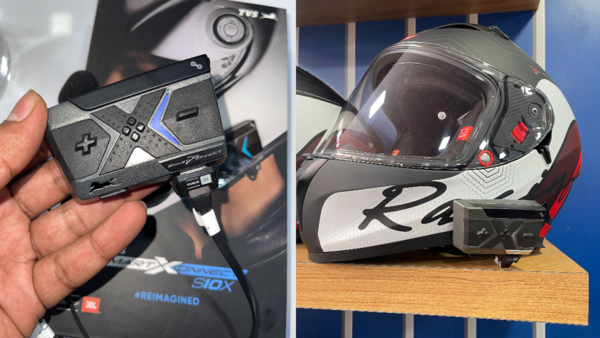 TVS Racing Performance Gear, S10X Bluetooth intercom device
What remains to be seen, is if the TVS racing experiences, biking festivals, gear division and connected ecosystem, will be enough to retain customers once they are at the end-of-use of a TVS motorcycle. Currently, TVS offers performance models in the 160 cc to 310 cc range with the Apache series and the Ronin sits in the middle with its 225.9 cc engine and modern retro positioning. However, what about when a customer outgrows these bikes? Is the community enough to retain them or will they lose out customers to brands offering larger motorcycles in the 350 cc to 650 cc segment? For now, there's no clarity on the company's plans for larger displacement motorcyels but trends and indicators do suggest interesting times ahead.
What are your thoughts? Tell us in the comments.