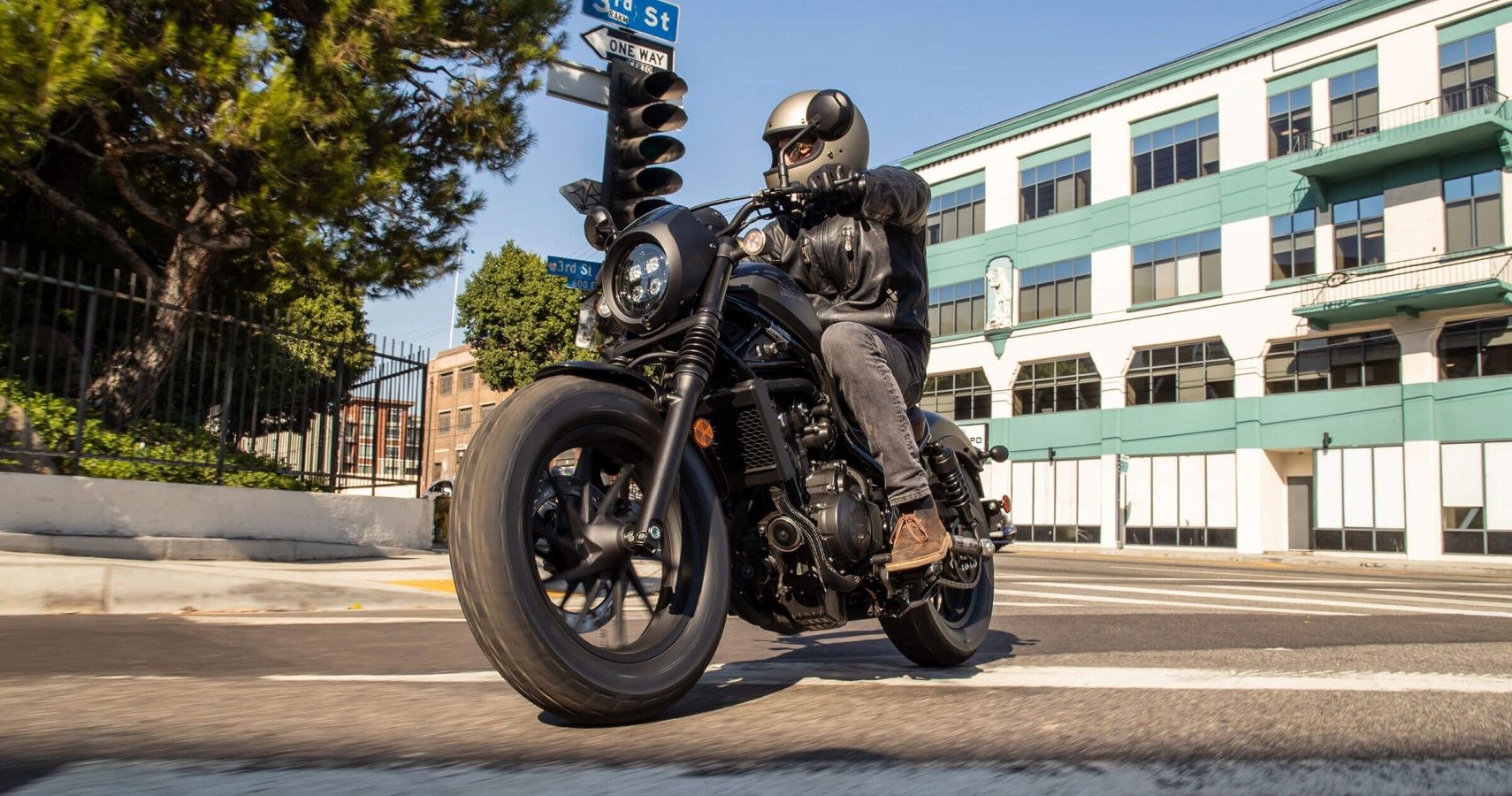 5 Cruiser Bikes That Are Perfect For Touring (5 That Are Made For Short Trips)
A cruiser bike often comes to mind when you imagine freedom on the open highway. Very few things scream exploration and adventure more than the rumble of a cruiser motorcycle. Cruisers are popular among motorcycle riders of all ages due to their unique look, distinct upright riding posture with the legs stretched out, and often big displacement and engines with plenty of low-end torque.
The style and design of cruisers make them a popular choice for many touring enthusiasts. That said, some cruisers are made specifically for long-haul trips, while others are made for commuting and short trips.
10


For Touring – Yamaha V-star cruiser 1300 Tourer
The V Star 1300 Tourer can be described as a heavy middle-weight or a light heavyweight cruiser. The bike is not small, but it is small enough that you won't have to wrestle with it. The V-star is fitted with a 1304 cc V-twin engine that pumps out respectable power without being intimidating.
A low seat and low center of gravity help make the bike easy to handle, making it a great tour bike for beginners. The ability to operate the instrument functions using buttons on the handlebar adds a confidence factor to the bike. Fitted with an adjustable backrest and removable windscreen, you can customize the ride to your liking on the go.
9


For Short Trips – Honda Rebel 500
The Rebel is a lightweight and low seating cruiser that offers plenty of user-friendly power. The potent and fast-revving 471cc parallel-twin motor in the Rebel offers low-rpm torque, but lots of higher-rpm performance. This makes it a great fit for the confident new riders since it is much more forgiving of errors while at the same time offering enough power to bail the rider out of trouble with a bit of throttle.
Wind blast is quite minimal for a naked bike without a windshield. The black cowling installed around the Rebel's headlight effectively guides the oncoming wind around the rider, which reduces wind resistance on the freeway.
RELATED:2021 Honda Rebel 500: Costs, Facts, And Figures
8


For Touring – Victory Cross Country Tour
The Victory Cross Country Tour is a bike made for riders who prefer a bike with a bulky build. The bike is fully dressed with a full fairing with wings to extend protection to the rider's hands, full windshield, and lower leg guard fairings complete with a windbreak. The hard, waterproof locking bags have a total of 41 gallons of space to store enough cargo for continent-spanning rides. An air and oil-cooled Freedom 106.6 V-twin engine help effortlessly haul the 845-pound monster along the highway.
The CC Tour packs numerous feature options including cruise control, ABS, adjustable fairing venting, large floorboards, dual-zone heated seats, three 12-volt sockets, AM/FM radio, weather band radio with iPod integration and full instrumentation. Yes, they are bulky, but many riders will appreciate having them during long rides.
7


For Short Trips – Harley-Davidson Iron 883
The Harley-Davidson Iron 883 carries the authentic style and sound that is synonymous with the brand. The 883cc powerhouse runs hard and gives a smooth ride, which makes the bike quick enough for roaming the boulevards and backstreets.
The Iron 883 gives off a performance-centric vibe, with drag bars and mid-mount controls that form an aggressive rider triangle. This pushes the rider into a slightly forward-leaning forward posture, which makes for fun aggressive cornering. However, the sporty nature of the bike makes it suitable for short around-town rides only.
RELATED:2021 Harley-Davidson Iron 883: Costs, Facts, And Figures
6


For Touring – Kawasaki Vulcan 1700 Voyager ABS
The Vulcan 1700 Voyager ABS stands as Kawasaki's king of the open road. Few motorcycles can command the power and luxury status of the Voyager. The bike is all about comfort and convenience. Its large trunk can fit two full-face helmets, while high-capacity, locking saddlebags can hold all your supplies and gear for the cross-country ride. Small storage compartments provide safe space to conveniently stow electronics, sunglasses, and other valuables.
Additionally, the Vulcan 1700 was built with full regard for passenger comfort. It has a comfortable saddle, passenger backrest, and floorboard for the ultimate pillion comfort on long rides.
5


For Short Trips – Yamaha V-Star 250
The Yamaha V-Star 250 is one of the best and fun entry-level bikes money can buy. It is lightweight and has a low seating that is only 27 inches off the pavement. That said, it still is a good choice for any experienced rider who prefers fun that comes bundled in small packages.
The V Star 250 is a unique bike since it is the only V twin in the performance class. Its smooth, torquey, controllable power delivery makes it popular with riders across all skill levels. Also, at 78 mpg, you are guaranteed to have lots of fun on the V star 250 without hurting your pocket. With carburetor bikes slowly becoming extinct, the V Star 250 offers a rare choice for carburetor fans looking for a simple, classic cruiser commuter bike.
4


For Touring – Harley-Davidson Electra Glide
All the bikes in Harley-Davidson's Glide lineup are respectable tourers, but it is the Electra Glide that stands out. The 2022 Electra Glide Revival is a modern remake of the 1969 Classic that proves blending classic style with modern engineering is a winning formula. The bike's uncompromising comfort design is focused on lengthy rides for two, making it the bike of choice for thrilling adventures that take you cross-country and back.
The Electra Glide's Milwaukee-Eight 107 V-twin engine provides enough power to spare and is accompanied by the memorable deep Harley rumble. The bike's superior throttle response and suspension performance have no rival in terms of quality and efficiency.
RELATED:Comparing The New 2021 Harley-Davidson Electra-Glide Revival To Its Late-Sixties Predecessor
3


For Short Trips – Kawasaki Vulcan S
The Vulcan S is Kawasaki's smallest sport-cruiser that has been in production since 2016. It carries the same low and lean profile that can be found on bigger Vulcan cruisers. The bike's chassis and suspension are derived from a sportbike providing light and responsive handling for effortless maneuvering and a sporty feel.
The Vulcan S is a cruiser that an average rider should feel at home riding due to the low seating position, easy-to-reach handlebars, and perfectly placed footpegs. What more? You are spoiled for choice with 18 different adjustable configurations to achieve your preferred riding position.
2


For Touring – Indian Roadmaster
The Indian Roadmaster is the peak of luxury touring cruiser, complete with classical styling, and bundled with all the cross-country amenities for two you could wish for. It includes navigation, heated grips, and a premium audio system. The Roadmaster is powered by the grunty Indian Thunderstroke 116 V-twin engine. Indian's Ride Command system controls the infotainment and bike data and streams it to a 7-inch touchscreen.
The Roadmaster is a fit for almost all riders due to its low handlebar, spacious floorboards, and wide seat. It comes with adjustable windshield which enables customization of wind protection. The addition of heated grips and seats for both ride and pillion make the bike comfortable for long rides even in cold weather rides.
RELATED:Indian Motorcycle Adds Roadmaster Limited And Indian Vintage Dark Horse To 2021 Lineup
1


For Short Trips – Ducati XDiavel S
Ducati is known for high-performance race motorcycles, therefore when they first introduced their first cruiser, few thought it would be a perfect match. However, the XDiavel S is as addictive as its Ducati siblings. It is one of the best-looking and fun motorcycles money can buy. The Italian performance cruiser is powered by a 1262cc V-twin engine producing 162hp. With city traffic moving at different speeds at different times, the XDiavel S has the power and ability to be the bike you need it to be whenever you need it to be.
The XDiavel S is a bike designed to thrill you every time you hop on it. It is a genuine cruiser with forward-facing foot control, sits low and long with a muscular presence that generates excitement. Also, it gives the sense of standing apart from everyone else on the street.
5 Awesomely Modified Indian Scouts (5 Sick Harley-Davidson Sportsters We'd Rather Ride)
The rivalry between Indian Motorcycles and Harley-Davidson spills over to the custom and aftermarket scene, as evidenced by these cool bikes.
Read Next
About The Author