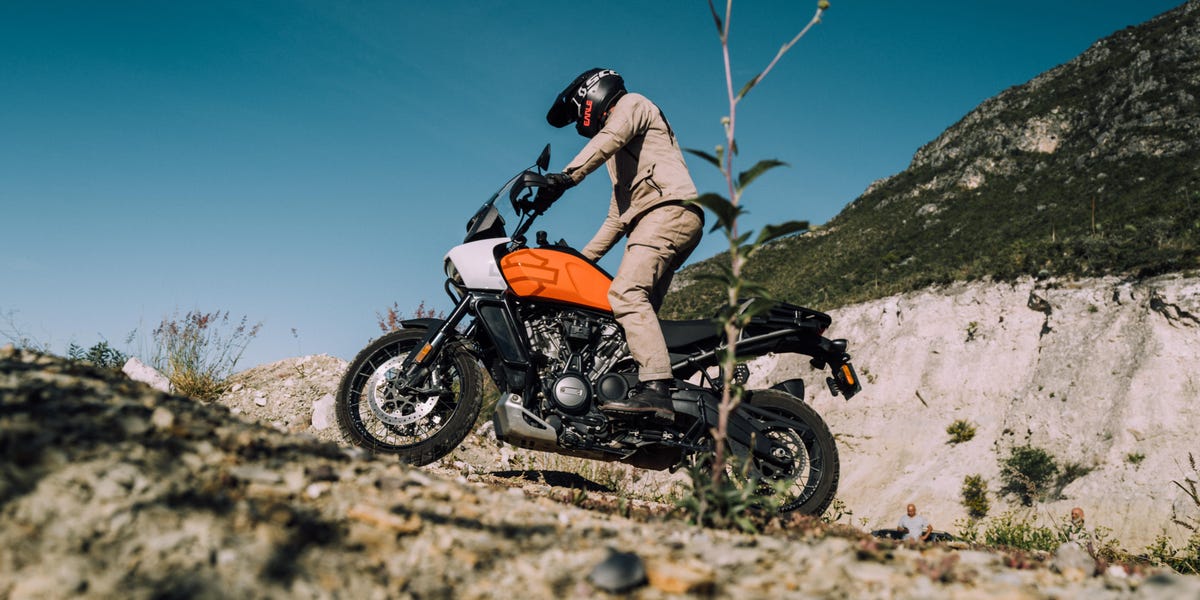 AETHER's Jonah Smith on Mezcal, Adventure Motorcycles and Gear
Technical gear brand AETHER Apparel is well known for its super-advanced and stylish line of motorcycle and lifestyle products. If you're a rider, it's possible to outfit yourself literally in AETHER gear from head to toe – the brand's base layers, lightweight jackets and accessories fit right in with the more rugged and road-ready moto boots, pants and jackets.
Recently, a small contingent of AETHER team members grabbed some friends, borrowed Harley-Davidson Pan America adventure bikes and suited up for a long journey through Mexico's mezcal-producing region. There they learned the ins and outs of distilling the smoky spirit, put down plenty of off-road miles, and put their own gear to the test. The result? A killer story, some gorgeous photos, plenty of opinions about the new Harley and insights they use to refine future products.
We spoke with Jonah Smith, co-owner of AETHER, about riding motorcycles in unknown territory, what surprised him about mezcal production and, most importantly, the gear they brought along.
Editor's Note: the following interview has been edited for length and clarity.
GEAR PATROL. Why Mexico and why mezcal?
JONAH SMITH. One of our dear friends is a partner in the mezcal brand called Madre, and he's an avid motorcycle rider. He's been telling us for a long time to go to Oaxaca. A lot of times when I go riding in the US, it's a journey. This was certainly a journey, but with a purpose—it was a learning exercise.
Once we left Mexico City, we were on the Pan-America Highway, which was really beautiful. The roads were stunning. I think a lot of people's impression [of Mexico] is that it's pretty flat and hot, but there are tons of rolling hills. The temperature change was dramatic—light rain at the top of the mountains to serious heat at the bottom.
Q. One of your crew, Oscar Peralta, was a Mexico City local, and no doubt his guidance proved helpful. If folks want to explore Mexico but aren't familiar with the area, is finding a local guide the best bet? Any other tips for recreating your trip?
A. We were lucky to have Oscar along. He helped coordinate the way in and out of Mexico City, and he found us a hotel that was not in the center of the city, which definitely made it easier. We had eight motorcycles and didn't want to get divided up. Trying to stay in a group [was important] from a safety standpoint as well as from a navigation standpoint. We were tense through those sections, but Oscar led the way [and knew the best routes], which was great. I definitely would advise having a local person to help you navigate in and out of Mexico City. Once we were in Oaxaca, it was a small little city and very manageable.
Q. Do you ride a lot otherwise?
A. I knew how to ride dirt bikes as a kid, but now I do a lot of adventure touring. I ride a big BMW 1250 GS. I often ride with a bunch of guys, and we'll go to the Redwoods or the Grand Canyon or Zion and camp for multiple days.
Q. A key element of motorcycle touring is packing light. How did you select gear to bring?
A. For this trip to Mexico, most everyone picked the Mojave jacket. It's a jacket we built two years ago for Southern California riding, so obviously that made sense in Mexico too. [It's made of] a super thick canvas fabric with lots of vents. It's technically not a waterproof jacket, but the thick material protects you from the rain, [so it] was the perfect piece for the heat and the changing temperature and weather.
When I ride I usually bring along a layer—either the Space Hoodie or the Ghost Jacket, [which] both pack down really small so they don't take up much room in my pannier. I also have the AETHER moto boot, AETHER moto gloves, and one of our bandanas as well as a bunch of other layers.
I also take a lot of photo equipment with me, so I have that in tow as well. One [camera] I bring everywhere is my Leica Q2, which is my favorite. I ride with it over my shoulder.
Q. The Q2 is phenomenal.
A. Yeah. It's my favorite. I've had the Q1. I'm a big Leica guy, and I take a camera everywhere. I can operate it with one hand, and I can swing it over my shoulder and feel pretty comfortable. I also brought along a drone, and I also have [a Leica] SL2.
Q. What are your impressions of the Harley-Davidson Pan America overall? How's it compare to your BMW GS?
A. It was daunting to go to a foreign country with a bike I'd never ridden before. I was a little terrified that it would be this monstrosity that would be hard to maneuver. I don't know if you've ever been to Mexico City, but the traffic is outrageous.
The Pan America was great. It's really comfortable—zippy and responsive. It actually rides pretty small, which is nice, and it has really great third and fourth gears that wind out and sound great. It's definitely a little warmer of a bike than the GS. You feel the heat of the engine, especially during slower traffic, which is something I had to get used to. And, it has all this amazing technology in it—the display and the suspension. It checks all the boxes that a modern bike does.
Personally, I think it's a really beautiful-looking adventure bike. A lot of times adventure bikes are built for their purpose, not really the aesthetic. But this one I think looks really good. I like the tank and the fairing around the light in the front. It's a pretty machine.
Read Gear Patrol's review of the Harley-Davidson Pan America.
Q. Were there any issues with the bikes or just along the way? Any misadventures?
A. When we were in Oaxaca, we did a lot of dirt roads and Jeep trails to get to the different mezcal distilleries, and everyone did great. No one dropped the bike. Everyone who was with us was a pretty seasoned rider, so nothing was that technical for us. And, of course, I'm very adamant about no drinking and driving. We were very safe about that.
Q. Did anything surprise you about the experience?
A. I was definitely enamored with the people of Oaxaca. Everyone was super nice, and the food is amazing. Oaxaca is a good-size city with a nice village feel.
Also, the process of making mezcal [was surprising]. I had no idea what agave would look like, how they smoke it, the distillation of it. It's really interesting how each distillery has its own kind of formula, but the formula is all in someone's head. It's an ancient process. It's not like "two ounces of that, and we mix with that." It's more flexible, like cooking.
It's young people who run the distilleries. They learned from their father or from their uncle, and now they're doing it, which is really nice to see these days when everything is so automated and formulaic. People were proud of what they were doing and happy to show us.
Further Reading: A Guide to Mezcal, the Smoky Agave Spirit
Q. AETHER is a small operation too – are there parallels between AETHER and the mezcal distilleries you visited?
A. Sure. I think we're both very precise. AETHER is not this enormous enterprise or huge corporation, but when making technical gear you can't wing it.
In Oaxaca, there was a similar passion for making something good at the end of the day and being proud of what you've made, but the process is very different. [When you make mezcal], it's not a calculation of one type versus the other; it's about the plants, and each batch has a slightly different taste. The temperature, when it was grown or when it was harvested or how long it sat aside – all those things factor into it. The head distiller or cooker has a sense of that.
Q. Were you field testing any new AETHER gear on the trip?
A. Yes, we were testing some new spring lifestyle products like the Rapids jacket.
Everything performed well. Wear tests are helpful – when you wear a jacket you realize what works and what doesn't work for you. You're like, "Oh, it feels weird. Why isn't there a pocket on my sleeve?" Especially with our moto stuff, we take a lot of time riding in the different jackets, and then we modify the next version of it.
One of our moto pants has this pocket that's in the side seam because most of the time when you're on your motorcycle your leg is up or sideways. The pocket provides a way to get your wallet or money without having to go into your hip pocket, which is usually bent at that point. [We were] in the field riding, went through tolls and realized we couldn't get money out of our hip pockets, and that's how we decided there should be a pocket there. These trips are how we discover the small details that ultimately lead us to create the best possible jackets and AETHER pieces.
Learn More