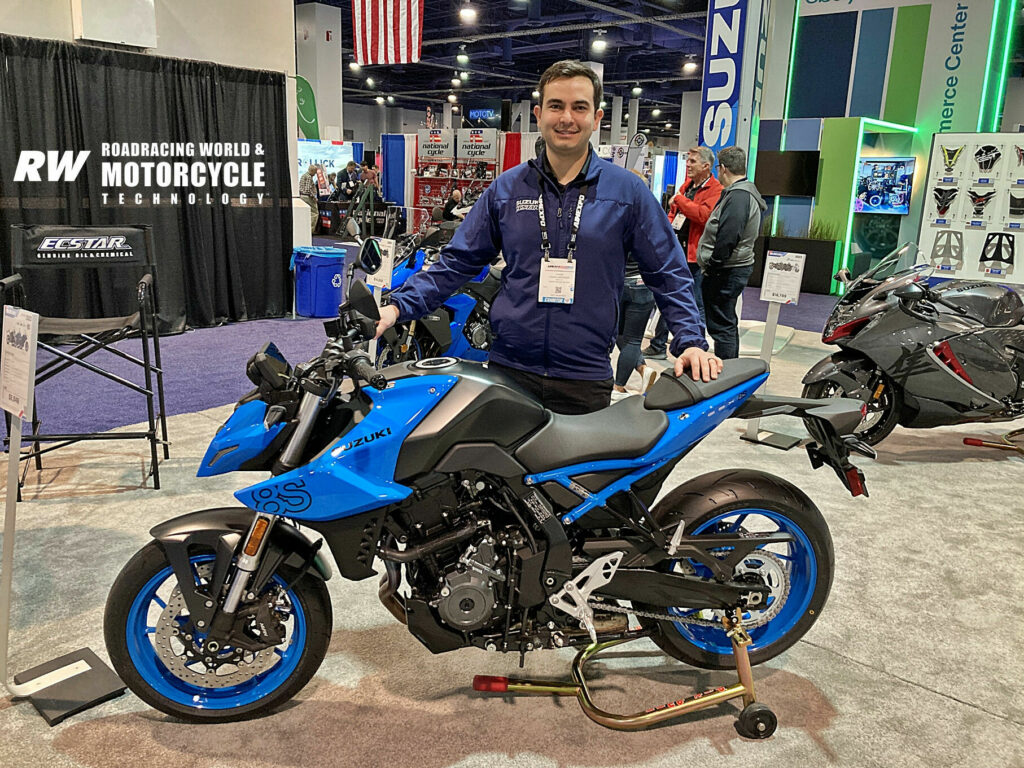 AIMExpo 2023 Las Vegas: Bigger Beginner Bikes, Upping The Voltage – Roadracing World Magazine
Copyright 2023, Roadracing World Publishing, Inc.
By Michael Gougis
Electric powered- and electric-assisted machines were in full force at the AIMExpo 2023 in Las Vegas, and motorcycle industry stalwarts showed off new and improve models that make middleweight motorcycles more accessible to newer and beginning riders.
Suzuki debuted its new GSX-8S alongside its new V-STROM 800 DE Adventure machine, with the new 776cc Parallel-Twin models incorporating several features to make the bikes suitable for riders with minimal experience. Each comes with traction control, anti-lock brakes, assisted/slipper clutch mechanisms, and clutchless upshifting and downshifting.
"We wanted to come out and showcase some of our newest, latest products, and connect with the dealer network. We wanted to show people that Suzuki was still going to be a strong presence in the motorcycle industry in America," said Chase Rastegar, Assistant Manager of National Sales and Dealer Development for Suzuki Motor USA.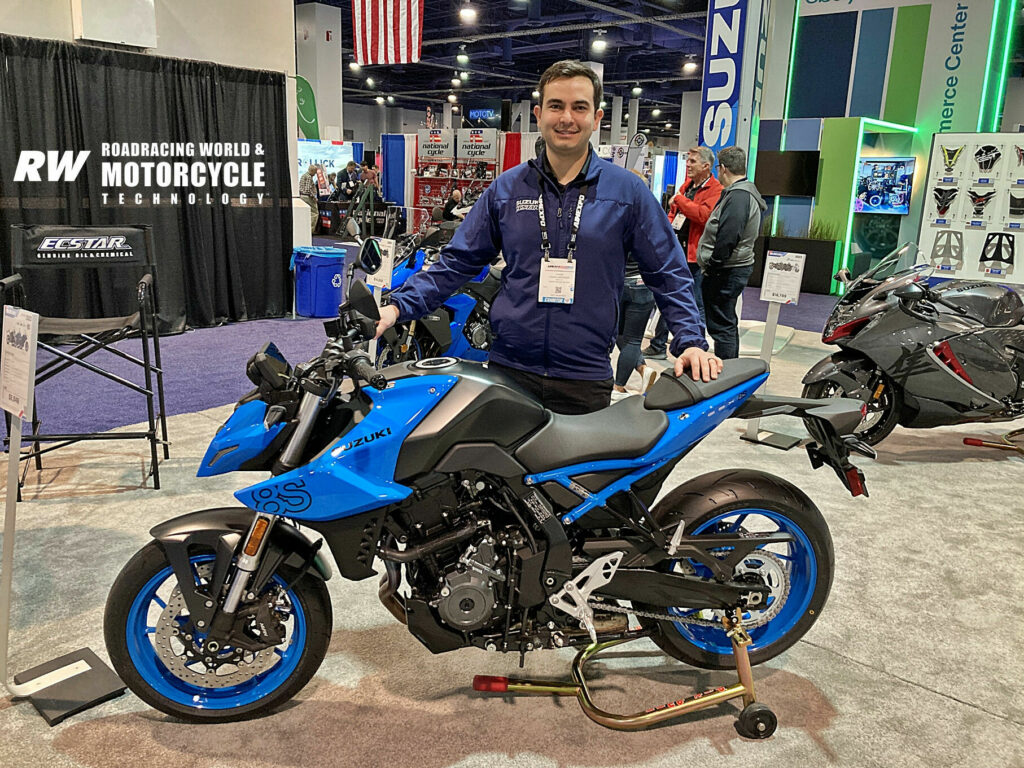 As the electronic rider aid technology introduced and refined in the heat of road racing competition matures, it becomes cheaper and easier for manufacturers to incorporate it into less expensive production models. Kawasaki's Ninja 650 now comes with traction control. Triumph had on display at AIMEXPO its Speed Twin 900, which makes Middleweight Twin power in a package that comes with an assisted clutch, ABS, and traction control. Which  means that larger models, more than ever before, are suitable for riders with minimal experience. In theory, this means that a new rider can, instead of purchasing a "starter" bike that they will outgrow, purchase a larger machine, hone their skills with a safety net of rider aids underneath them, and have a vehicle that will entertain them for years.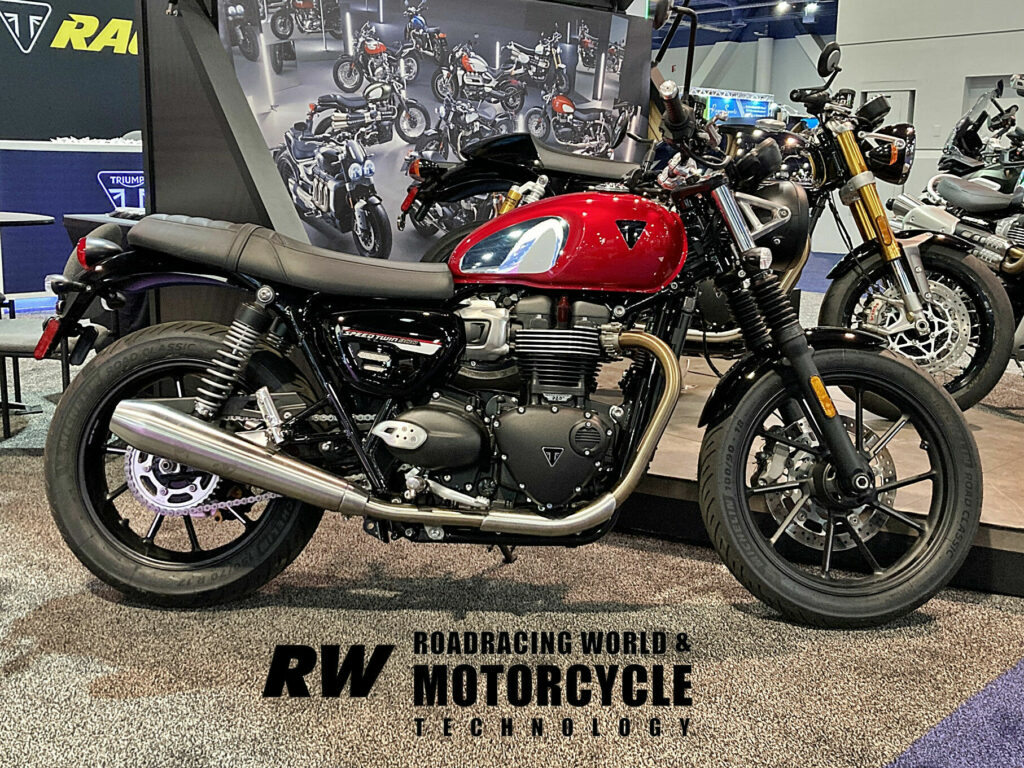 The other trend visible among the exhibits was, of course, the increasing prevalence of electric-powered and electric-assisted vehicles. Notable by their absence were the manufacturers of larger, more expensive, and higher-powered electric motorcycles like Zero and Energica.
Instead, the floors were packed with smaller machines that looked very much like minimalist off-road motorcycles; electric-assisted bicycles; and an assortment of other electric vehicles that promised fun, style, or some combination thereof. These motorcycles were not designed to be direct competitors to internal-combustion machines. Instead, they were designed to be fun, practical transportation for urban use and light commuting and off-roading. Top speeds were typically 70 mph and below, with range well under 100 miles, and designed primarily to be charged at home. But the price points were in line with entry-level gas-powered motorcycles, and in some cases well below.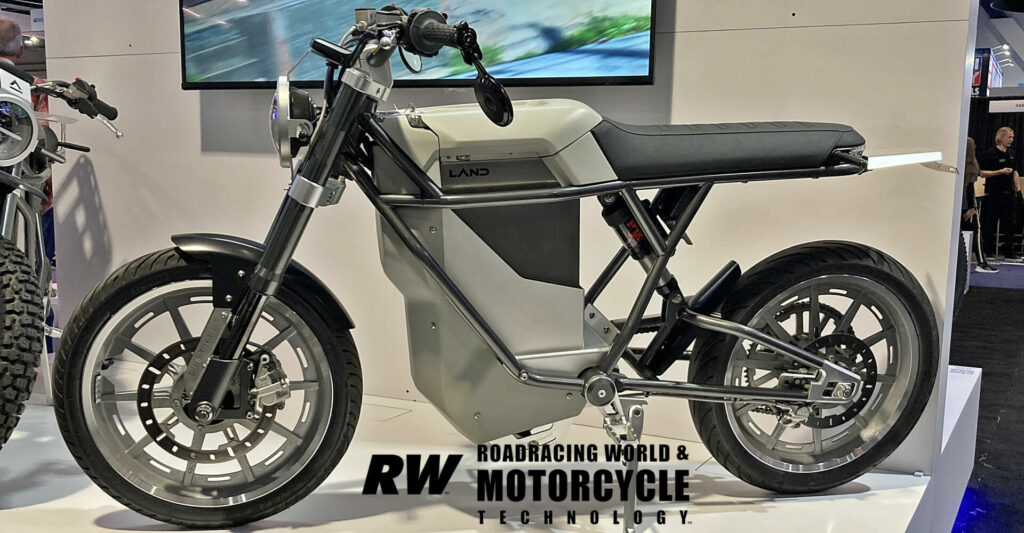 The electric-assisted pedal bicycle market has exploded in recent years, and there were several models on display. And JackRabbit exhibited what may become an entirely new category of electric vehicle–the micro eBike. For $999.99, a rider gets an electric motorcycle that weighs 24 pounds, has a range of about 10 miles, goes 20 mph and folds and disassembles into a package that is only seven inches wide. Honestly, the company may as well have had a big neon sign saying "Pit Bike" mounted above its booth!