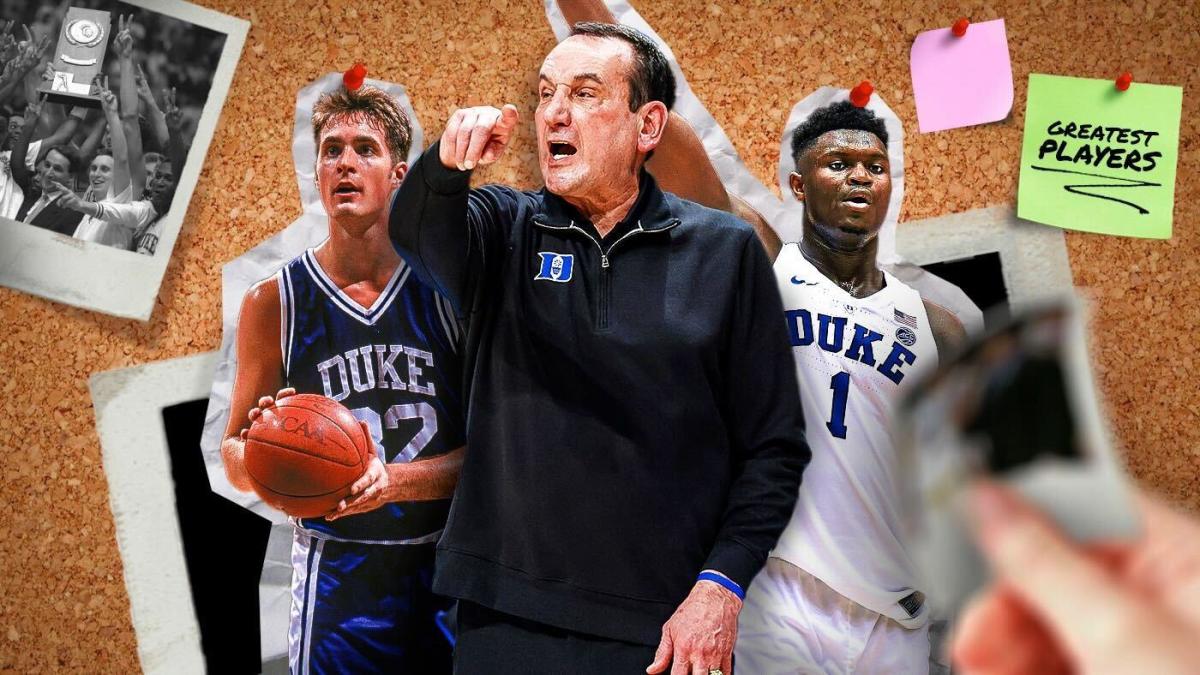 Coach K's Farewell Tour: The top 42 Duke players in Mike Krzyzewski's 42 years as coach of the Blue Devils
Over the next few weeks, countless words will be spilled to put Mike Krzyzewski's unparalleled career into perspective. Allow us to help frame the way, we think, he'd most prefer: through the accomplishments of his players.
Mike Krzyzewski became the man known as Coach K because of who he recruited, the players who turned Duke into the biggest program in college basketball. Krzyzewski has coached 68 NBA Draft picks (42 in the first round) picks, 37 All-Americans, nine national players of the year and, in total, 208 players.
As he closes in on his final season, we're winnowing down those 208 to the 42 greatest players Krzyzewski has coached at Duke. Forty-two players for 42 seasons. (Current members of the team were not up for consideration.) 
We huddled together at the foul line, put our arms around each other, Duke-style, and voted democratically on who the best to play for K are. It's key to know that we did not rank these players based off of career accomplishments or their overall impact and importance to Duke. These are the best players, no matter if they played one season or four. Plus, NBA careers were not taken into account for this exercise.
The simplest way to think about this: If this is a proverbial playground pickup game, these are the guys we're taking in order based on who we think was best as a college player in terms of their stats, value and impact on teammates.
It was not easy.
There were some excruciating snubs. But the fact we could get to 42 and still feel like we left nearly 10 guys off the list who should be on it? Well, that there tells the story of Duke men's basketball over the past four-plus decades better than just about anything. Here are the best to come through Cameron in K's time over four-plus decades. 
42. Seth Curry (2010-13)
Stats: 13.2 ppg, 2.3 rpg, 2.0 apg, 42.0 3-pt%
After starting his career at Liberty, Curry made the leap to Duke and immediately established himself as an outside weapon who would shoot it without fear. He finished as a career 42% shooter from beyond the arc and eventually grew into a star playing alongside the likes of Austin Rivers and Mason Plumlee. Despite starting off this list in this spot, it should be noted he finished with a solid career and earned All-ACC honors twice. — Kyle Boone
41. Tommy Amaker (1983-87)
Stats: 8.5 ppg, 5.1 apg, 1.9 spg
When Amaker arrived on campus for the beginning of Krzyzewski's fourth season, Duke had yet to reach the NCAA Tournament in K's tenure. By the time Amaker left after starting all 138 games in his career, the Blue Devils were established as a national power. Though his scoring numbers don't show it, Amaker is more than just a nostalgic figure in program lore. He was a talented point guard who still ranks third in program history for assists and steals. — David Cobb
40. Wendell Carter Jr. (2018-19)
Stats: 13.5 ppg, 9.1 rpg, 2.1 bpg, 58.6 FG%, 41.3 3-pt%,
Carter's time at Duke was overshadowed a bit considering he shared the court with a couple of other players on our list. (Keep reading!) But still: he was the seventh pick in the draft on a No. 2-seeded team that went to OT against Kansas in one of the best Elite Eight games of the past decade. Carter could step out and shoot, he was good on the block, had great touch and was a viable defender in his one-and-done season. Had Marvin Bagley III not reclassified, Carter's numbers almost certainly would've been much better, and he'd be higher on the list. — Matt Norlander
39. Tyus Jones (2014-15)
Stats: 11.8 ppg, 5.6 apg, 1.5 spg, 37.9 3-pt%
Jones stepped in as a freshman and led a team loaded with future NBA players to a national championship. After scoring 23 points against Wisconsin in the national title game, the 6-1 point guard was named the NCAA Tournament's Most Outstanding Player. If Jones were of an earlier era, he would have stayed four seasons and would rank among the program's all-time statistical leaders in several categories. He's gone on to an excellent NBA career and should be regarded as among Krzyzewski's most talented point guards even though he played just one season. — DC
38. Cherokee Parks (1991-95)
Stats: 12.5 ppg, 6.7 rpg, 55.1 FG%
In a career intertwined with other stars on our list (Grant Hill, Bobby Hurley, Christian Laettner), the totality of Parks' career helps land him at No. 38. Only once did he lead Duke in a season in scoring — as a senior — he was a big body who knew how to find the basket and used his size advantage to dominate on the glass while scoring efficiently. He was picked 12th overall by the Dallas Mavericks in the 1995 NBA Draft. — KB
37. Luol Deng (2003-04)
Stats: 15.1 ppg, 6.9 rpg, 1.8 apg
Among the earliest one-and-done Dukies. Before being the No. 7 pick in the 2004 NBA Draft, Deng won national freshman of the year and started 32 games for a No. 1-seeded Final Four team that lost to eventual national champs UConn. In his one season under Krzyzewski, Deng led all ACC freshmen in scoring, rebounding and field goal percentage. He was physical but lithe, and in some ways, unlike most other players Krzyzyewski had coached to that point. By midway through his freshman season, it was clear he wouldn't be there long. — MN
36. Gerald Henderson (2006-09)
Stats: 12.3 ppg, 4.2 rpg, 1.0 spg, 45.8 FG%
The Sweet 16 is the farthest Duke made it during Henderson's three-year run on campus, so perhaps the 6-5 guard gets lost in the shuffle a bit. Considering he played with the likes of Greg Paulus, Jon Scheyer, Nolan Smith and Kyle Singler during his career, that's not surprising. But he was a third-team All-American in 2009 who was selected No. 9 overall in that year's draft before going on to average double figures in four consecutive NBA seasons. He was indeed among the most-talented to play for Krzyzewski. — DC
35. Phil Henderson (1986-90)
Stats: 12.1 ppg, 2.9 rpg, 1.9 apg, 48.4 FG%, 40.0 3-pt%
Henderson took a backseat in the spotlight to Danny Ferry for most of his Duke career, but blossomed into the leading scorer as a senior on a team that included young Christian Laettner and Bobby Hurley. That team finished as the national runner-up to UNLV in part because of Henderson's heroics; he averaged nearly 22 points per game during the NCAA Tournament and had two 28-point explosions — one against UCLA and another against Arkansas later in the Final Four — to key the Blue Devils to the title game. — KB
34. Chris Carrawell (1996-00)
Stats: 10.7 ppg, 4.5 rpg, 2.3 apg
There's a valid argument to make that we've got Carrawell, who's been an assistant at Duke since 2018, a few spots too low. He was a Consensus All-American in his senior season — the same year he also won ACC Player of the Year and was named to the league's All-Defense team. Carrawell's last season propelled him to be the 41st pick in the 2000 draft. That was the culmination of a college career the way they used to happen for many starters in the '70s, '80s and '90s: Carrawell was a very good high school prospect, then adjusted to being a role player in his first two seasons. As a junior, he was a good piece but not the alpha on the 1998-99 team that lost in the title game. As a senior, he became among the best players in the country. All four of Carrawell's teams won the ACC regular season title. — MN
33. Mason Plumlee (2009-13)
Stats: 9.8 ppg, 7.7 rpg, 1.4 bpg, 57.4 FG%
Had Trent Johnson not left Stanford, Plumlee never makes this list, as he and brother Miles were committed to play for the Cardinal. Plumlee ranks fourth all-time in rebounding at Duke and fifth in blocks. The 6-10 big man came off the bench as a freshman for the 2010 national title team and evolved into a college star by his senior season. He earned All-American honors in 2012-13 while leading the Blue Devils to a 30-6 mark and an Elite Eight appearance. After getting selected No. 22 overall in the 2013 NBA Draft, Plumlee has carved out a nice career as an NBA role player. — DC
32. Gene Banks (1977-81)
Stats: 16.8 ppg, 7.9 rpg, 2.9 apg, 1.4 spg, 53.1 FG%
Banks was a senior when Coach K arrived in Durham in 1980, so there was very little overlap between the old and new eras — but it does not overshadow Banks' abilities. The four-time All-ACC performer averaged 16.8 points over his four seasons, led Duke in K's first campaign in scoring and was one of three double-digit scorers on the 1977-78 team that finished as the national runner-up. Banks could stuff a stat sheet as good as any and remains top-10 on Duke's record books in scoring and rebounding. — KB
31. Tre Jones (2018-20)
Stats: 12.4 ppg, 5.8 apg, 4.0 apg, 1.8 spg
You can toss Jones' college career into the batch with all of the college teams, coaches and players whose reputations, at least in part, were negatively impacted by not having a 2020 NCAA Tournament. Jones wasn't a huge personality but he was a rock-steady point guard. Duke was tracking as a No. 3 seed that 2019-20 season, a season that Jones won ACC Player of the Year and ACC Defensive Player of the Year — only one of two players to do that (Virginia's Malcolm Brogdon the other) since ACC DPOY was handed out beginning in 2004-05. Jones left after his sophomore season and was the 41st pick in the NBA Draft. — MN
30. Kyrie Irving (2010-11)
Stats: 17.5 ppg, 4.3 apg, 46.2 3-pt%
Irving is clearly among the most-talented players Krzyzewski coached, but it's hard to rank him as an all-time great college talent considering that he played just 11 games due to injury. But he is among the most-accomplished NBA players to ever play for Krzyzewski. The 2010-11 Blue Devils finished 32-5 and were a No. 1 seed in the NCAA Tournament. They were bounced in the Sweet 16 after Irving made his return for the Big Dance. It's hard not to wonder what could have been for that team if he'd been healthy all along and able to develop chemistry with teammates Kyle Singler and Seth Curry. — DC
29. Chris Duhon (2000-2004)
Stats: 8.8 ppg, 5.7 apg, 3.4 rpg
Duhon is one of the great floor generals Duke had of the Krzyzewski era and the record books — where he ranks No. 1 all-time in career steals and No. 2 all-time in career assists — reflect just how big a force he was. Thrust into the starting lineup as a true frosh, he thrived in a backcourt alongside Jay Williams and was the trusted hand that helped guide Duke that season to a title. He's sometimes the overlooked piece of that team that featured Shane Battier, Carlos Boozer, Mike Dunleavy and Williams, but his defense and decision-making were integral pieces of that 2000-01 team and the others that came the rest of his career. — KB
28. Trajan Langdon (1994-99)
Stats: 14.5 ppg, 2.5 rpg, 42.6 3-pt%
This has to be the part where I remind you that we collectively got together and voted for this list, then did some post-tally tinkering, but to the college hoops fans reading this who came of age in the '90s, just know that my voice can only go so far. You say Trajan Langdon, I say that is a definite top-25 player K's ever had. But we'll settle with him here at 28. Boasts one of the best nicknames of the '90s: The Alaskan Assassin. Langdon was Duke's greatest 3-point shooter in school history until a guy named Redick stepped into Cameron. A Consensus Second Team All-American in 1999, Langdon's final play was a gaffe: he traveled on Duke's last possession in the national championship game. Still, he was a three-time All-ACC player and a central figure on an all-time great Duke team. — MN
27. Luke Kennard (2015-17)
Stats: 15.7 ppg, 4.3 rpg, 2.5 apg, 38.3 3-pt%
Kennard took a massive step between his freshman and sophomore seasons to become an All-American and MVP of the 2017 ACC Tournament. The 6-5 slasher and shooter knocked down 43.8% of his 3-pointers as a sophomore and surpassed teammates Grayson Allen and Jayson Tatum in points per game. He was taken No. 12 overall in the 2017 draft and has proven to be a solid NBA talent. — DC
26. Grayson Allen (2014-2018)
Stats: 14.1 ppg, 3.2 rpg, 3.0 apg, 43.0 FG%, 38.0 3-pt%
Allen averaged a modest 4.4 points and 9.2 minutes per game as a freshman, but at the tail end of his debut Duke season he exploded on the scene to help lead the program to a championship, including a 16-point outing in the title game. In his four-year career he never earned All-America honors but he was twice an All-ACC performer and he consistently provided a spark and edge to the program over the years. The Utah Jazz in 2018 made him the 21st pick of the NBA Draft. — KB
25. Austin Rivers (2011-12)
Stats: 15.5 ppg, 3.4 rpg, 2.1 apg, 36.5 3-pt%
As the No. 2 overall prospect in the 2011 class, Rivers faced the unenviable task of stepping in as Nolan Smith and Kyle Singler departed. The 2011-12 Duke team was not among Krzyzewski's most-talented squads, but Rivers did his part by earning ACC Rookie of the Year honors and getting better as the season progressed. He led the Blue Devils in scoring and was selected No. 10 overall in the 2012 NBA Draft. — DC
24. Kyle Singler (2007-11)
Stats: 16.2 ppg, 6.9 rpg, 2.0 apg
Singler was the 2008 ACC Rookie of the Year, which portended a fabulous four-year run in Durham. Singler was a two-time First Team All-ACC player, his college apex coming as a junior when he won NCAA Tournament Most Outstanding Player for Duke's 2009-10 championship run. The encore was pretty good, too: Singler was a Second Team All-American as a senior. Bet you didn't know it: Singler ranks fourth all time on Duke's scoring list (2,392 points). — MN
23. Mike Dunleavy Jr. (1999-02)
Stats: 13.2 ppg, 5.8 rpg, 2.2 apg, 47.5 FG%, 37.1 3-pt%
Dunleavy Jr. entered the picture at Duke when the program was gushing with talent; he played with Shane Battier, Jay Williams, Carlos Boozer, Chris Duhon, Dahntay Jones and others. Yet he was still able to break through as a consistent difference-maker. He was never a top-two scoring option on his own team but he was always a reliable weapon and he knew how to put the ball on the deck and create for himself and for others. After winning a title as a sophomore and earning Consensus All-American honors as a junior, he went on to become the third pick of the 2002 draft. — KB
22. Vernon Carey Jr. (2019-20)
Stats: 17.8 ppg, 8.8 rpg, 1.6 bpg, 57.7 FG%
We're determined to make sure Carey's tremendous one-and-done season doesn't go overshadowed here. The big man was the national freshman of the year, a Consensus Second Team All-American and, as we laid out near the end of his freshman season, was doing things as a first-year player few ever did at Duke. He was (narrowly) more valuable that season than point guard Tre Jones. No 2020 NCAA Tournament and not being a first round pick hurts his stock for some in retrospect, but he was an offensive force for his 31 games in a Duke uniform. — MN
21. Carlos Boozer (1999-02)
Stats: 14.9 ppg, 7.2 rpg, 63.1 FG%
Boozer was part of a starting five that all averaged double figures on the 2001 national title team. The next season, he stepped into an even larger role for a 31-4 team that reached the Sweet 16. The 6-9 bruiser went on to become a two-time NBA All-Star after leaving for the draft following his junior season. It's a sign of how loaded that 2001 team was that Boozer was actually sixth on the team in minutes per game, because he is among the most-talented big men coached by Krzyzewski. — DC
20. Jayson Tatum (2016-17)
Stats: 16.8 ppg, 7.3 rpg, 2.1 apg, 45.2 FG%, 34.2 3-pt%
Tatum wasn't the highest-rated recruit in his own star-studded recruiting class (that was No. 2 overall recruit Harry Giles) nor was he the leading scorer on the lone Duke team he played on (that was Luke Kennard) before being the highest draft pick of them all (No. 3 overall in 2017), but he was easily the most talented on the 2016-17 Duke team that also featured future pros Grayson Allen and Frank Jackson. Tatum got better as the season rolled along and had a legendary ACC Tournament showing in which he averaged 22 points en route to the championship. This Duke team, though, did a great job of sharing its star power evenly, hence the No. 20 ranking on our list. — KB
19. Brandon Ingram (2015-16)
Stats: 17.3 pg, 6.8 rpg, 2.0 apg, 41.0 3-pt%
In voice, presence and playing style, Ingram is probably the quietest star Duke's ever had. But he was a raw talent that kept 2015-16 Duke (a No. 4 seed that year) a bit better than it otherwise would have been. Ingram won ACC Rookie of the Year, was an AP honorable mention for All-American and had the second-most 20-point games by a freshman in program history. Had he wanted to average 20 and 8, he likely would have. His natural talent was so tempting, he went second in that year's draft. — MN
18. Nolan Smith (2007-11)
Stats: 13.4 ppg, 2.8 apg, 1.0 sig, 36.8% 3-pt%
Smith played a pivotal role on Duke's 2010 national title team and earned ACC Player of the Year honors the following season. The 6-2 guard progressed from a mere role player off the bench as a freshman to become the ACC's leading scorer as a senior. His career arc is largely a thing of the past in the one-and-done era, and there's no telling what Smith's career numbers would have been if Duke had needed him to be a focal point of the offense from day one. — DC
17. Jon Scheyer (2006-2010)
Stats: 14.4 ppg, 3.1 apg, 3.6 apg, 40.6 FG%, 38.1 3-pt%
The soon-to-be head coach of Duke was a star in his own right as an indelible figure on several of the program's teams in the late aughts, including the squad he helped lead to a championship in 2010. That same season, he was also a Consensus Second Team All-American. Scheyer had a smooth, trusty shot with a high release and was the leading scorer and facilitator for the title-winning team that also heavily featured Nolan Smith and Kyle Singler. — KB
16. Mark Alarie (1982-86)
Stats: 16.1 ppg, 6.3 rpg, 55.0 FG%
Let's be clear on this point: If we were ranking the most important Duke players, or listing out the best careers in school history, Alarie would have a rock-solid case to be in the top 10. But this is the stage of our list where the college-greatness quotient combined with natural talent takes us to a new level. Alarie was a key player in the "class that saved K," as it's been referred to. Though he never won a title, it was his class (with Amaker and another guy you'll read about in a minute) that set the table for Duke to be Duke. Alarie was a UPI Third Team All-American his senior season and First Team All-ACC in '85-86. Alarie was drafted 18th overall in 1986 by the Denver Nuggets. — MN
15. Jabari Parker (2013-14)
Stats: 19.1 ppg, 8.7 rpg, 1.2 bpg, 35.8 3-pt%
Parker earned ACC Rookie of the Year and All-American honors after entering as the No. 4 prospect in the 2013 class. The 6-8 forward turned in arguably his best performance with a career-high 30 points in Duke's win over North Carolina to close the 2013-14 regular season. He became the No. 2 pick in the NBA Draft and is one in a long line of elite one-and-done talents to suit up for Krzyzewski during the 2000s. — DC
14. Shelden Williams (2002-2006)
Stats:13.9 ppg, 9.1 rpg, 3.0 bpg, 1.2 bpg, 57.2 FG%
This list is not a lifetime achievement, but Williams' placement on this list must come with the obvious acknowledgement that his four years were among the more impressive of all the Blue Devils who came through the program under K. Williams was a fabulous defensive presence and his scoring chops were nothing to turn your nose up at either. The two-time ACC Defensive Player of the Year still holds the program's all-time rebounding and blocks record, and he was a consensus All-American as a senior before the Atlanta Hawks made him the sixth pick of the 2006 NBA Draft. His No. 23 jersey was retired in 2007. — KB
13. Jahlil Okafor
Stats: 17.3 ppg, 8.5 rpg, 66.4 FG%
Consensus First Team All-American. ACC Player of the Year. National freshman of the year. NCAA champion. Okafor lived up to his considerable hype as the No. 1 overall prospect in the high school class of 2014. (He was also CBS Sports' preseason Player of the Year heading into his freshman campaign.) Okafor teamed up with Tyus Jones, Quinn Cook (narrowly missed our list) and Justise Winslow (also barely missed our list) to beat Wisconsin in the 2015 national championship game. He was the first Duke freshman to get 20 rebounds in a game and became the first freshman in the ACC to win the league's player of the year honor. He was No. 2 in KenPom's kPOY ranking, too, and was the No. 3 pick in the 2015 NBA Draft. — MN
12. Marvin Bagley III (2017-18)
Stats: 21.0 ppg, 11.1 rpg, 39.7 3-pt%
Bagley matched the hype of his No. 1 prospect ranking by earning ACC Player of the Year and All-American honors in his lone season with the program. Between six games in the ACC and NCAA Tournaments, Bagley averaged 22.3 points on 65.4% shooting. His status as a top talent of Krzyzewski's tenure was validated in the 2018 NBA Draft, when he was selected No. 2 overall after just one season in college. If he'd come along before the one-and-done era, Bagley would surely rank among the program's all-time statistical leaders in points and rebounds. — DC
11. RJ Barrett (2018-19)
Stats: 22.6 ppg, 7.6 rpg, 4.3 apg
On a team that had two other top-10 NBA Draft picks, Barrett, the third pick of the 2019 draft to the Knicks, was the leading scorer and was routinely relied on in late-game situations as a creator, scorer and finisher. He consistently delivered big performances even as Williamson cruised to NPOY honors, scoring 30 or more points in six games in his one-and-done season. He was a highly ranked recruit who did not wilt under the pressure of playing at Duke and for K. Barrett's 860 points scored ranks second on Duke's all-time single-season scoring list. — KB
10. Bobby Hurley (1989-93)
Stats: 12.4 ppg, 7.7 apg, 40.5 3-pt%
We're now into true Duke royalty. Hurley is one of the best and most accomplished point guards in college basketball history, having helped K and the Blue Devils win back-to-back national titles in 1991 and 1992. He was the 1992 Final Four Most Outstanding Player and a 1992-93 Consensus First Team All-American. His 1,072 assists remain the most by a men's D-I player ever. Hurley was a point guard's point guard, and tough as hell for a Duke team that, at the time, was still trying to prove its viability by winning a title. Which it did. His No. 11 jersey is one of 13 retired by the school; Hurley was so good, the team retired the number the night of his final game. He was drafted seventh by the Sacramento Kings in the '93 draft. — MN
9. Shane Battier (1997-01)
Stats: 13.6 ppg, 6.1 rpg, 1.7 bpg, 1.8 spg, 41.6 3-pt%
As a senior, Battier paired with Jay Williams to lead the Blue Devils to the 2001 national title while averaging 19.9 points 7.3 rebounds, 2.3 blocks and 2.1 steals per game. He recorded a double-double in five of the team's six NCAA Tournament games and earned the Naismith Award as a result. His career offensive numbers don't pop compared to some on this list, because he didn't become a focal point of the offense until his junior season. But Battier was a menacing defender as a freshman and sophomore for elite teams. He went on to play 14 seasons in the NBA. — DC
8. Elton Brand (1997-99)
Stats: 16.2 ppg, 8.9 rpg, 1.9 bpg, 61.2 FG%
Brand's two-year Duke career overlapped with Battier, and while his time was brief and spotlight time was sometimes split with Trajan Langdon, Roshown McLeod and others, it was highly productive. He was a destructive force on the interior for a Blue Devils program that went 71-6 in his two seasons before becoming the first of three No. 1 overall picks in the draft under Coach K's watch. The 1998-99 team he led in scoring and rebounding remains infamous as one of the most talented college teams to not win a championship, but Brand — who had 15 points and 13 boards in the national title game that season in a 77-74 defeat to UConn, and who averaged 17 points and 10 boards in that March Madness run — is hardly to blame for it. — KB
7. Danny Ferry (1986-89)
Stats: 15.1 ppg, 7.0 rpg, 3.5 apg
Ferry was both a great college talent and also a career-building stat monster. He was the first ACC player to reach 2,000 points, 1,000 rebounds and 500 assists. (Final numbers: 2,155 points, 1,003 rebounds, 506 assists.) He once dropped 58 points in a game, which remains a Duke record. Ferry was the 1998-99 national player of the year, a two-time All-ACC First Teamer, and basically exceeded expectations after being graded as the best high school player in 1986. He went second overall in the 1989 draft after taking the Blue Devils to three Final Fours in four years. The only thing missing from Ferry's gleaming college résumé: a national title. — MN
6. Johnny Dawkins (1982-86)
Stats: 19.2 ppg, 4.2 apg, 1.3 spg
Dawkins won the 1986 Naismith Award while averaging 20.2 points on 54.9% shooting for a team that finished 37-3. He put up 24 in a national title game loss to Louisville that season to end a storied collegiate career that ended with him ranking as the program's all-time leading scorer. He held that title for 20 years before J.J. Redick overtook him in 2006. Dawkins finished with 2,556 points, still good for second. The 6-2 guard also ranks sixth all-time in program history with 555 assists. Dawkins was a big-time scorer from the moment he walked on campus and went on to play a decade in the NBA. — DC
5. JJ Redick (2002-06)
Stats: 19.9 ppg, 2.7 rpg, 2.2 apg, 40.6 3-pt%
The leading scorer in three of his four final seasons (all seasons in which Duke earned No. 1 seeds in the tournament) while sharing the floor with the likes of Shelden Williams, Luol Deng, Chris Duhon and others who went on to the NBA, Redick was a splashy superstar who knew how to put the ball in the hoop. The two-time consensus All-American and two-time ACC Player of the Year sits No. 1 on Duke's all-time scoring list and rightfully earns top-five status on this list as an acknowledgement to just how prolific and talented he was as a shooter and scorer. He was drafted No. 11 overall in 2006 after earning national player of the year honors as a senior in 2005-06 and he, too, has had his jersey number retired by the school. — KB
4. Zion Williamson (2018-19)
Stats: 22.6 ppg, 8.9 rpg, 2.1 apg, 2.1 spg, 1.8 bpg, 40.8 PER
Our top four is where it gets truly debatable as to who you are taking first if this is a pickup game and you have every Duke player under Coach K ever to choose from. If Zion is your No. 1, it's more than reasonable. Maybe, for you, it's mandatory. You see that stat line above? It's longer than any other player on this list because there's that much to show for how much Williamson did in his 33-game career. That 40.8 PER is the best ever in Sports Reference's database (which only goes back 13 years, but there's no way anyone this century bests him). Williamson was the biggest, most famous star college basketball had seen in more than a decade when he arrived at Duke. In teaming up with fellow All-American RJ Barrett, Duke earned a No. 1 seed and went 32-6 that season, losing three of those six games without Williamson available. He won national player of the year, freshman of the year and was the undisputed choice for No. 1 pick in that year's draft. He was a revelation, and it's fair to wonder if and when college basketball will ever have someone that dominant and that magnetizing again. — MN
3. Jay Williams (1999-02)
Stats: 19.3 ppg, 6.0 apg, 2.2 spg, 39.3 3-pt%
Williams led Duke to a national title as a sophomore in 2001 by averaging 25.7 points per game during the NCAA Tournament. The 6-2 point guard was a walking bucket who may be the program's all-time scoring leader today if he'd returned for his senior season. Williams was a two-time consensus All-American, Naismith Award Winner and Wooden Award winner. He was taken No. 2 overall in the 2002 NBA Draft and likely would have become an NBA All-Star if not for a motorcycle accident that derailed his playing career. — DC
2. Grant Hill (1990-1994)
Stats: 14.9 ppg, 6.0 rpg, 3.6 apg, 1.7 spg, 53.2 FG%, 37.6 3-pt%
Talent for talent there is arguably no one on this list who rivals that of the great Grant Hill. One of the few multi-time NCAA champions on this list, Hill averaged double digits in scoring each of his four seasons with the Blue Devils and still ranks top-10 in program history in assists. Hill was equally as dynamic on defense, too, and while his production and potential might've been sapped playing next to other Duke legends like Christian Laettner and Bobby Hurley, he still twice earned consensus All-American honors and brought home the ACC Player of the Year award as a senior before going on to be picked No. 3 overall in the 1994 NBA Draft. Hill is one of only 13 Duke players to have his jersey retired by the program. — KB
1. Christian Laettner (1988-1992)
Stats: 16.6 ppg, 7.8 rpg, 57.4 FG%, 48.5 3-pt% 2.1 bpg
It's fair to say that Williamson, Williams and Hill have cases as the most talented players to ever play for Krzyzewski. But Laettner is the greatest. A two-time NCAA champion, the MOP of the 1991 Final Four and the consensus 1992 national player of the year. Laettner personified what made Duke both irresistible and polarizing. He was cocky, he knew it, he let you know it, and he never apologized for it. He has one of the three or four best college careers in history, guiding Duke to the Final Four every year he played there. His shot to beat Kentucky in the 1992 Elite Eight is among the most important and memorable moments in American sports history. His 2,460 points are third all-time at Duke, as are his 1,149 rebounds. He's also fourth in steals and sixth in blocks. His 48.5 3-point percentage is best in school history. Krzyzewski's recruited and coached more great college talent than anyone in history. None greater than No. 32. — MN
require.config({"baseUrl":"https://sportsfly.cbsistatic.com/fly-0176/bundles/sportsmediajs/js-build","config":{"version":{"fly/components/accordion":"1.0","fly/components/alert":"1.0","fly/components/base":"1.0","fly/components/carousel":"1.0","fly/components/dropdown":"1.0","fly/components/fixate":"1.0","fly/components/form-validate":"1.0","fly/components/image-gallery":"1.0","fly/components/iframe-messenger":"1.0","fly/components/load-more":"1.0","fly/components/load-more-article":"1.0","fly/components/load-more-scroll":"1.0","fly/components/loading":"1.0","fly/components/modal":"1.0","fly/components/modal-iframe":"1.0","fly/components/network-bar":"1.0","fly/components/poll":"1.0","fly/components/search-player":"1.0","fly/components/social-button":"1.0","fly/components/social-counts":"1.0","fly/components/social-links":"1.0","fly/components/tabs":"1.0","fly/components/video":"1.0","fly/libs/easy-xdm":"2.4.17.1","fly/libs/jquery.cookie":"1.2","fly/libs/jquery.throttle-debounce":"1.1","fly/libs/jquery.widget":"1.9.2","fly/libs/omniture.s-code":"1.0","fly/utils/jquery-mobile-init":"1.0","fly/libs/jquery.mobile":"1.3.2","fly/libs/backbone":"1.0.0","fly/libs/underscore":"1.5.1","fly/libs/jquery.easing":"1.3","fly/managers/ad":"2.0","fly/managers/components":"1.0","fly/managers/cookie":"1.0","fly/managers/debug":"1.0","fly/managers/geo":"1.0","fly/managers/gpt":"4.3","fly/managers/history":"2.0","fly/managers/madison":"1.0","fly/managers/social-authentication":"1.0","fly/utils/data-prefix":"1.0","fly/utils/data-selector":"1.0","fly/utils/function-natives":"1.0","fly/utils/guid":"1.0","fly/utils/log":"1.0","fly/utils/object-helper":"1.0","fly/utils/string-helper":"1.0","fly/utils/string-vars":"1.0","fly/utils/url-helper":"1.0","libs/jshashtable":"2.1","libs/select2":"3.5.1","libs/jsonp":"2.4.0","libs/jquery/mobile":"1.4.5","libs/modernizr.custom":"2.6.2","libs/velocity":"1.2.2","libs/dataTables":"1.10.6","libs/dataTables.fixedColumns":"3.0.4","libs/dataTables.fixedHeader":"2.1.2","libs/dateformat":"1.0.3","libs/waypoints/infinite":"3.1.1","libs/waypoints/inview":"3.1.1","libs/waypoints/jquery.waypoints":"3.1.1","libs/waypoints/sticky":"3.1.1","libs/jquery/dotdotdot":"1.6.1","libs/jquery/flexslider":"2.1","libs/jquery/lazyload":"1.9.3","libs/jquery/maskedinput":"1.3.1","libs/jquery/marquee":"1.3.1","libs/jquery/numberformatter":"1.2.3","libs/jquery/placeholder":"0.2.4","libs/jquery/scrollbar":"0.1.6","libs/jquery/tablesorter":"2.0.5","libs/jquery/touchswipe":"1.6.18","libs/jquery/ui/jquery.ui.core":"1.11.4","libs/jquery/ui/jquery.ui.draggable":"1.11.4","libs/jquery/ui/jquery.ui.mouse":"1.11.4","libs/jquery/ui/jquery.ui.position":"1.11.4","libs/jquery/ui/jquery.ui.slider":"1.11.4","libs/jquery/ui/jquery.ui.sortable":"1.11.4","libs/jquery/ui/jquery.ui.touch-punch":"0.2.3","libs/jquery/ui/jquery.ui.autocomplete":"1.11.4","libs/jquery/ui/jquery.ui.accordion":"1.11.4","libs/jquery/ui/jquery.ui.tabs":"1.11.4","libs/jquery/ui/jquery.ui.menu":"1.11.4","libs/jquery/ui/jquery.ui.dialog":"1.11.4","libs/jquery/ui/jquery.ui.resizable":"1.11.4","libs/jquery/ui/jquery.ui.button":"1.11.4","libs/jquery/ui/jquery.ui.tooltip":"1.11.4","libs/jquery/ui/jquery.ui.effects":"1.11.4","libs/jquery/ui/jquery.ui.datepicker":"1.11.4"}},"shim":{"liveconnection/managers/connection":{"deps":["liveconnection/libs/sockjs-0.3.4"]},"liveconnection/libs/sockjs-0.3.4":{"exports":"SockJS"},"libs/setValueFromArray":{"exports":"set"},"libs/getValueFromArray":{"exports":"get"},"fly/libs/jquery.mobile-1.3.2":["version!fly/utils/jquery-mobile-init"],"libs/backbone.marionette":{"deps":["jquery","version!fly/libs/underscore","version!fly/libs/backbone"],"exports":"Marionette"},"fly/libs/underscore-1.5.1":{"exports":"_"},"fly/libs/backbone-1.0.0":{"deps":["version!fly/libs/underscore","jquery"],"exports":"Backbone"},"libs/jquery/ui/jquery.ui.tabs-1.11.4":["jquery","version!libs/jquery/ui/jquery.ui.core","version!fly/libs/jquery.widget"],"libs/jquery/flexslider-2.1":["jquery"],"libs/dataTables.fixedColumns-3.0.4":["jquery","version!libs/dataTables"],"libs/dataTables.fixedHeader-2.1.2":["jquery","version!libs/dataTables"],"https://sports.cbsimg.net/js/CBSi/app/VideoPlayer/AdobePass-min.js":["https://sports.cbsimg.net/js/CBSi/util/Utils-min.js"]},"map":{"*":{"adobe-pass":"https://sports.cbsimg.net/js/CBSi/app/VideoPlayer/AdobePass-min.js","facebook":"https://connect.facebook.net/en_US/sdk.js","facebook-debug":"https://connect.facebook.net/en_US/all/debug.js","google":"https://apis.google.com/js/plusone.js","google-platform":"https://apis.google.com/js/client:platform.js","google-csa":"https://www.google.com/adsense/search/async-ads.js","google-javascript-api":"https://www.google.com/jsapi","google-client-api":"https://apis.google.com/js/api:client.js","gpt":"https://securepubads.g.doubleclick.net/tag/js/gpt.js","hlsjs":"https://cdnjs.cloudflare.com/ajax/libs/hls.js/1.0.7/hls.js","newsroom":"https://c2.taboola.com/nr/cbsinteractive-cbssports/newsroom.js","recaptcha":"https://www.google.com/recaptcha/api.js?onload=loadRecaptcha&render=explicit","recaptcha_ajax":"https://www.google.com/recaptcha/api/js/recaptcha_ajax.js","supreme-golf":"https://sgapps-staging.supremegolf.com/search/assets/js/bundle.js","taboola":"https://cdn.taboola.com/libtrc/cbsinteractive-cbssports/loader.js","twitter":"https://platform.twitter.com/widgets.js","video-avia":"https://vidtech.cbsinteractive.com/avia-js/1.14.0/player/avia.min.js","video-avia-ui":"https://vidtech.cbsinteractive.com/avia-js/1.14.0/plugins/ui/avia.ui.min.js","video-avia-gam":"https://vidtech.cbsinteractive.com/avia-js/1.14.0/plugins/gam/avia.gam.min.js","video-ima3":"https://imasdk.googleapis.com/js/sdkloader/ima3.js","video-ima3-dai":"https://imasdk.googleapis.com/js/sdkloader/ima3_dai.js","video-utils":"https://sports.cbsimg.net/js/CBSi/util/Utils-min.js","video-vast-tracking":"https://vidtech.cbsinteractive.com/sb55/vast-js/vtg-vast-client.js"}},"waitSeconds":300});