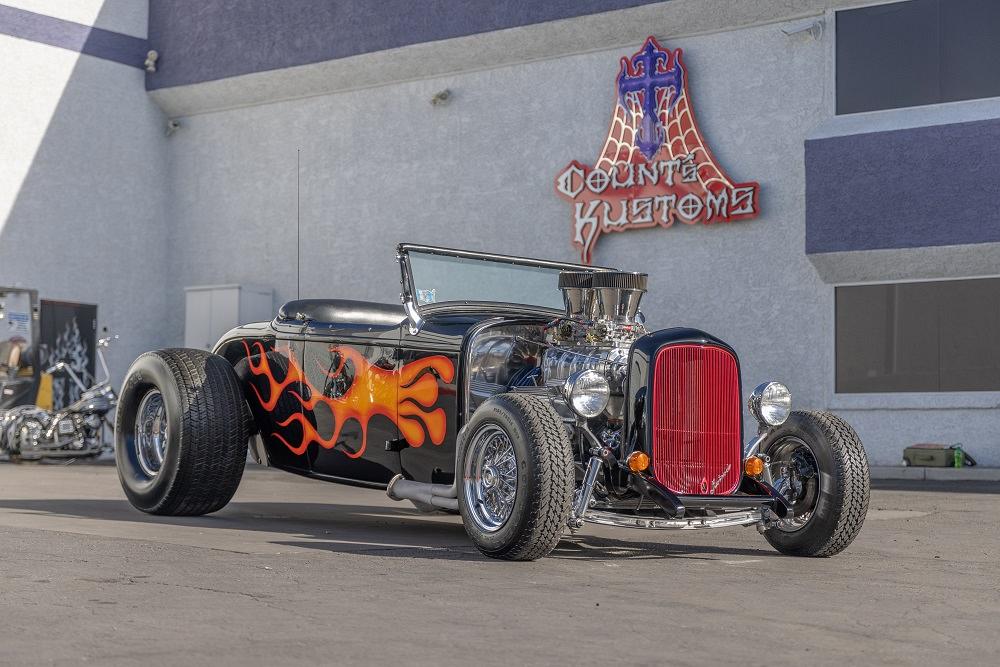 Count's Kustoms dips into automated deburring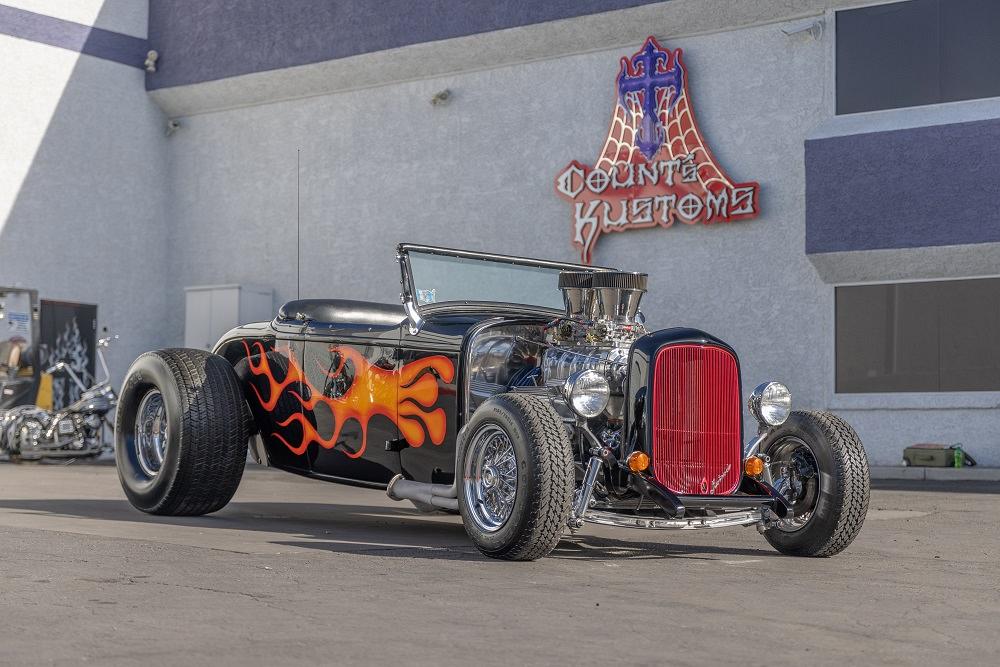 It began with a metal rose and some rare downtime. Jay LoPorto, the longtime, long-bearded employee and old-school fabrication hand at Count's Kustoms—a hot rod and chopper shop of "Counting Cars" TV show fame—had a little time on his hands, along with a bit of scrap metal.

"If you were to watch Jay make these roses, the way he does it, well, it's pretty barbaric."
That was Ghetto Bob, also of "Counting Cars" fame. Both work for Danny Koker, aka "The Count," the entrepreneur and personality behind the Count's Kustoms brand. A lifelong car collector, The Count was the car expert on "Pawn Stars." The spinoff "Counting Cars" followed, growing into a TV show airing in 163 countries. Beyond the show, the Count's Kustoms organization today has about 60 employees who work at various properties—not only the original hot rod shop, but also a bar, a tattoo parlor, a museum full of eyebrow-raising cars, and a gift shop. The gift shop has plenty of Loporto's metal roses, painted and coated in that Count's Kustoms look.
"The edges aren't sharp after he paints and clearcoats them, but they aren't completely smooth either," Bob said. "I wouldn't give one to your wife when she's mad."
He mentioned the edges for a bit of context; next to the roses in the gift shop sit rows of flat steel and aluminum pieces, including a range of Count's Kustoms signature cross logos—all with very smooth edges. Some are mounted to frames, others are sold separately, and all are there for hot-rod-enthusiast tourists to take a little bit of Count's Kustoms home with them.
Most who visit the Las Vegas operation probably don't recall the gift shop, and they probably don't think twice about the souvenirs, but the story behind them reveals a lot about a question that's top of mind for most in metal fabrication, from the largest factories to the smallest job shops and, yes, even old-school fabrication at a custom hot-rod operation, English wheels and all: Where does automation make sense?
The Vehicle Tells You
"When a customer has a clear vision, we follow their lead, but even then, we take different paths here and there along the way, because as you progress as you work on a vehicle, sometimes it tells you, 'Go this way instead of that way.' There are always variations on the way."
That was Koker two years ago speaking on his YouTube channel, promoting an upcoming "Counting Cars" episode on the History Channel. When he uploaded the video, Count's Kustoms was weathering the pandemic, a time when filming continued as did the work on cars, but revenue from tourists effectively halted.
As Ghetto Bob recalled, "Pre-COVID, we averaged around 500 and 700 people a day [in the museum and gift shop]. Then we were shut down for two years. But we adapted, and we were able to continue working." By 2022, that number recovered to about 300 a day, and the numbers have continued to improve into 2023. Regardless, Count's Kustoms had (and has) fiercely loyal fans. The shop and TV show weren't going anywhere.
Throughout it all, the shop's team continued their work. They start with a plan, then "listen" to the vehicle as they progress through the project. They grab a plasma torch to cut a sheet metal blank, form it with an English wheel and other hand tools, wield a MIG gun or TIG torch, then grind and blend to achieve that pristine but still handcrafted look. "We're all hands-on craftsmen," Ghetto Bob said. "We're old-school here."

Hours can be extraordinarily long and unpredictable as the shop's 14 fabricators work to meet customer deadlines or prepare a collection of vehicles for an upcoming show. Still, metalwork is their passion—and LoPorto is a prime example. During downtime, he's still working with sheet metal, crafting artwork like that metal rose.
LoPorto (who also sells his work through a company called Dead Heart Creations) gradually expanded his metal art portfolio, and new works began appearing in the museum gift shop. Then came other metal pieces, including the cross logo and other swag. Gift shop sales grew, and so did the product offerings. To keep up with demand, the company invested in a 5- by 10-ft. FastCut CNC plasma table, which spends its day cutting nests of a variety of flat parts destined for the gift shop shelves.
Early on, the CNC plasma table seemed like enough. After all, it could cut pieces impossible or impractical to cut consistently and efficiently by hand. Operators unloaded the pieces, deburred the edges, and the cut blanks were good to go.
Initially, they thought deburring wouldn't be an issue. Everyone knew their way around hand and power tools, after all. They used them to prepare a contoured surface for paint, to round edges, to put the final look on fantastical automotive creations. Surely they could handle the deburring of a few flat blanks for the gift shop.
So, they continued deburring the flat pieces. And deburred more. Pretty soon, people were spending hours with die grinders and other hand tools, removing dross on cross logos and other shapes: small pieces for key rings, medium-sized plates used in tool organizers (with the Count's Kustoms logo, of course), and large pieces designed to be mounted on the wall.
The work got done, but it wasn't what the talent at Count's Kustoms signed up for. Edge deburring was a different world. The work wasn't simple; most pieces had complex, flame-like contours and a multitude of sharp edges. Still, there was no creativity, no adapting, no "listening" to the work to see where it takes you.
The shop was turning into a disjointed hybrid. Employees focused mostly on custom craftsmanship but endured an unwelcome dose of monotonous production. Spending hours holding a die grinder was a tiring, thankless job. Something had to change.
And so, Count's Kustoms invested in wide-belt deburring and graining—specifically, the Apex EZ Sander. The shop's particular model (EZ3760M) is a single-head system with 37- by 60-in. abrasive belts (hence the model name), electronic abrasive belt tracking, pneumatic abrasive tensioning, and an adjustable-speed conveyor driven by a variable-frequency drive.
As Ghetto Bob put it, "Three passes in that machine probably saves an hour of human labor. The time it took to produce one piece, now we can produce 40."
How Much to Automate?
"Realistically, we're still old-school," Bob said. "We're still hands-on craftsmen. Between two machines, the plasma table and the EZ Sander, there's really not much else we need to mass produce."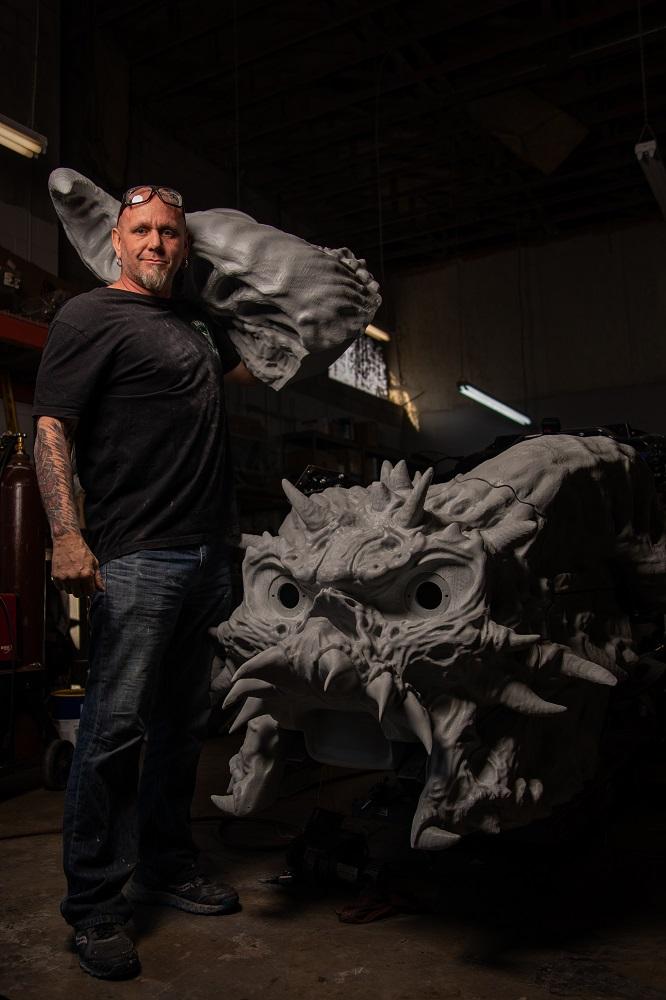 Count's Kustoms might be old school, but they don't shy away from technology. For instance, the company makes use of large-scale 3D printing to create large cosmetic adornments as well as certain car parts. That said, the technology enhances creativity; it doesn't stifle it.
What tools the company invests in depends on the nature of the work and the organization's brand—a lesson that could apply to fabricators everywhere. Customers have cars modified, watch the show, eat at the bar, make an appointment at the tattoo parlor, and visit the museum and gift shop. Why? They're drawn to the people in the shop and their creative energy. Anything that saps that creative energy—like cutting and grinding one identical flat piece after another—is an area ripe for automation.
A custom sheet metal fab shop, though seemingly a different world, might abide by the same principle. Customers buy from a fabricator because they trust it can deliver parts of the right quality and quantity at the right time, even in the face of highly variable demand.
Put another way, customers buy a fabricator's ability to solve problems. Anything that saps that problem-solving ability—be it manual grinding after plasma cutting, arduous tool changes at the press brake, or the wrong hardware inserted in assembly—is an area worth scrutinizing.
In the fab shop, as in Count's Kustoms, sometimes the job tells you, Go this way instead of that way. Manual or automated, no technology on the floor should hinder that ability to listen the job, shift gears, and take a new direction.