DC Design is the leading aftermarket car modification house in India and has taken projects involving some of the most basic to the most luxurious vehicles in the world.
DC Design has developed a luxury car modified concept of California. For automobile lovers, you would be able to make out the resemblance with the Ferrari California. This is what is the most impressive facet of DC Design that they don't shy away from altering even the luxury cars of the world. Most people take their budget cars to the modification houses to make them look a bit more premium. However, not a lot of firms have the vision or talent to modify premium cars.
You may also like: British Actor Feryna Wazheir Reviews Her DC Modified Toyota Innova Lounge
You may also like: Taarzan The Wonder Car Finally Being Restored, Again
Modified California By DC Design
The video clip shows the concept in detail. While there are not many details regarding the road legality and powertrain options on this vehicle, the aesthetic changes are evident. The bonnet of this car has been made to aid the aerodynamics of the car, the front bumper is quite sharp and sporty with a massive splitter to protect the underbelly and reduce drag coefficient, the LED headlamps are sleek, and the overall silhouette represents genuine hardcore sports car credentials.
You may also like: 5 Design Nightmares from Dilip Chhabria- Modified Thar, Fortuner & More
The side profile features the scissor doors, bulging wheel arches with massive alloy wheels with low profile tyres for great handling abilities and a wider surface for better traction, flowing door panels to make the surface as slippery as possible for those quick accelerations, and the rear fenders are scooped out to fit those large alloy wheels. This is a 2-seater sportscar making it inherently suitable for the race track and high-speed scenarios.
You may also like: DC Design's Hulk Is UGLIEST Modified Mahindra Thar Ever!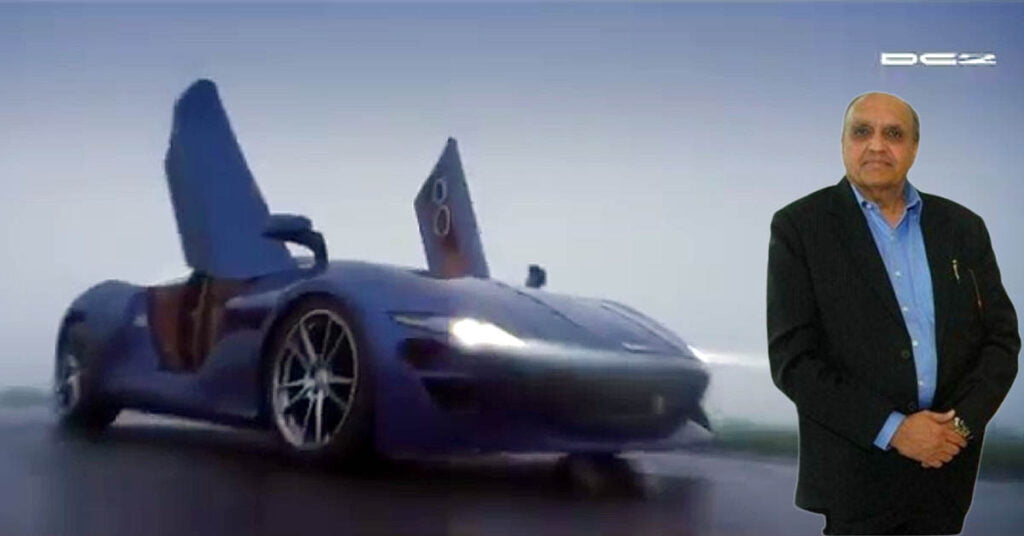 At the rear, one finds a sleek LED taillight strip installed on the boot lip running across the width of the car. At the centre of the bumper, there are twin diffusers which are essential to generate downforce in supercars. This helps maintain stability and aid in braking after those crazy high-speed runs. A glimpse of the inside reveals tan brown upholstery and massive door speakers. Needless to say, the cabin of this California is designed according to the respect it commands for its exterior. How did you like this modified California by DC Design?
Join our official telegram channel for free latest updates and follow us on Google News here.