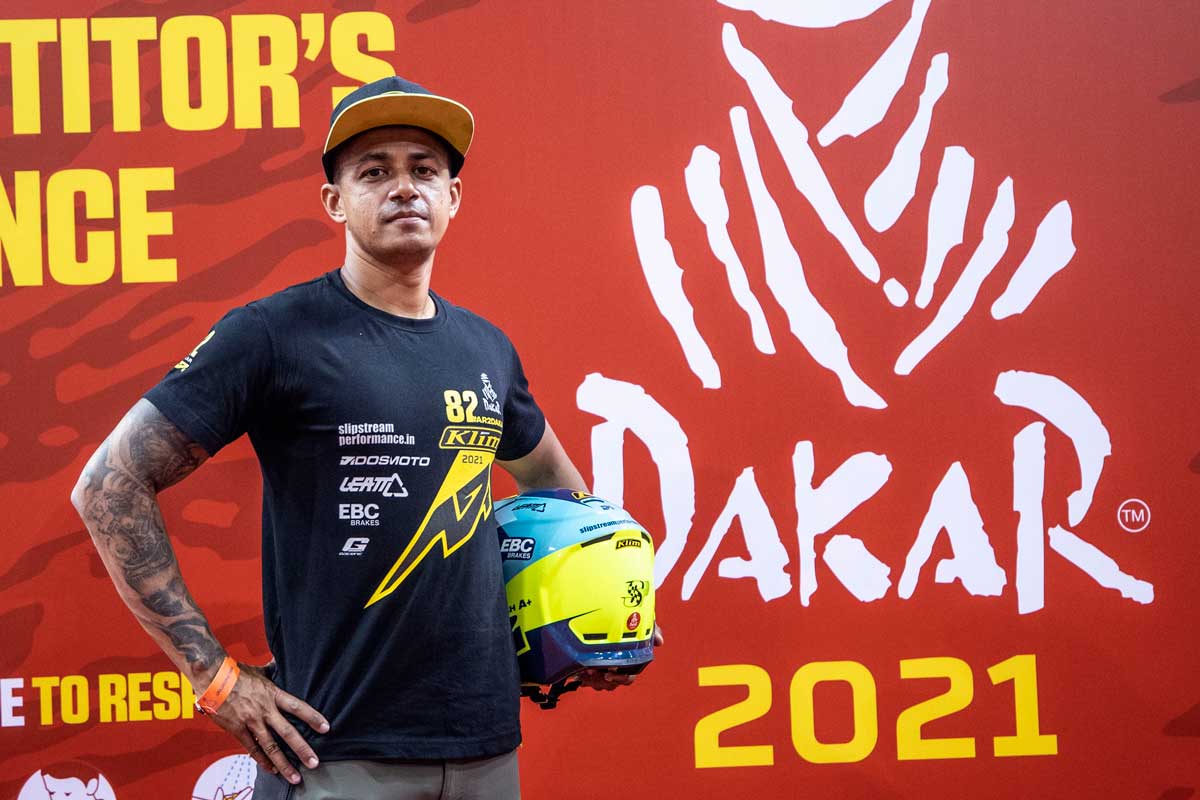 Dunes of Destiny – Ashish Raorane's Dakar Story
The story of Ashish Raorane's baptism by fire at the Dakar 2021
"An Accidental Racer" is what Ashish Raorane likes to call himself. Hailing from Pune, India, Ashish is one of three Indian racers who participated in the Dakar 2021. As a privateer, his choice of category was "Original by Motul" or the "Malle Moto," considered to be the most challenging category in the world's toughest rally. We had an opportunity to get up close and personal with Ashish, indulging in his experience at the Dakar Rally 2021 and the life events that led him there.
Ashish has always had a competitive streak, which he attributes to his love of sports. And he found himself surrounded and fascinated by two wheels, whether BMX bikes, his father's Jawa, or the Japanese motorbikes he rode in college. Coming of age, he owned a Triumph Tiger 800, Harley-Davidson Fatboy, and 48, as well as other motorcycles. When not at sea as a marine engineer, he toured India extensively but never gave competitive off-road/ADV riding a thought. It was the documentary, "Dust to Glory," that started it all. The day after watching the film, he was out getting his first taste of off-roading.
Even back at sea shortly after, the fire was lit, and Ashish hankered for more. As soon as his sortie was over, he decided to partake in the Raid de Himalaya, the world's highest rally raid in the treacherous terrains of the Himalayas. To the amazement of spectators, he did it on a Tiger 800, a relatively heavy and bulky motorcycle against other competitors and their purpose-built rally and dirt machines. To suitably prepare for the event, he competed in the Indian National Rally Championship (INRC) at Nashik and secured a podium finish. Ashish was hooked. With his child-like smile and utmost modesty, Ashish says that up to this point, he had absolutely no knowledge of rallies.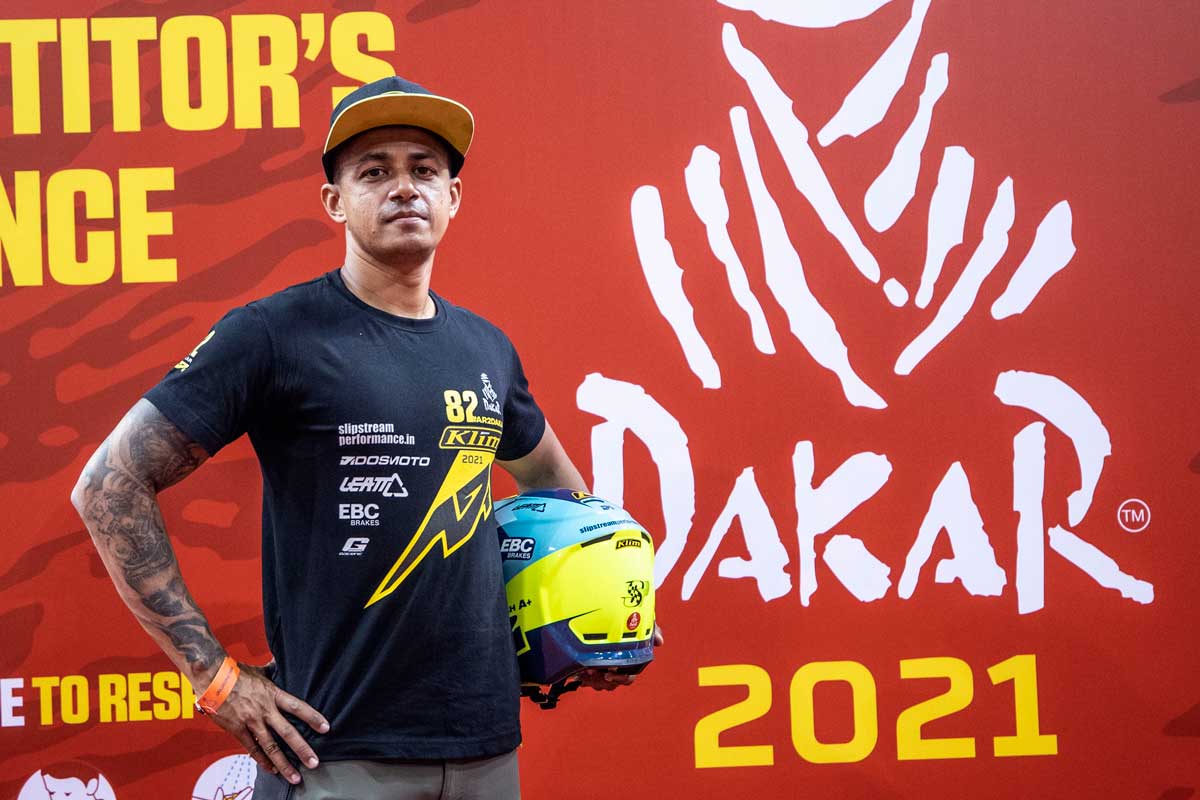 In high spirits, Ashish Raorane at the scrutineering (Jeddah).
So, what made him gun for the Dakar? It was the whiff of competition at INRC. Between months at sea and leaves in 2015, he gave himself five years to prepare for the Dakar. And with that single objective in mind, he worked judiciously towards 2021, where he ended up rubbing shoulders with some of the best and most experienced in the business.
Pankaj Yadav(PY): You trained on your motorcycle only in Pune, India, and at Big Rock, Spain. How did you make up for not being able to train in Dakar-like conditions? Was it discouraging at any time?
Ashish: I had plans to train extensively in Dubai during 2020, but due to the pandemic, it didn't materialize. I tried my best to utilize the time at sea for building up so that it would be only about getting used to the bike again as soon as I was ashore. Finally, it came down to deciding whether I was going this year. Did I have enough training? I mean, it's the Dakar Rally. Then I realized you could never be fully prepared for something like Dakar. This helped me make up my mind to go for it.
It was my first time riding the KTM 450 Rally Replica in a racing environment and dunes. I had expected the initial days to have steep learning curves, especially getting accustomed to how the bike behaved in different terrain. The accident in Stage 5 was a setback, but I was determined not to give up. Stages 9, 10, 11, and 12 saw me get better and better. And I'm glad I didn't push participation to the next Dakar because of lack of training. Sometimes, you just need to take chances.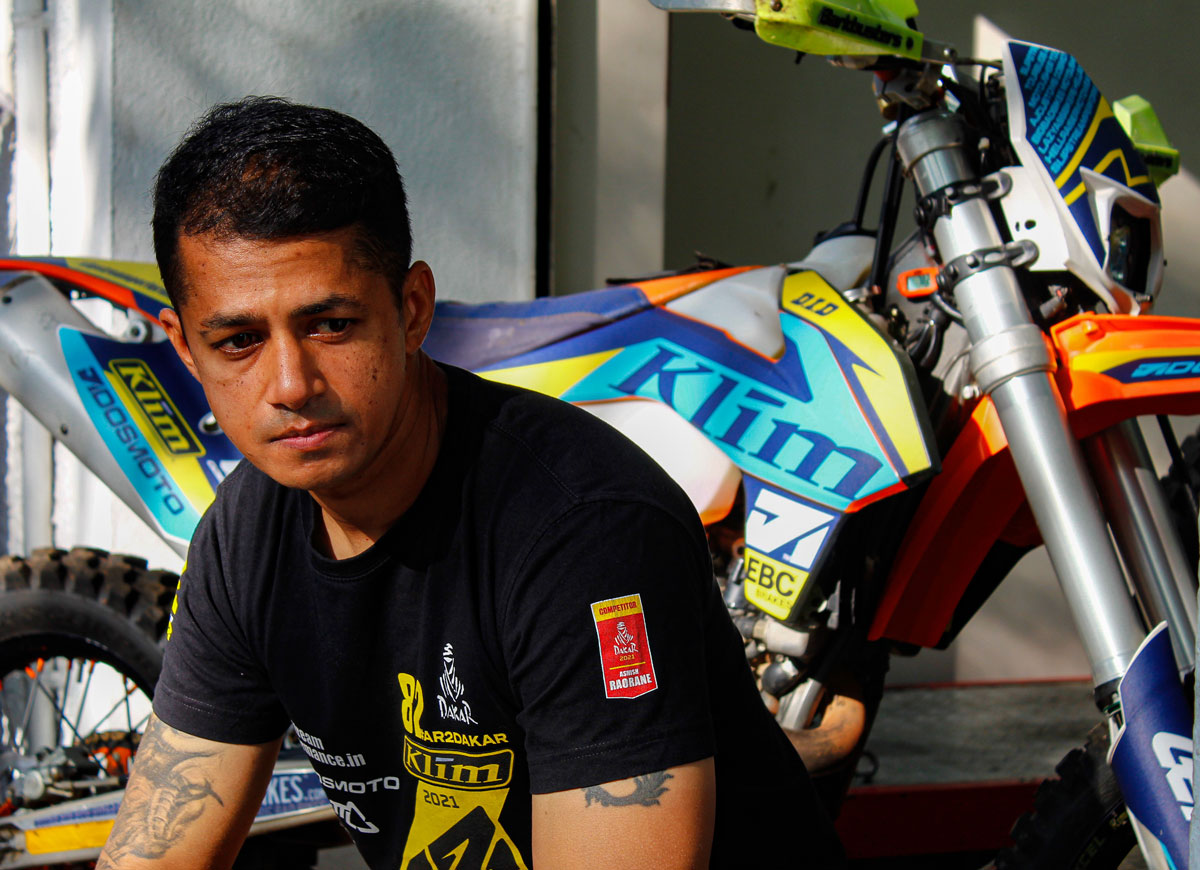 Recalling the Dakar while his KTM gets tuned at Slip Stream Performance, Pune, India.
PY: Speaking of the mishap, how bad was the fall?
Ashish: We were briefed about the length of the Stage. A checkpoint was set up where every rider had to check in before a set time or be out of the race. There was also a three-hour penalty if you didn't make it to the Stage end before 10 p.m. Everything indicated it was going to be tough. Incidentally, Stage 5 saw me display some of the best riding of my life. Seventy kilometers into the stage, I came across Pablo, my teammate from Africa Eco Race. We rode together from kilometer 70 to 330, the last refueling point. We rode like men possessed.
We had made excellent time and were in good spirits, but with about 60 kilometers to go, my bike got stuck in a dune at a weird angle, and I lost a lot of energy digging it out. Twenty kilometers later was the fateful crash. It wasn't my worst fall in the rally. But, unfortunately, it was an extremely hard surface where I hit my head. Every time I tried to get up, I would get dizzy, and my right ear was ringing. I knew right away something wasn't right. I was oblivious to the injury's extent and was not in shape to make it to the Stage end. That is when I decided to call SOS and got in touch with the rally HQ. The EVAC chopper was overhead in a few minutes, and I was airlifted to medical supervision.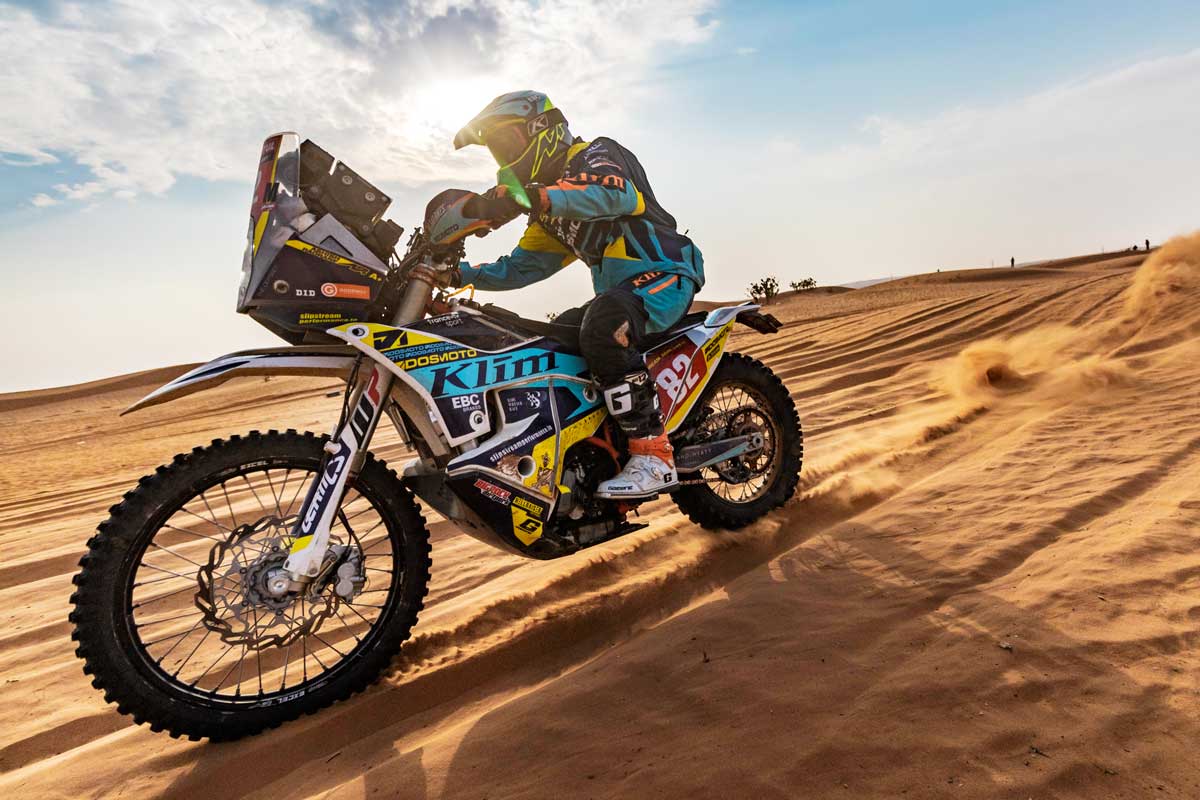 Charted with ease and speed, the fateful Al Qaisumah (Stage 5).
PY: What did it take to get back on the saddle to finish the race?
Ashish: As it was a case of head trauma, it was difficult to say anything with certainty until a thorough scan and follow-ups proved otherwise. My first scans came back clear, but the doctors were apprehensive and wanted me under observation. Another scan was suggested, and possibly another 48 hours later. After a day's rest, I felt better, and the second set of scans and X-rays were clear. The more severe Stage 4 incident with my friend and fellow Dakar rallyist C.S. Santosh kept lingering in my mind. He wasn't as fortunate as me and was banged up pretty bad. But I wanted to finish the rally on a positive note.
I made a conscious decision to give reaching the checkered flag a shot. I approached the organizers about rejoining in the Dakar Experience. Per regulations, I had to get back in within three days. So I rejoined in Stage 9, one of the longest and most challenging of this year's edition. It was a beautiful track for the run, but my rhythm was amiss, and I was overcautious. About 30 kilometers into the stage, I had a tip-over. It hit me there that I couldn't continue riding at that pace if I wanted to see the finish line. When you're riding hard and fast, you have no space for thoughts other than focusing on the job at hand; it's weirdly calming. I finished Stage 9 as my personal best. The subsequent stages kept getting easier for me. I'd found my form again.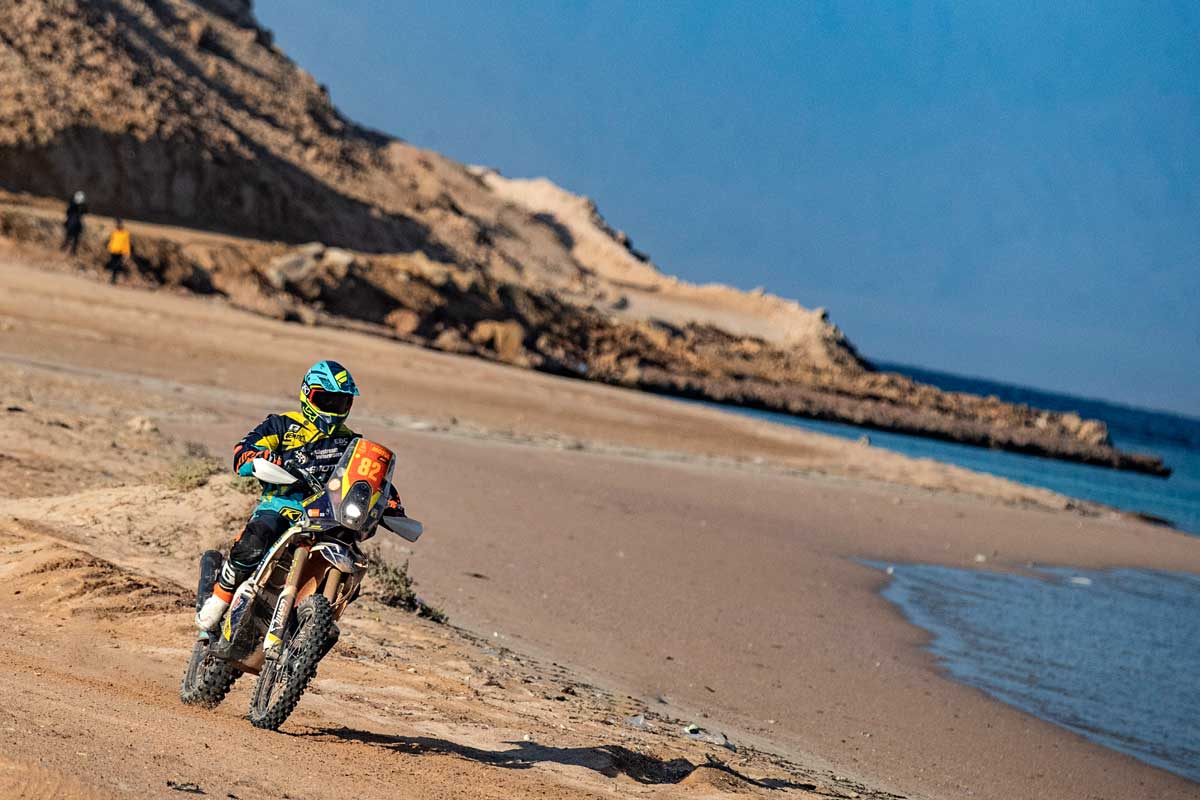 Back in the hustle at beautiful Neom (Stage 9).
PY: Considering this was one of the toughest Dakar rallies ever, how hard was it to tackle the transition in the day-to-day terrain?
Ashish: It was more like from time-to-time within the days. What would start as a dune would change into a rocky plateau, which would become a sandy plain, all within a couple of hours. The organizers had planned the route meticulously. For example, Stage 1 was 277 kilometers but required the entire day to navigate as it was an entirely rocky trail. The later Stages saw all sorts of landscapes. Even Toby had a go at us first-timers, "You guys picked the wrong year for your first Dakar." We all laughed, but I feel it's good to have the toughest one as your first because, hopefully, it will only get easier from here.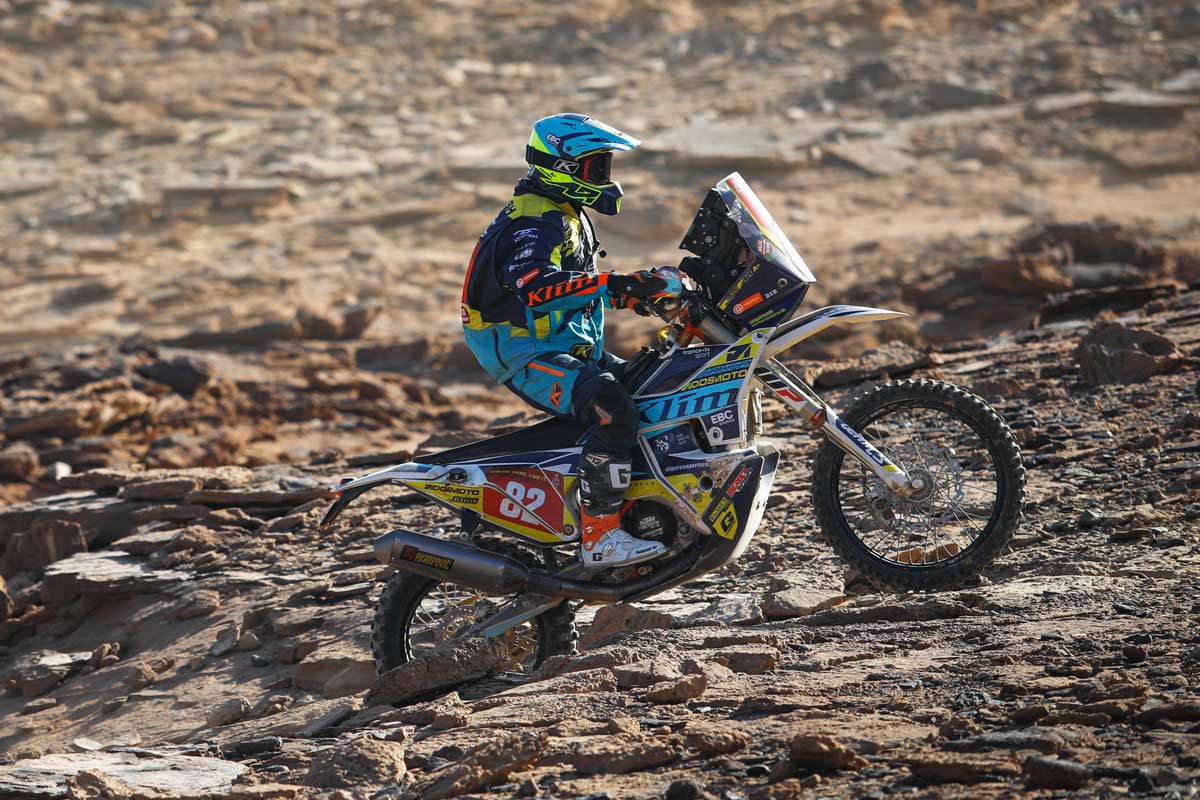 Battling the rocky plateau on his trusted KTM 450 Rally Replica (Stage 3).
PY: Knowing what you know now, would your approach or preparation be different for the Dakar?
Ashish: Yes, quite a few things. First, I'd carry a smaller kit bag so that it's easier to drag to my tent every evening. I would strive to become faster, shave off another 30 minutes or so of riding time, translating into 1–1.5 hours at the end of a Stage. The race is progressively difficult the slower you are. Being overtaken by cars, trucks, and 6x6es just destroys the track and makes riding so much more difficult. Riding is only one aspect for Malle Moto participants. Beginning from how you pitch your tent, when you pack up, how you stow your gear, there must be a flow of things.
No matter how much you think it through before the rally, take a few days to figure out the process and get it right. The evening comprises many small but vital tasks that will accumulate and create a time deficit that eats into your rest if not addressed at the right time. Of course, everyone wants to be faster, more physically fit, and more efficient, and I will sharpen these skills. I will also spend more time working on the bike after each Stage. One must prioritize between rest and maintenance. Lack of rest catches up with your performance. Another important thing is diet at the end of each Stage, which I often neglected as I had to work on the bike. Fatigue is an enemy.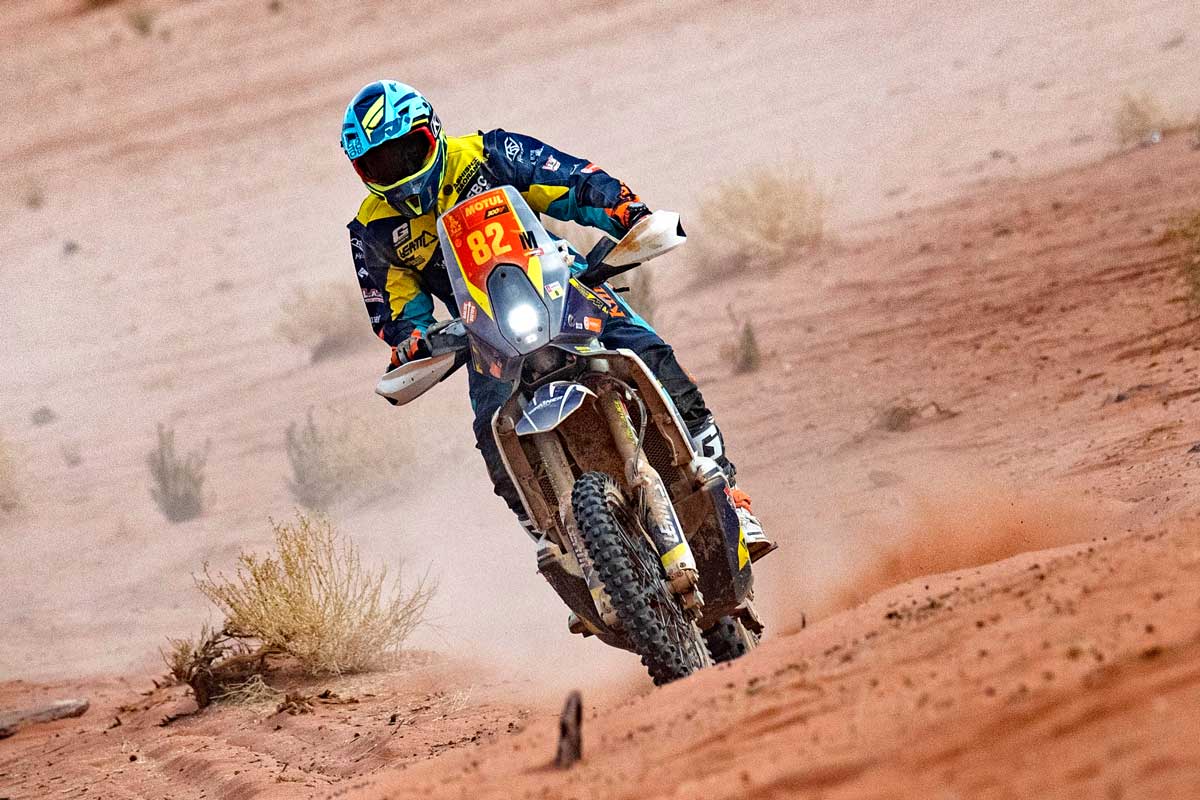 Getting tougher, better, faster, stronger at Neom, Alula (Stage 10).
PY: What's your biggest takeaway from the Dakar?
Ashish: I think the rally sticks to its ethos of being the ultimate human challenge. It's all cool to throw around cliched phrases like "never give up"—the Dakar will give you an opportunity to prove if you have that quality in you. It'll put you through a range of emotions every day, and you'll see ordinary people finding extraordinary strength to keep going. Having this opportunity to prove yourself on a motorcycle is probably the best thing about the Dakar Rally.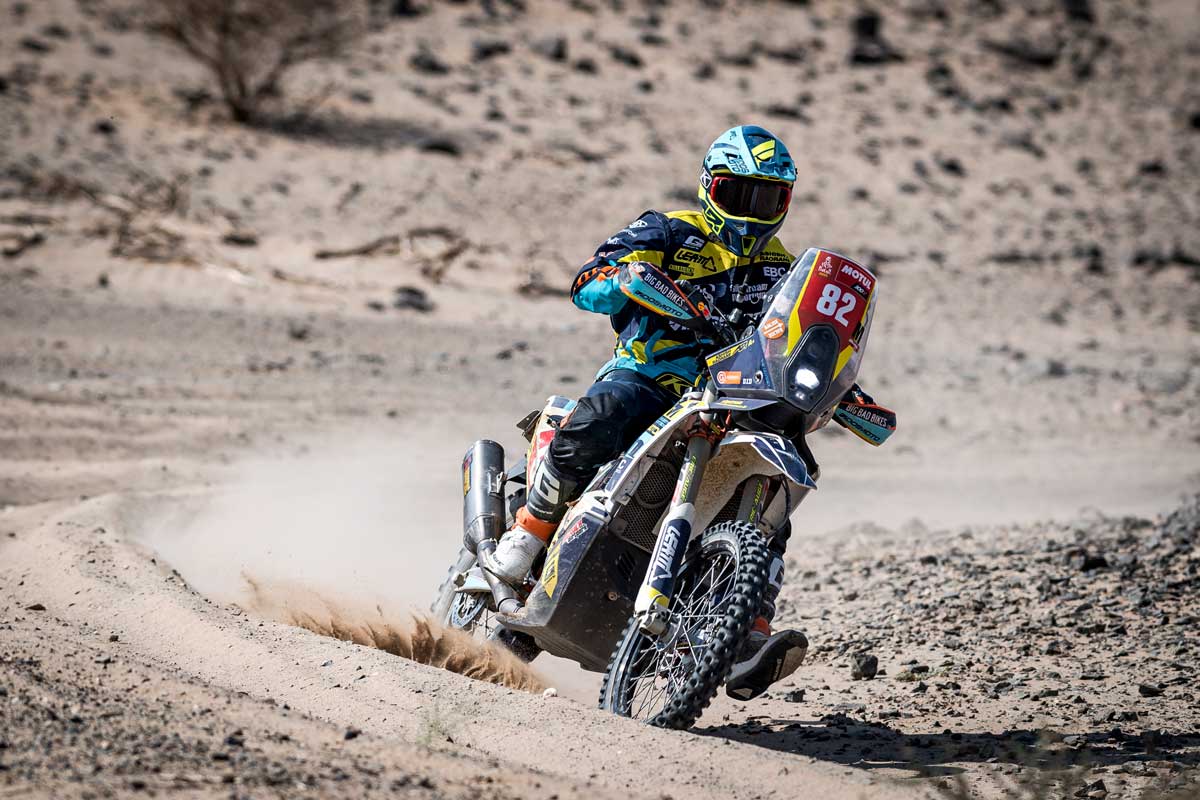 Wadi Ad Dawasir done and drifted (Stage 4).
Ashish is looking forward to the next edition of the Dakar Rally. Until then, he spends time either at a dirt track or with his family. We commend Ashish on his resolve and wish him all the best for his future endeavors.
---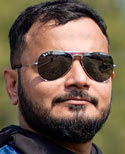 Pankaj Yadav is an Indian Armed Forces veteran and a father of two with a deeply ingrained passion for adventure touring. He has been exploring trails in India relentlessly after hanging up his Naval uniform for good in 2018. An amateur photographer, Pankaj enjoys capturing images of and writing about motorcycles, destinations, and the personal experiences of adventure enthusiasts.