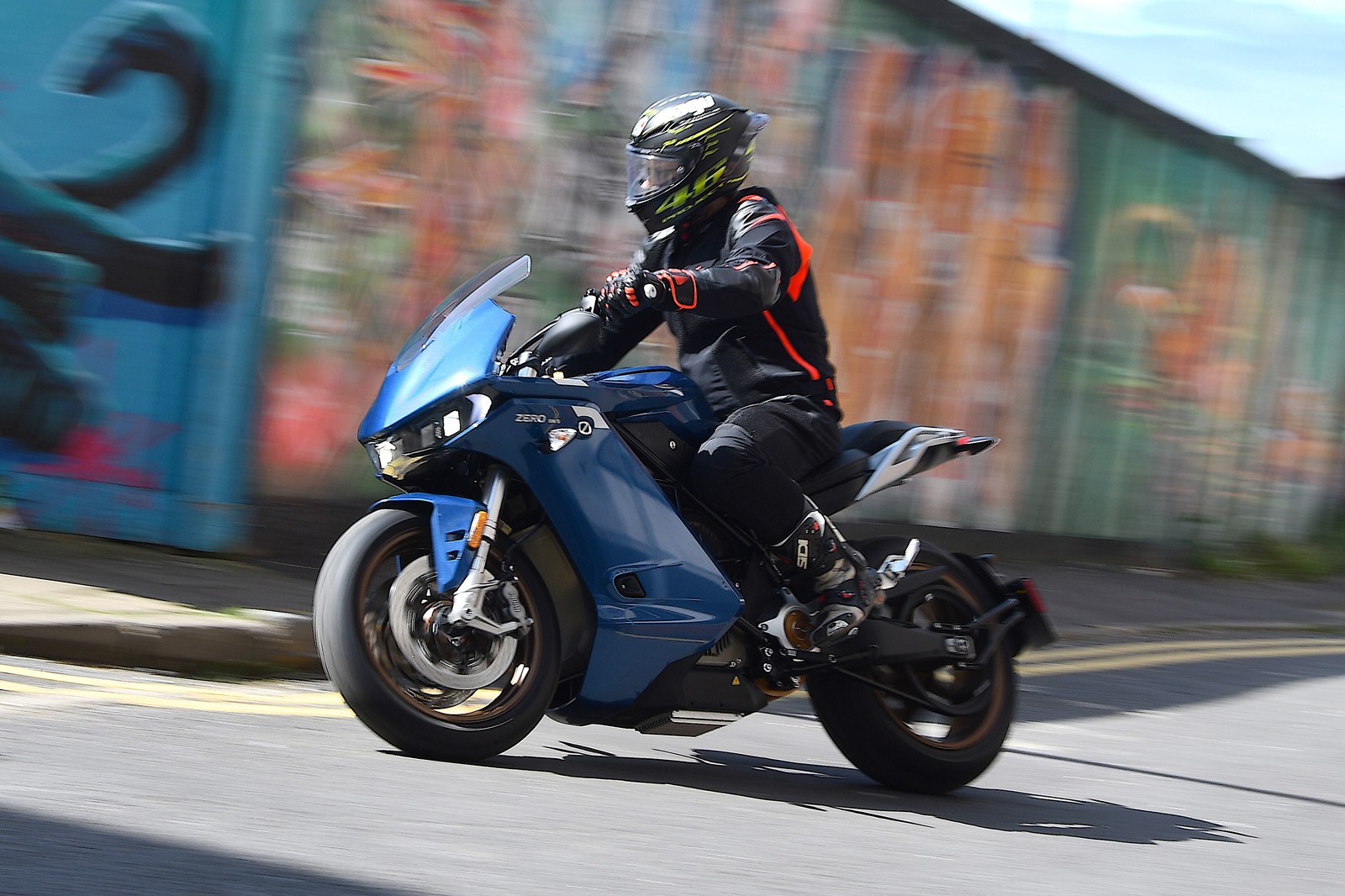 Electric motorbike review: Zero Motorcycles SR/S
Speaking of propulsion, the SR/S features a sizeable 14.4kWh lithium-ion battery paired with a compact electric motor. We will get to acceleration later, but in terms of range, Zero claims the SR/S should be able to cover around 161 miles in the city, while a constant cruise at 70mph will return an 82-mile range. Combine the two and you get a 109-mile real-world range, which is roughly on a par with the significantly more expensive Livewire. 
In terms of charging speed, the Standard model (£19,590) gets a 3kW on-board charger, while the Premium model (£21,590) gets a 6kW rapid-charger. When plugged into a 3kW dedicated single-phase EV charger, the former will take around four hours to reach 95% charge from flat, while the latter cuts that down to two hours. That makes commuting realistic if you can plug the bike in at home and at work.
If you want to be able to cover longer distances without having to stop for hours to charge up, we would seriously consider the optional 6kW Power Tank accessory, which increases total charging capacity to 12kW. On Premium bikes, that cuts charging times down to just under an hour if you can find a sufficiently quick charger. 
What's it like?
With it having a colossal 140lb ft of torque on tap (almost double that of the Fireblade), you would be forgiven for thinking that the SR/S would be intimidating to ride. It takes only a spin around the block to realise that the SR/S is actually no scarier to ride than a large scooter. With no clutch or gears to worry about and a silky smooth throttle response, it makes low-speed manoeuvres such as filtering through stationary traffic or making feet-up U-turns an absolute breeze.
Unsurprisingly, a great deal of its user-friendliness comes down to the way it has been programmed. There are four different riding modes (Eco, Rain, Street and Sport), and each controls a host of riding parameters.
Selecting Eco, for example, sofens off the throttle response, limits the top speed to 75mph and ramps up the engine braking (or regenerative braking) to the point that you need to touch the brakes only occasionally. Around town, Eco feels ideal and still leaves you with enough punch to out-drag Uber drivers away from the lights. Neat.