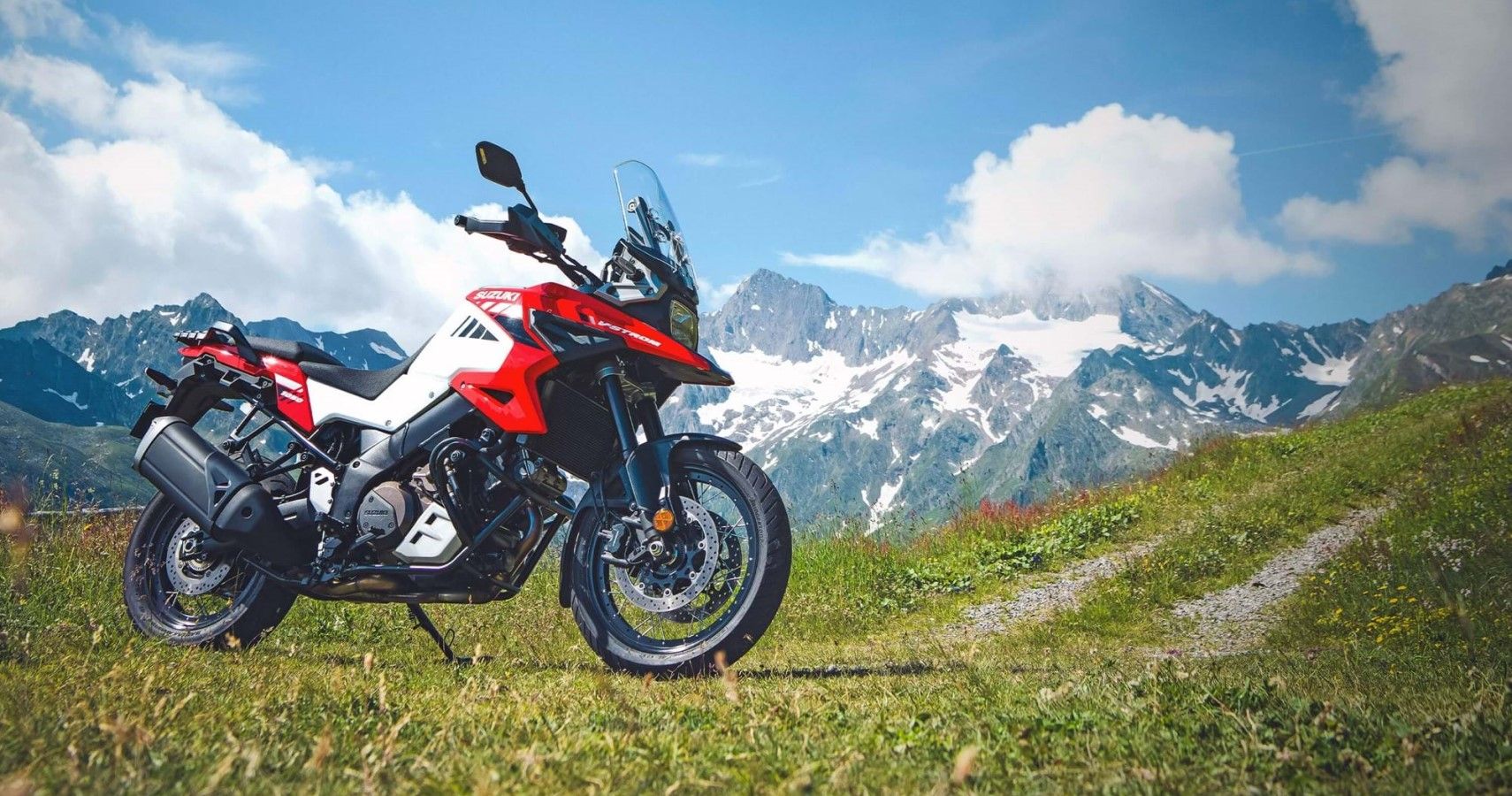 Here's What We Love About The Suzuki V-Strom 1050XT
Suzuki has always been the maker of motorcycles that put function over form. But that doesn't mean that they look boring! Enthusiasts are very well aware of the V-Strom nameplate and it has a rich history in the adventure touring storyline of bikes. Among the impressive line-up of V-Stroms over the years, Suzuki has strived to provide for a machine that provided an equilibrium with on-road and off-road characteristics. The latest generation of Suzuki V-Strom 1050XT has found a special place in our hearts for a lot of reasons.
Prime being the fact the iconic beak design has been inspired by the 1988 Suzuki DR Big. The V-Strom 1050XT has turned out to be a fine wine as it is a direct descendent of the first-gen Suzuki DL1000 V-Strom, a motorcycle so good in what it did that it had a hard time distinguishing itself as an adventure-tourer! Its V-Twin motor continues to be an all-rounder, and Suzuki has finely updated its celebrated adventure tourer with cooler technology features along with lots and lots of touring accessories.
We give you an insight into what makes the Suzuki V-Strom 1050XT a perfect adventure-touring machine, and tell you the bits that make it so lovable.
Suzuki V-Strom 1050XT Is A Fine Wine Among ADVs
The one main factor that we love about Suzuki and its motorcycles is that they strive for perfection. The Suzuki V-Strom 1050 line-up has been more or less the same since its launch in the early 2000s. This doesn't make it outdated, but Suzuki has picked out the innovative and changing bits and worked upon them alone. The result is a motorcycle with a rich heritage and a lot of experience but still packing the latest and greatest of the tech world.
To give you a clearer picture, the V-Strom is currently only in its 3rd-gen guise despite being over 2 decades old. The XT is more adventure-focused and comes with tubeless spoke wheels, lightweight brush guards, and even cruise control, among many other bits. And not to forget the iconic beak design that makes it ooze with nostalgia.
106 HP V-Twin Motor Makes This A Two-Faced Master
The 1037cc 90-degree V-twin motor used in the V-Strom 1050XT is an oldie as far as engines go. But this also happens to be its strong point. This tried and tested unit has faced the wrath of time and still provides an impressive level of reliability and usability that is hard to find, even among ADVs. It pumps out 106 HP @ 8,500 RPM and 74 lb-ft @ 6000 RPM.
These are the latest iteration figures and have jumped notably over the last MY. But the most impressive part is how Suzuki has managed to spread its performance across the rev band. This makes the V-Strom an easy commuter on busy roads and a hooligan when you want it to be! Related: A Brief Look At The Evolution Of The Suzuki Hayabusa
It's Ergonomics Excel Both On And Off The Roads
Be it the highway, a town, or even the unknown, Suzuki V-Strom 1050XT is designed to feel at home everywhere it goes. And interestingly it has retained this all-rounder appeal since the "V-Strom" inception. It was merely a period of fine-tuning and making it better. Its easy-going character is because of its flexible chassis and components layout. It packs an aluminum twin-spar frame and swingarm along with aluminum wire-spoked rims.
It gets KYB suspension with preload adjustment give for the rear spring only. Not a downside to be exact, as the front setup has been balanced out perfectly. It gets Tokico brakes with dual 310 mm front discs and 260 mm rear single disc. The weight distribution is impressive and this sizable adventure tourer is quite flickable on any given terrain.
The Iconic Beak Design Is An Ode To The Suzuki DR Big
By the far the most important bit of this motorcycle, its design has been inspired by the Suzuki DR Big which was a humble single-cylinder dual-sport designed by Ichiro Miyata in 1988. The sharp beak design was a bold move back then and the same guy was the one who designed its modern iteration for the V-Strom 1050 line-up.
Even the color scheme has been revived and that makes the latest V-Stroms quite the nostalgic machines. The clever use of LED lighting and a taller more purposeful windshield makes it stand out as a modern machine. Impressively even the square headlamp layout has been retained as an ode to the DR Big. Related: The Suzuki DR125S Was The World's First Street-Legal Dirt Bike
This Suzuki Packs An Impressive Electronics Package
Electronics is a very crucial part of the Suzuki V-Strom 1050XT and the savagery is strong here. Suzuki differentiates itself from its European counterparts like the BMW R 1250 GS, KTM 1290 Adventure S, and the Ducati Multistrada Enduro 1260 with simplicity. Everything from the traction control, riding modes, and ABS are easily configurable on the go with intuitive layouts and controls.
Taking of which it has 3 traction controls, 3 riding modes, a 6-axis IMU from Bosh to monitor its movements, and 2 levels of ABS modes. Its compact IMU allows for Hill Hold Control, Slope Dependent Control, and Load Dependent Control features. And to top it all up, it gets Cruise Control. All of this makes the V-Strom 1050XT a breeze to haul with.
Suzuki V-Strom 1050XT Is Very Serious About Touring
The last bit that we love about the Suzuki V-Strom 1050XT is its seriousness about touring. It gets a tapered handlebar and wider footpegs for comfort, a windscreen that is adjustable by nearly 2 inches, and loads of touring accessories to keep you comfortable while you go the distance. And the "XT" tag gives this V-Strom 9 of the 58 adventure-ready accessories as standard. Well, you can't stumble upon a more versatile adventure-touring machine and the V-Strom hits a smashing home run.
Sources: Globalsuzuki.com, Suzukicycles.com, Bikes.suzuki.co.uk, Ultimatemotorcycling.com, Cycleworld.com
The BMW R 80 G/S Was The World's First Adventure Motorcycle
BMW R 80 G/S was a bold new breed of motorcycles in the 1980s that kick-started adventure motorcycling, and saved BMW Motorrad from impending doom!
Read Next
About The Author