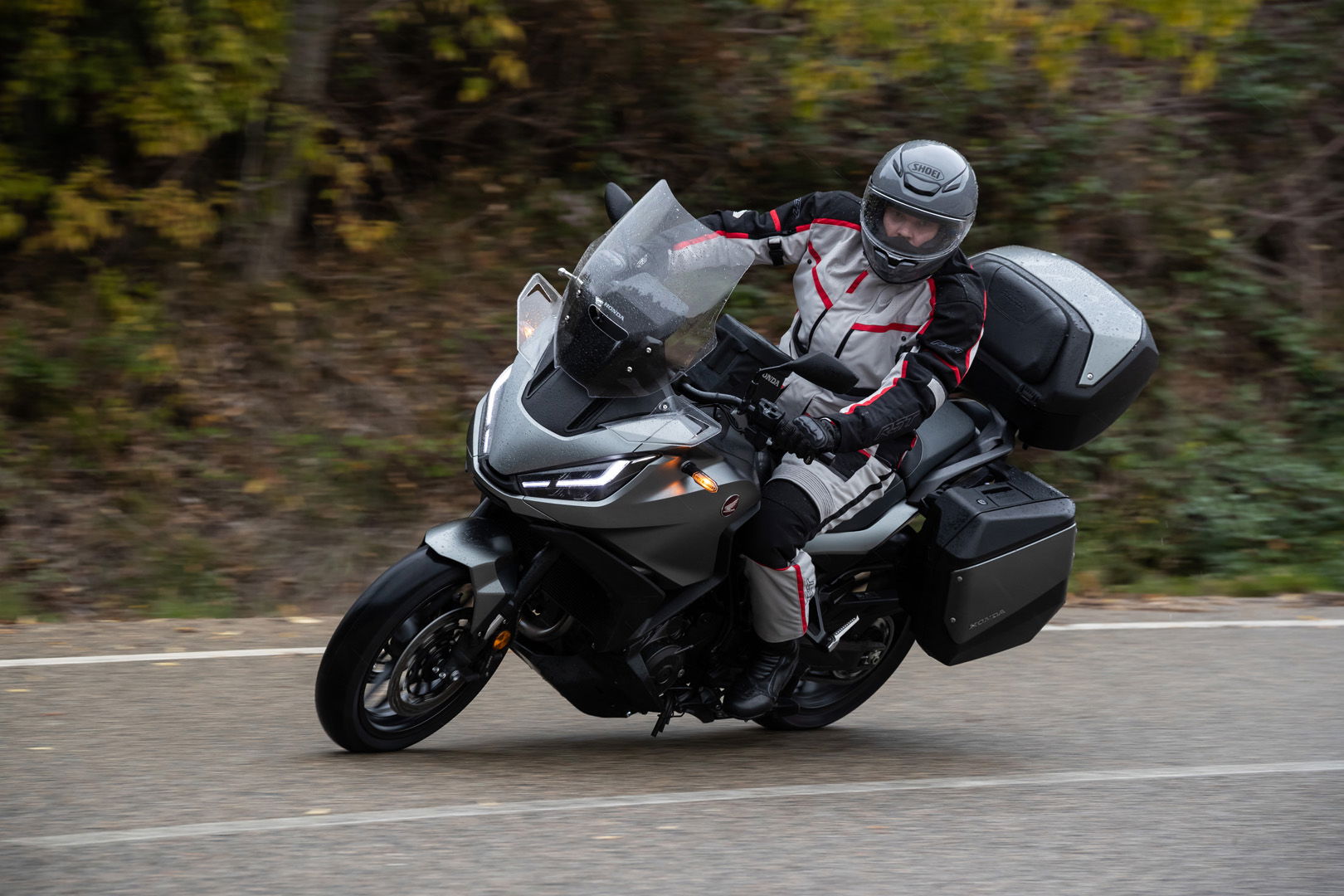 Honda NT1100 (2022) road t… | sports tourer motorcycle
Adding to a popular yet ever-growing segment of sports tourers, we were invited out to Barcelona to test the new Honda NT1100 due for release in 2022. Just how much tourer is packed into this sports tourer?
We got our first look at the new tourer around a month ago when it was revealed by Honda, and the ultimate goal for the NT1100 is an attempt at making a road-focused tourer capable of providing top levels of rider comfort and practicality two-up or solo, allowing for tours in all weather conditions laden with full luggage and pillion.
With the superbly popular engine and chassis from the Africa Twin acting as a foundation, the NT has an emphasis on on-road ergonomics & weather protection, promising the perfect setup for long days in the saddle.
We were out in Barcelona, exploring the nearby hills and mountain roads of Muntanyes de Prades on a DCT equipped model, accessorised with the 'Urban Pack' (standard-fit 65-litre panniers and 50-litre top box, with a 4.5-litre tank bag).
Side note on the route – absolutely incredible. Despite setting off in wind & rain (were we in Spain or Skegness?) the asphalt on the Spanish roads is consistently smooth, topped with endless views and filled our twisty dreams. Plus there was little to no traffic. Add it to the list if you are after a tour.
Honda NT1100 2022 price and availability
Due to be available in UK dealers in the first few months of 2022, the 2022 NT1100 will be priced at £11,999 for the manual model, and £12,999 for the DCT model. 
With a choice between Graphite Black, Matt Iridium Gray Metallic (as seen), and Pearl Glare White, the NT1100 will also have a few accessory packs available (Tour Pack +£730, Urban Pack +£600, & Voyager Pack £1330 (plus fitting costs to add)) adding further touring credentials to the catalogue.
Compared to the Suzuki GSX-S1000GT (£12,400 with panniers), Yamaha Tracer 9 GT (£12,200) and BMW K1600 range (all over £20,000) – amongst others – the NT1100 is priced competitively to do battle with its big-touring counterparts.
Engine
Chief amongst the battle stats is the engine. Utilising the Africa Twin 1084cc parallel twin with 101 bhp @ 7250 rpm and 104 Nm / 77 lb-ft @ 6250 rpm, the twin unit with 270º crank is transplanted into the NT1100, nestling low within the chassis and protected by the huge front fairing.
It's a lovely motor to ride with, plenty of low-end pull with smooth top-end power, but catch it in the low rev-range in high gears, and it'll 'chug-chug-chug' until it finds some torque. Keep on top of gear changes and this isn't much of an issue.
This motor is also found in the CMX 1100 Rebel, but is tuned and geared for tours and pillions in mind. It has enough power in the corners, it's always up for an overtake, and cruising at 70mph is smooth with no distracting vibrations.
With ride-by-wire, there are 5 modes to pick from: Tour, Urban, Rain, User 1 & User 2. Tour is the designated high-power mode, with the display returning the most info. Urban is in the middle, and rain is the lowest power output & lowest engine braking. 
Honda Selectable Torque control features, as well as slip rate control, and you can personalise all of the above with the User modes to craft your own 'super tour' or 'pillion mode' settings.
If matched to the DCT the machine becomes an immensely capable touring unit, with all the on-road guile you'd expect from the Big Red Wing firm. It's surprisingly agile despite weighing in at 248kg with DCT you'll be pleased to hear it's perfectly balanced, with the majority of weight low on the bike, making it well set up for carving up the road.
Dual Clutch Transmission
The Dual Clutch Transmission is certainly worthy of its own segment here. Honda says that over 200,000 DCT-equipped models have been sold in Europe since it was launched with the 2009 VFR, with the rider granted more focus on the ride, line choice and a bit of scenery on their tours.
Refined for the NT with bespoke settings, the 'box is unsurprisingly smooth, automatically clicking through gears with barely any interruption to power – though it was extremely keen to shift up to high gears at any opportunity when holding a steady throttle. 
For motorway and tour riding that's fine, but it became a bit tiresome in the hills and mountains if you don't adjust the shift rate, with the downshift button becoming the most used on the bike. – flick to manual mode, and it opens the door to ride exactly how you need to with well-placed up/down buttons on the left switchgear.
If you've ridden with a Honda DCT before, you know the score – and around 50% opt for the DCT 'box. But if not, it's not simply an 'automatic gearbox'. With dual clutches, gear changes are quicker than a quickshifter, and once you get to grips with it, it's difficult to consider going without the added benefits.
Namely, the lack of disturbance or pitching when shifting up and down – pillions will be glad to hear that, it'll limit helmet clashing!
Chassis
Continuing the Africa Twin theme, the steel semi-double cradle main frame is inherited with a slim straight main spar, 6 engine mounts and new NT-specific headlight and radiator stays. The bolt-on aluminium subframe is set to support a pillion and luggage, and is completed with a new 644mm swing arm from gravity die-cast aluminium.
The project leaders for this machine also have a history in the Crossrunner, Crosstourer, VFR & CRF models, and the Gold Wing, so some of that experience has paid dividends here.
The front end feel is superb in corners, and it feels planted and sure-footed even in the wet (which we set off in), ensuring top cornering performance and consistent feedback – despite the 238 kg (248 kg with DCT) wet weight, without factoring in 1/2 riders with luggage.
It has a fairly long wheelbase at 1535mm, making it stable on the roads but somehow not sacrificing the manoeuvrability, particularly when moving the bike around at walking speed. 
Brakes & suspension 
Starting with the suspension, 43 mm Showa separate function USD front forks with 150mm stroke are set with 20-clicks of pre-load adjustment, with a rear pro-link swingarm with mono-shock damper (preload adjust and 150mm travel). 
The Honda engineers were keen to hear what we thought of the suspension, and it was so smooth and effortless I had to genuinely think about my response.
There's little to no dive under normal braking, and they contribute to superb road feel once moving – it was genuinely impressive how sporty it felt on twisty roads, and I hadn't even thought about the suspension. That's a positive in my book.
Fitted to 17 inch front and rear wheels (with Metzeler Roadtec 01 hoops) are dual 310mm front floating Nissin discs, radially mounted with 4 calipers – and a single 256mm disc on the rear. Initial bite is sharp and crisp, with progressive power provided without unsettling the bike or activating the ABS – but heavy braking will activate the hazard lights, which I'm always hesitant to do.
All in, the NT110 is supremely stable, and again I'll use the adjective 'smooth' to describe the responsiveness on the road.
Style
I think it's worth covering the style of this NT up close. Designed in the Rome R&D facility, we first locked eyes on the CB4X at EICMA 2019, but we're told this NT1100 had been in the pipeline for around 2-3 years, despite becoming a parallel twin in its final form.
The styling of this machine is rather surprising. In photos and videos, it looks almost top-heavy and 'bulbous' for lack of a better word. But in person, you can see hints of the sleek concept drawing, and even with conservative colour options, it's not as bad in the metal. 
The huge fairing and wind deflectors serve a purpose, too. With a 5-step adjustable screen, top & bottom wind deflectors and that big ol' fairing, you enter an almost cocoon-like realm at speed.
With the screen at its highest setting, a slight lean forward grants me a noiseless ride, with arms stretched naturally to a wide bar and legs placed nicely on pegs beneath – I came off the bike with no aches.
Touring features
Last, and perhaps most important for most riders looking at this, are the touring features. Standard fit: cruise control, 65 L panniers (33 L on the left, 32 L on the right), 5-step heated grips, a 6.5" touchscreen TFT display with secondary LCD, USB and ACC sockets as standard in the dash, LED lights all round, and a wide pillion seat (60mm thick) with grab rails, low pegs and 175mm ground clearance.
The standard seat height for the NT1100 is 820mm, with a 51 front / 49 rear weight distribution. Fully fuelled, the 20.4-litre tank is said to provide around 250 miles of range – in real-world riding, I'd expect lower. Our ride was 220 km and at the end of the ride we were on the last bar.
Special mention to the 6.5" TFT screen, which as standard allows the Android Auto and Apple CarPlay functionality, which is an absolutely huge feature for some (myself included). Connecting your phone will mean all the music, phone and navigation you could ever need, and you can flick between the smartphone and Honda display easily. 
Panniers will unfortunately not fit a lid in, but add the 50L top box and you should be able to fit yours in there. Some may be after a larger pannier box, but that would increase the width and make filtering difficult – so they say. 
Riding in adverse weather is no problem, either. Grippy and comfortable to push on in the wet, the weather protection is seriously good when you're moving. 
But as far as tourers go, this NT1100 ticks all of the boxes. Perhaps the fuel range would be worth a look, given our ride seemed to return less than the 400km given range, but considering you can fill up and continue on in a matter of minutes it's palatable (yes, that's an electric motorcycle joke). 
Like /dislike
Like: TFT screen, top rider comfort for long days in the saddle, very easy to ride thanks in part to DCT. 
Dislike: Miles per gallon is in question, DCT box loves to shift up (without fiddling with settings), some may say it's fairly conservative in style.
Verdict
Honda will hope that its on-road based tourer will tempt the touring market, and with the gadgets and tech (like the TFT dash and DCT), it's certainly worth a look. 
Personally, I think Honda has gone for function over form here. With a long-running history of reliability and cutting-edge design, the package on offer is absolutely a head-turner – whether that's for the eyebrow-raising style or the touring capability here.
It's all designed in a way to make riding comfortable, easy and ultimately fun. DCT, smooth riding experience, touring gadgets, cocoon weather protection. It's rolled up in a package that makes an all-day ride simply a joy.
It's fairly understated in the sense that a Honda would typically be, it's not as lairy as the Yamaha Tracer 9 GT, not as 'sporty' as the GSX-S1000 GT, but it slots right in as a 'function over form' machine that many Honda fans will appreciate.
When reviewing bikes, I think one of the most important barometers is seeing whether I'd want to do it all again the next day – was it any fun? The answer tends to be yes, because who doesn't love riding motorcycles, but ultimately I was extremely keen to go and do it all again. 
I'll admit that I wasn't brimming with anticipation prior to riding it, but I'm happy to say this did it all.
Waking up the next day and seeing the bikes being readied for the next group, I'd have happily donned my RST gear and gone for another 'mini tour'. The NT1100 was effortless to ride, so smooth and balanced, filled with tech, and certainly a happy place to be – it's a big tick in the box. 
I'd certainly recommend a go on one of these, they should be ready for test rides in January in UK dealers, and the DCT box is a huge distinguishing factor – particularly for tourers who may enjoy the ease of use of the DCT.
Huge thanks to Honda for having us out on the launch, check the Honda site for full details, specs and to build your own. 
Watch the Honda NT1100 (2022) review here;