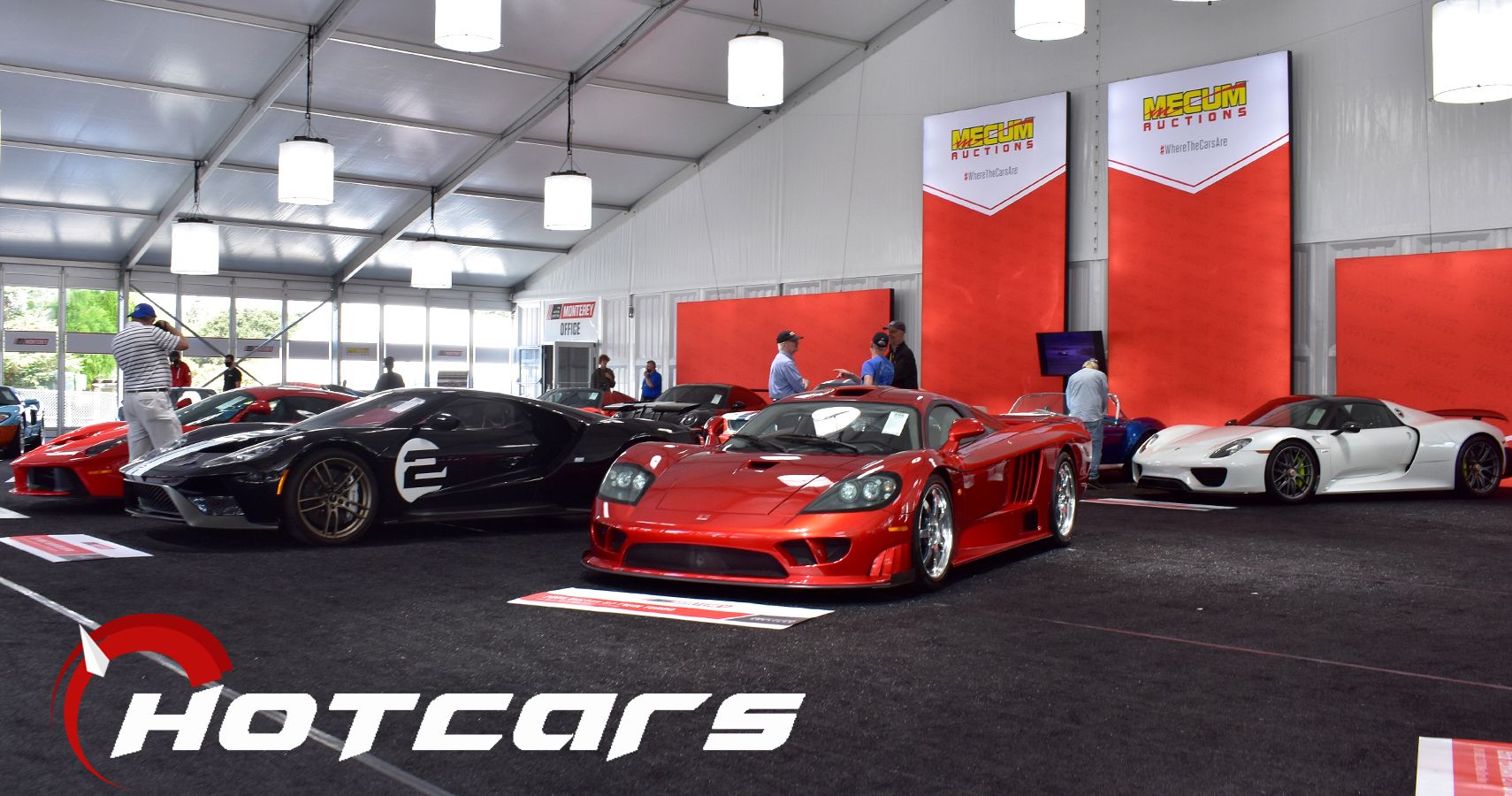 In-Person Auction Action As Mecum Monterey Clears Eight Figures
No Cars and Coffee meetup or automotive gathering escapes the constant discussion of collectible values exploding alongside the growth of online auction sites. From watching my favorite cars reach stratospheric prices to learning more about specific makes and models or just perusing the comments sections, Bring a Trailer and its many copycats always offer plenty of entertainment, as well as a chance to learn a thing or two. But throughout the pandemic's unprecendented boom in automotive enthusiasm, in-person auctions still drew record numbers, too, proving that the tried-and-true formula still deserves a place in today's car culture.
So when I recently when I made last-minute plans to visit the return of Monterey Car Week this year following 2020's pivot to an all-online format, checking out a live auction figured in as one of my top priorities, alongside landing exciting interviews and driving incredible cars.
Luckily, the Mecum team invited me to attend their Monterey 2021 auction at the Hyatt Recency Monterey Hotel and Spa on Del Monte Golf Course, where I joined a throng of excited spectators and borderline-manic bidders checking out the wild lineup parked outside the tent where the real auction action goes down.
Mecum Auctions Presents Monterey 2021
Mecum lists all the cars slated to cross the block at Monterey online months in advance, giving potential bidders plenty of time to do their research (and build anticipation). Just perusing the Mecum website, this year's lineup looked to trend towards Americana, with a ton of Fords and especially Shelby models in the mix. And given the number of GT40 and GT examples, plus some record-setting Shelby Cobras and prototype GT350 cars that sold in the past 18 months, perhaps owners can't be faulted for trying to get in on the craze.
I spoke with Mecum COO Sam Murtaugh in advance of Monterey, after two of the company's previous 2021 auctions brought in over $100 million in bids, to learn more about how their strategy shifted during the pandemic. Mecum does allow bidding online and over the phone, in addition to in person, which Murtaugh said actually helped to draw in more new customers rather than allowing existing live auction fans to get in on the fun from home due to pandemic hesitancy.
RELATED: 10 Amazing Cars That Were Up For Auction During Monterey Car Week
Impressive Variety At Monterey
Mecum definitely focuses on classic sports cars and American cruisers but the sheer variety of marques and models, homemade hotrods, and motorcycles still manages to impress. The lineup above, with a Maserati Ghibli II, Chevy Camaro, Porsche Cayenne, Pontiac, and a classic Cadillac cruiser, just about perfectly encompasses the diversity of age, popularity, and, of course, potential value that dotted the golf course's fairways and bunkers. Anything that collectors or enthusiasts might drop solid money on can make the cut.
RELATED: EXCLUSIVE: HotCars Previews The Petersen's Virtual Car Week Ahead Of Pebble Beach
Big SUVs On Hand As Well
A Porsche Cayenne might seem like a worthy SUV to draw bids at Monterey, given clientele and the skyrocketing values commanded by even the lowliest P-cars these days, but Mecum also brought out the new Ford Bronco First Edition above, as well as an absolutely insane, completely customized first-gen Hummer built up for SEMA parked nearby (and managing to make the Bronco with its 35s and fender flares look absolutely puny and plasticine). A chopped and slammed classic Bronco also caught my eye as it rumbled by at one point.
RELATED: Ant Anstead Visits Alfa Romeo Event During Monterey Car Week
Celebrity Provenance—Or Just Classic Style
Of course, nothing helps boost a car's value better than celebrity provenance. The classic (and aptly named) 1955 Mercury Monterey station wagon above might have fetched good money just thanks to the impeccable woody styling, brilliant chrome, and paint job—but signatures on the dash by The Beach Boys, Chubby Checker, Dick Clark, and Christopher Knight helped perk up the crowd when it crossed through the tent. Meanwhile, as fans of vintage and modern classics stopped to snap pics, I also ran across a number of potential buyers on their hands and knees, checking engine bays for signs of disuse, neglect, or (even worse) modification.
RELATED: Arriving With Style, Maserati MC20 Turns Heads At 2021 Pebble Beach Concours d'Elegance
Inside The Supercar Tent
Mecum's organization on site at Monterey appeared to place cars into tiers based on rarity and expected value: the closer to the actual auction carpet, the better. And directly next to the main festivities, an incredible selection of modern supercars all looked poised to crack into the seven-figure range. A hybrid Porsche 918 Spyder, the original American supercar represented by a Saleen S7, a modern Ford GT, and a Ferrari LaFerrari took up center stage—you know it's a pretty hardcore fleet when I had to crop a Shelby Cobra, Porsche GT3, and a first-gen Ford GT out of the photo!
RELATED: Shelby Cobra Driven By Ice Cube In 'XXX: State Of The Union' Up For Auction
Daisy Making Ferrari Look Quaint
In the supercar tent, even parked next to a gorgeous 1966 Ferrari 275 GTB/6C Long Nose, the 2004 Shelby Cobra concept nicknamed "Daisy" drew the most attention. Built as a prototype and the only example ever made, Daisy might have ushered in the final chapter of Carroll Shelby's life, with a V10 engine and a rear-mounted six-speed transaxle offering supercar performance in the modern age. Chris Theodore, Ford's VP of Product Development at the time, sat just nearby, happy to recount stories of developing both this concept and the mid-2000s Ford GT alongside the famous Chicken Farmer from Texas.
I spoke with Theodore for a few minutes, eager to find out why he decided to sell the car now, of all times—he had, it turned out, managed to purchase Daisy himself in 2017 but given the potential value and the costs of keeping a one-off piece of automotive history on the road, he knew that deeper pockets than his would be required. (And I'm sure the $2.64 million Daisy eventually fetched helped urge him on, as the Ford almost exactly tied the Giallo Fly Yellow Ferrari, which also featured a torque tube and rear-mounted transaxle, albeit routing power to the rear wheels from a 3.3-liter Columbo V12).
RELATED: The Real Story Behind The 2004 Shelby Cobra Concept Car​​​​​​​
The Main Attraction
From the supercar floor, I next headed to the main attraction, from about a hundred yards out cheering, music, and the staccato, almost mesmerizing auctioneer voices blasted. A mix of encouragement, information, sass, and humor, the auctioneers switched off about every four or five cars—presumably to keep their voices intact—and showed an unbelievable ability to draw out that next bid. Despite the early hour (probably around 10:30 in the morning), cocktails, beer, and wine were flowing, the crowd fully engaged with the cars and money changing hands, Mecum employees rushing around, clapping, and hollering each time a major dollar figure rounded off.
Occasionally, a driver of one of the cars on the block would rev an engine, though most rolled through with a few guys pushing, and I watched as everything from an air-cooled Porsche to the Duesenberg crossed the block—the latter pausing for a moment at $1.8 million before the auctioneer was able to secure a bit more interest from the phone lines and top out at $2.37 mil.
RELATED: The Pebble Beach Concours d'Elegance Returns This August​​​​​​​
Top Marks At Mecum Monterey
Other notable sales at Mecum Monterey this year included the 131-mile LaFerrari, which hammered at the highest value of $3.41 million, a Shelby 427 Semi Competition Cobra at $2.89 million, Daisy and the 275 GTB/6C at $2.64 mil, and a 1965 Ferrari 500 Superfast at $1.88 million. The Acura NSX above, meanwhile, is the first NSX of 350 ever to be built in Type S trim and crossed the auction block with all proceeds going to charity—it fetched $1.1 million (or just over $900,000 above its original MSRP of $171,495).
Personally, the thought of buying any car without a test drive (or drives), plenty of research, a pre-purchase inspection, and a long conversation with the seller seems unfathomable. And my cars seem to usually cost in the $3,500-5,000 range! At Mecum, would-be bidders get to check out a potential purchase on the lawn (or the carpet), maybe fire it up, then watch as it rolls past in front of the crowd. And still, some of these cars managed to draw in six and seven-figure bids with ease, the eventual record-setting sales for Mecum Monterey flying up to a total of $54.7 million in testament to the adrenaline-inspiring live-auction format, Mecum's commitment to fostering the enthusiastic crowd, and today's insane collector car marketplace.
And speaking of crazy cars, I had to jet out from Mecum's tent before some of the biggest names rolled in, because up next on my schedule The Quail, A Motorsports Gathering beckoned with even more six, seven, and eight-figure stunners, massive industry unveils like the new Lamborghini Countach, the Rimac Nevera, Radford's bespoke retro 62-2 supercar, and Lucid's new Air EV, as well as famous automotive personalities like Christian von Koenigsegg, Jenson Button, Ant Anstead, and even Adam Corrolla.
Sources: mecum.com, hyatt.com, ford.com, and acura.com.
2020 Pebble Beach Concours Cancelled Due To Coronavirus
From Geneva to New York and Paris to Detroit, car shows have been cancelled or postponed due the global pandemic.
Read Next
About The Author