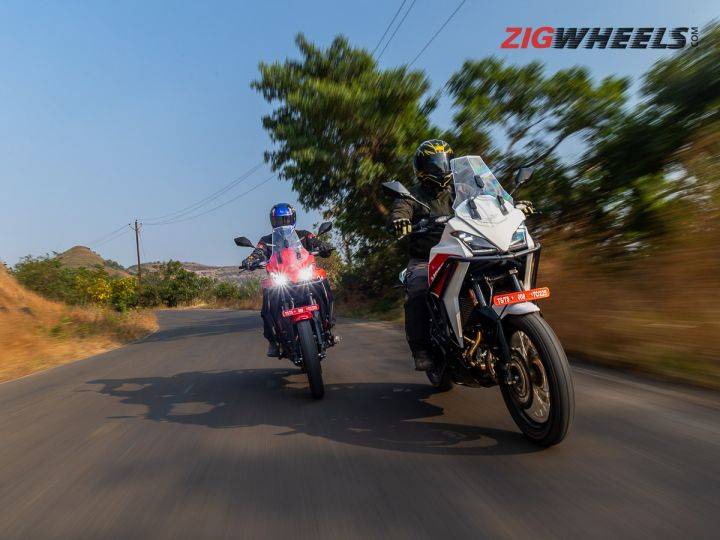 Get latest updates on
the automobile community
Login Now
In the pecking order of illustrious Italian brands, Moto Morini won't find itself quite near the top. The brand doesn't have quite the racing lineage of Ducati, Aprilia, or even MV Agusta. It is a rather quaint little company, also from Bologna, and given how time has passed, finds itself under Chinese ownership. However, much like everything Italian, the X-Cape 650 left a neat impression on us after a short spin. 
We were eager to spend some more time with the bike as we wanted to figure out just how good it is, and whether it deserves your attention or not. 

Deceivingly Approachable
Slender enduro-like design strategy seems to be the approach for modern day ADVs. Inspired from old school Dakar rally racers, the Moto Morini X-Cape 650 too is another modern rendition of a simple and clean adventure look. The twin triangular headlights, tall tapering windshield, flared fairing panels and sleek tail entice you enough, especially in its red shade.
It looks big from afar. However, upon approaching the X-Cape, you don't get that sense of enormity of a big ADV. It feels roomy and spacious without giving that impression of riding a humongous luggage system on two wheels. It enables you to be perched high enough to oversee any large hindrances from miles away with the adjustable windshield doing a neat job of diverting air around the helmet when set to your correct height.

Mind you, shorter riders, or those with generous thighs, will find the 835mm seat height a bit troublesome to manage at first. Even though the mid-section of the bike is slim, flat footing the X-Cape will be a bit of a task for them. And even for those who can flat foot the bike easily, it is best you get down and move the bike around while parking. Its 215kg heft is certainly felt, instantly letting you know that larger muscles would make your life so much easier.
Friendly (G)Ruffian
 

Moto Morini X-Cape 650

Specs

649cc liquid-cooled parallel-twin

Power

60.8PS at 8250rpm

Torque

54Nm at 7000rpm

Geabox

6-speed

Acceleration

0-60kmph

2.94s

0-100kmph

5.84s

30-70kmph in 3rd gear

4.47s

40-80kmph in 4th gear

5.59s
The X-Cape's motor feels all too familiar. The 649cc parallel-twin motor has identical bore and stroke figures as our favourite 650cc adventure motorcycle: the Kawasaki Versys 650. It is free revving and easy to operate, just like the Kawasaki. You have ample bottom-end grunt and it feels quite comfortable sustaining 110kmph. 

However, that's where the similarities end. Unlike the Versys, the X-Cape doesn't manage to escape out of the urban jungle as quickly. It feels even more sedate and subdued than the Kawasaki. It is more green tea than a cutting chai that way. Both offer a soothing sensation but the latter hits the spot in every circumstance.
And it turns out that the soothing experience doesn't exactly go down smoothly. There's buzziness right from get go, which only starts to get bothersome post 120kmph, though. The gruffness is felt quite significantly at the pegs and if you are one of those riders who love a fast blast down the highway rather than just soaking in the views, this X-Cape might leave you with tingling feet during your stops.
| | |
| --- | --- |
|   | Moto Morini X-Cape 650 |
| Highway fuel efficiency | 23.92kmpl |
| Fuel tank capacity | 18 litre |
| Expected range | 430km (approx) |
Speaking of taking stops, if you were to cruise along at 100kmph in a nice and easy manner, you would technically need a fuel stop every 430km. You might think that's impressive but its main rival can happily go farther, provided you don't have an eager right hand.

Moto Morini also has to work on improving the cooling system on the bike. Currently, there are no air vents to direct hot air away from the rider. As a result, the radiator blows the air directly towards the cylinder and that hot air gets trapped right below your knees and inner thigh region. Considering that it was an irritant on a cold, breezy Pune evening, the issue is bound to cause major discomfort in peak summers.
Top Shelf But Tippy
The X-Cape does dazzle you with an impressive kit. Fully-adjustable Marzocchi suspension, Brembo brake calipers and Pirelli dual-purpose tyres, man does that sound appetising. However, not all's that well.

For starters, while it isn't all that heavier than its 650cc ADV brethren, it doesn't mask the 215kg heft as well. Given the tall stance and raised fuel tank, the X-Cape starts feeling very top-heavy. It reminds you of the older generation of big capacity ADVs like the Triumph Tiger 800 (the first ones that came to India), or even the Honda Africa Twin CRF1000L. It does take getting used to its handling characteristics to be able to ride it with confidence. It rewards patience and smoothness, and doesn't like quick direction changes. So when you are encountering corners, better take it at a relaxed pace, else you might just make things a bit too complicated for you.
You do appreciate the presence of the sophisticated suspension. In its stock settings, the ride was quite comfy and absorbent, soaking up virtually all road imperfections. I could do with a slightly slower rebound setting of the monoshock, as the factory setting feels a tad bit sensitive over small and sharp bumps.
| | |
| --- | --- |
|   | Moto Morini X-Cape 650 |
| 100-0kmph | 47.54m |
| 60-0kmph | 17.30m |
The X-Cape does have great stopping performance. Since we received the bike with barely any miles on the odo, we needed to bed in the brakes first. Hence, the initial mushy feel at the levers quickly went away leading to a fierce chomp. We would've liked a bit more progression in the system, though. Currently, the bite was a bit too fierce, especially from an adventure motorcycle standpoint. When we did take it off tarmac, there wasn't much leeway in the system and you hope for a bit of a gradual slowing process.
Another slight hindrance that you will have to deal with when going off-road is the absence of switchable ABS. The ABS kicks in instantaneously when you stamp on the rear brake pedal, free-rolling quite a bit extra than anticipated. The ABS calibration as such could also do with some tinkering as our road testers claimed the system intervenes quite frequently upon hard braking. 

Lastly, the 19-/17-inch wheel setup is ideal for our roads. Be it the standard alloy version or the tubeless-compliant spoke wheels–equipped X-Cape 650X trim, you get Pirelli Scorpion xxx dual-purpose tyres, which are more off-road biased. So, while you won't find the traction over loose surfaces to be an issue, on tarmac, or even concrete roads, these tyres do not inspire as much confidence. The deep grooves on the side of the tyres and the top heavy nature combine to induce a bit of steering jitteriness. 
Good But…
You can get the X-Cape 650 at either Rs 7.20 lakh with alloy wheels or spend Rs 20,000 more and get the 650X with spoke wheels. No other differences between the two trims. And considering the fact that it costs the same as the Kawasaki Versys 650, has much better kit and reasonable performance, it does make a nice case for itself. 

And yet, we feel that the Versys makes for a better purchase. The limited reach of the Italian marque in India, the lack of brand awareness and slightly subpar build quality, especially the mounting of the fairing that started rattling within a few hundred kilometres, are issues that make you hold back from putting your faith in the product. And given its oddities of being top heavy, motor running hot in most conditions and poor ABS calibration, it remains only for those who like eccentric motorcycles.