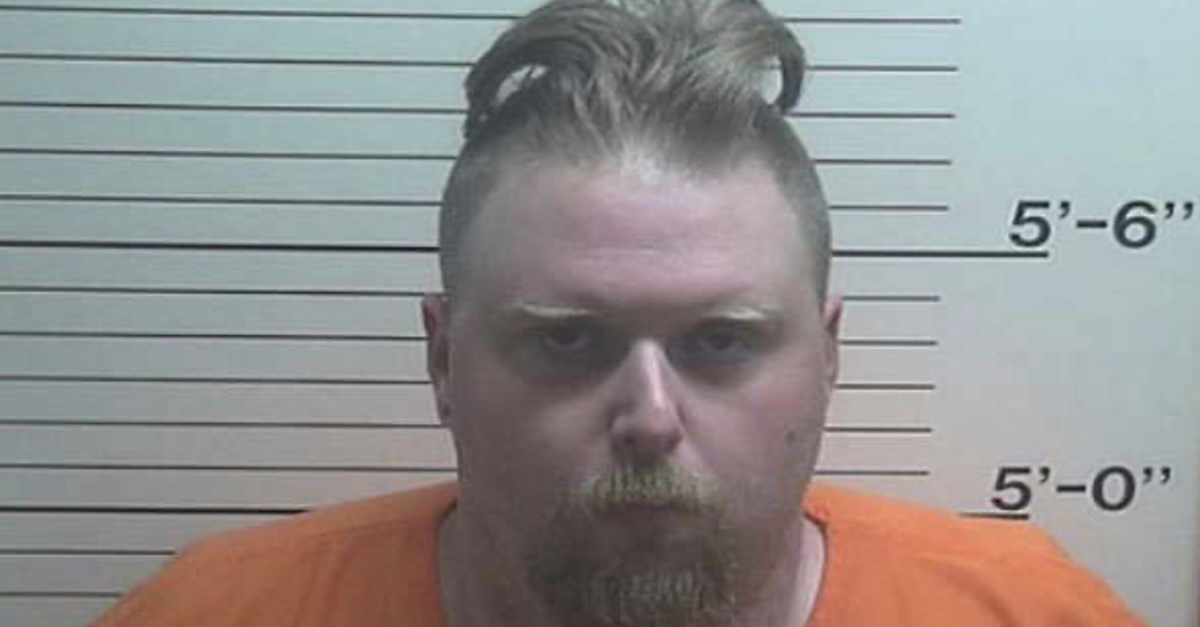 Motorcycle gang leader Michael Karnuth sentenced to prison
The president of the "Heavy Hitters" chapter within the Warlocks Motorcycle Club was sentenced Wednesday to spend 120 years in prison after an attempt to beat up a perceived biker poser ended with the shootout death of an ally.
Michael "Billy Goat" Karnuth, a 34-year-old North Vernon, Indiana resident, was convicted in February for the death Dustin B. "Kutter" Lindner, a 35-year-old member of the Pagans Motorcycle Club from Georgetown, Ky., who had joined Karnuth in plotting to rob and beat a man for sporting tattoos and patches without actually being a member of their biker clubs.
As Law&Crime reported previously, the bikers went to Shawn Rudis' property on June 22, 2021 in an attempt to punish him for sporting fake "rags" and patches. Lindner was shot and killed by Rudis in self-defense.
Prosecutors said that David K. "Karate Dave" Faulkner, 54, Jason W. "Dutch" Brewer, 36, and Gary W. "Mouth" Fletcher, 42, participated in the crime and were members of the Warlocks chapter headed by Karnuth.
While Fletcher pleaded guilty to attempted burglary committed while armed with a deadly weapon, Brewer cooperated with the law enforcement and pleaded guilty to attempted robbery. Karnuth's girlfriend Jordan Lowe, a.k.a., Pooh Bear, 27, also pleaded guilty to felony assistance of a criminal after Brewer told authorities she helped try and orchestrate a cover-up in the aftermath of the incident:
Brewer stated that he and Karnuth then travelled from Seymour, Indiana to North Vernon, Indiana. Brewer informed officers that Lowe was the driver of the green passenger car from Seymour to North Vernon. While travelling back to North Vernon, Brewer stated that he was given multiple pieces of a handgun, which he identified to be the 10 mm that he used during the commission of the crime, and was advised to throw said pieces into the water at multiple locations along the way. In addition to the pieces of the 10 mm, Brewer stated the he was also instructed to discard pieces of a 9 mm at two different locations of the big lake at Country Squire Lakes.
The cover-up failed, and "Billy Goat" was arrested at a Warlock house in Rising Sun, prosecutors said.
"Following the shooting, gang members fled the area in two vehicles but crashed into each other," the Jefferson County Prosecutor's Office said in a press release. "They attempted to dispose of a vehicle, firearms and gang paraphernalia following the shooting but those items were recovered by law enforcement."
Investigators said Lowe had posted a photo on her Facebook wearing a vest that said: "Property of Billy Goat Indiana."
A plea agreement is in the works for Faulkner, but it has not been filed, Law&Crime can confirm.
Jason Brewer told investigators that Lindner had vocalized a plan to "get down there, beat the s— out of that guy, take his s—, and leave." Brewer also told investigators that Karnuth insisted on bringing firearms with them, even though the leader had called for a beating and the removal of Rudis' biker gang tattoos.
"Brewer said that he inquired as to why they needed guns if they were just going to 'beat his ass,' and that Karnuth responded that he was prepared to shoot back, if needed. Brewer stated that Kamuth instructed him to leave his cell phone at the residence during the commission of the crime because it could be traced by law enforcement," court documents said. "Brewer advised law enforcement that the group at Karnuth's residence had discussed that [the target] had tattoos associated with the Warlock Motorcycle Club and […] also had a 'cut' (vest associated with motorcycle clubs) that had a patch for the Pagan Motorcycle Club. Brewer stated that they were going to get the 'cut' and ensure that the Rudis's tattoos associated with motorcycle clubs were removed."
Rudis told investigators he shot Lindner with a .223 rifle after he saw the defendants with guns in hand and heard them looking for him at the property. Prosecutors said that Lindner had opened the tarp covering the shed Rudis was hiding in before he was killed.
"Rudis remained in the shed, and saw a shadow begin to open a tarp that was covering the entrance of the shed. Rudis stated that he then fired a shot towards the shadow and that he heard a groan. He stated that he didn't hear anything else for what he believed to be a couple of minutes, and then multiple shots were fired into the shed. Rudis stated that he then called 911," court documents said.
Rudis had apparently encountered Karnuth at a gas station just weeks before the shooting.
"While at the gas station, he spoke to a male subject that he referred to as 'Billy Goat' about his affiliation with the Warlock Motorcycle Club. Rudis told officers that he exchanged phone numbers with 'Billy Goat'. During their conversation, Rudis showed 'Billy Goat' his tattoos associated with the Warlock Motorcycle Club and was, by his own admission, antagonistic towards 'Billy Goat,"" documents said. "Rudis stated that during their conversation, 'Billy Goat' indicated that he was going to be president of the Warlocks soon. Rudis stated that 'Billy Goat' later contacted him in an effort to meet. Rudis said that although the male subject ensured his safety, he had reservations and ultimately blocked the subject's number."
Jefferson County Prosecutor David Sutter said in a statement to Law&Crime that Karnuth's "significant" 120-year sentence in state prison "all but ensures a dangerous man will no longer be a threat to our community."
"The conviction and today's sentencing are the direct results of the rapid and thorough investigation conducted by the Jefferson County Sheriff's Office and the Indiana State Police," Sutter added.
Indiana court records reviewed by Law&Crime show that the March 15 sentencing hearing ended without Karnuth making a statement in court.
Jefferson Circuit Court Judge D.J. Mote sentenced Karnuth to 60 years for murder and more 60 years — to be served consecutively — because the crime occurred in the context of gang activity, court records show.
After Karnuth expressed his intent to appeal, he was handed over to the Jefferson County sheriff.
Have a tip we should know? [email protected]