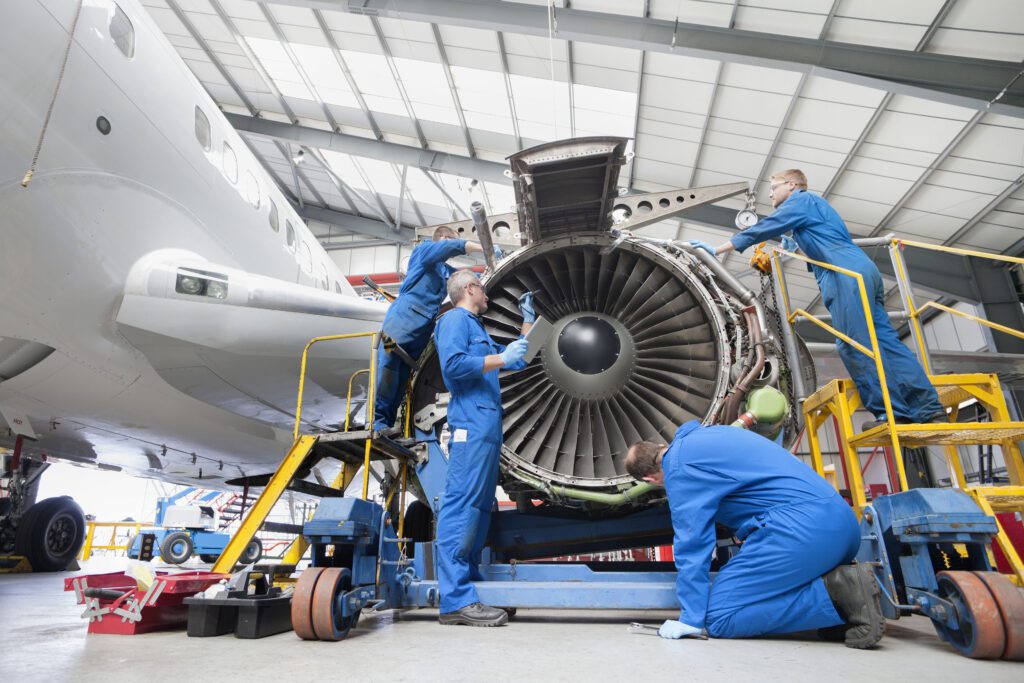 OPINION: Preventive Maintenance Strategies for Aerospace Parts Manufacturing
This article was contributed by Eric Whitley, Director of Smart Manufacturing at L2L.
The global aerospace parts manufacturing market, valued at USD 851 billion in 2021, is expected to continue its growth in the coming years. Extraordinary attention to reliability and safety, with continually evolving design requirements, sets high expectations for parts manufacturing. Coping with the demands of the industry while sustaining competitive advantage requires a dependable, forward-looking maintenance strategy.
Essential Equipment in Aerospace Manufacturing
Aerospace manufacturing involves the fabrication of components for commercial aircraft, military-grade jets, spacecraft, and propulsion systems. Such applications expose parts to extreme conditions and stresses that require durable—yet lightweight—materials. On top of these factors, components require precise measurements that can withstand extreme conditions.
Computerized Numerical Control (CNC) technology is the leading approach that caters to the industry's particular demands on material integrity. CNC methods automate the movement of machine tools based on a pre-programmed design to ensure accurate machining. The range of equipment with CNC capabilities can span turning, milling, drilling, or a combination of these fabrication procedures.
Multiple-axis CNC machining, such as a 5-axis CNC machine, allows the flexibility to achieve more intricate geometries if required. Accomplishing the same level of complexity using a simpler piece of equipment requires additional steps that reduce efficiency and introduce more potential for error.
More sophisticated equipment requires a broader range of tooling and integrated subsystems. As manufacturing processes become more accurate and efficient with advanced equipment, each piece of the more extensive system needs special care and attention to ensure reliable operations.
Preventive Maintenance Schedule
Manufacturers need to maximize value from the backbone of their operations at all times. Taking a piece of equipment out of service incurs substantial losses to a company in the form of reduced production capacities. A practical approach to mitigating failure is to get ahead of potential concerns. 
It might seem impossible to monitor every component used within a production facility. Several CNC machines, for instance, are comprised of hundreds—if not thousands—of individual parts. The good news is that best practices continue to evolve and find their way to users and service providers, making sure that all stakeholders understand the habits they need to form, such as checking hydraulic fluids and grease pressure.
Preventive maintenance checklists are excellent starting points for assessing the state of a machine and any potential servicing needed. While specific assets may require specialized steps, procedures typically classify tasks according to evaluation frequencies—such as daily, quarterly, and semi-annual checkpoints.
Daily

routines require condition inspections, such as ensuring working pressure levels for hydraulic systems, maintaining lubrication levels, and general housekeeping to clear out debris and filings.

Quarterly

activities may focus on more substantial areas, including inspecting or replacing conveyor system parts, drive belts and cooling system filters.

Semi-annual

checkpoints typically include oil-change procedures for lubricating systems, coolant flushing, leveling recalibration and cleaning out chucks and jaws.
Other activities, performed annually or as needed, include multi-axis alignment and calibration, motor inspections, and gearbox system examinations.  
Inventory Management
Recent market challenges and supply chain disruptions highlight the importance of sustained business operations through parts availability. These learnings are more relevant than ever, especially to manufacturers that provide equipment for the aviation industry.
A good maintenance program is only effective if it enables flawless operation, one that can sustain continuous production. Having the right spare parts, tooling instruments and consumables on the shelf is essential for equipping maintenance teams to perform the required work assignments.
In a reactive approach to random or unforeseen failure, having a spare part on hand can spell the difference between an immediate fix and an extended waiting period. In such cases, critical spare parts should be stored nearby with easy access.
A Holistic Approach to Maintenance
It is vital to tackle maintenance with a strategic and holistic approach. Manufacturers should prioritize proactive strategies to keep factories at peak performance. However, contingencies need to be in place in the event of unplanned breakdowns, anticipating potential failure modes and countermeasures. The main challenge for manufacturers is optimizing resources in order to maximize reliability.
Modern tools in the industry aim to integrate several areas of a company into an empowered decision-making process. Enterprise Asset Management (EAM) software, for instance, bridges the gap between maintenance demands and resource allocation. 
Going back to the example of a 5-axis CNC machine, performance and conditional readings from the equipment can feed into the EAM program as data inputs. The comprehensive information is then translated into actionable insights and can be further automated to trigger procurement requirements and work scheduling.
In exploring innovations that take a more holistic approach to maintenance, recent ones also enhance communication between end users and manufacturers. Seamless information transfers—through secure channels—enable customers to share flight data directly with manufacturers. These developments allow manufacturers to better prepare for demands and provide a targeted strategy for supplying products and maximizing production schedules.
A preventive maintenance strategy enables aerospace parts manufacturers to sustain an advantage in a competitive industry. Specialized equipment requires unique maintenance standards to ensure performance. While the task is challenging, a well-guided strategy paired with the appropriate tools open opportunities for continuous improvement.
Eric Whitley is a leader in the manufacturing space. In addition to the many publications and articles Eric has written on various manufacturing topics, you may know him from his efforts leading the Total Productive Maintenance effort at Autoliv ASP or from his involvement in the Management Certification programs at The Ohio State University, where he served as an adjunct faculty member.
After an extensive career as a reliability and business improvement consultant, Eric joined L2L, where he currently serves as the Director of Smart Manufacturing and helps clients implement L2L's pragmatic approach to corporate digital transformation.