Shanghai (Gasgoo)- Rising Auto, a smart electric vehicle (EV) brand owned by SAIC Motor, launched the RBS (RISING Battery Service) on October 14 together with Shanghai Jieneng Zhidian New Energy Technology ("Jieneng Zhidian"), in which SAIC Motor invested to promote EVs with replaceable batteries.
The RBS will separate the ownership of batteries and electric vehicles, so as to reduce expense incurred by the Rising R7's owners. Using the innovative service, users who buy the R7 powered by a 90kWh battery pack can save 100,000 yuan ($13,900) of the upfront purchase price and need pay only 1,560 yuan ($220) of rent on a monthly basis, while those who choose the 77kWh battery pack can enjoy a reduction of 84,000 yuan in the upfront cost and pay 1,260 yuan ($175) as monthly rent.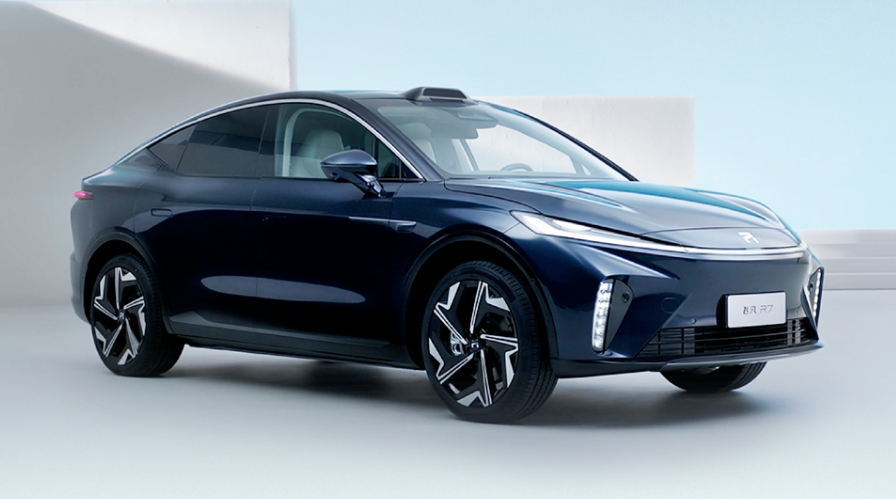 Rising R7; photo credit: Rising Auto
In addition, Jieneng Zhidian will work on guaranteeing the safety and health across the battery life cycle for users who adopt the RBS, dispelling users' fears of car depreciation due to battery capacity attenuation.
Notably, Rising Auto also offers flexible options for sale of used cars. Its official pre-owned car platform allows users to sell vehicles with a rented battery pack. However, if a user wants to sell his vehicle through other platforms, he should buy the battery pack out.
The RBS is a significant part of the automaker's RISING POWER solution, which also contains the industry-leading electric motor, ECU and power battery technologies, the battery safety and maintenance technology, as well as the standardized battery swapping technology.
SAIC Motor announced on Sept. 22 that Jieneng Zhidian, a battery swapping business-focused subsidiary it jointly built with Sinopec Group, PetroChina Company Limited, CATL, and Shanghai International Automobile City, had been incorporated already, marking the Shanghai-based auto giant's foray into the battery swapping domain.