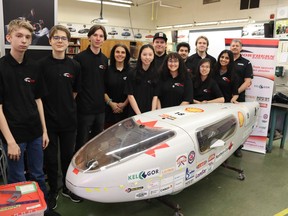 Sarnia's Northern Collegiate returning to Shell Eco-marathon
Article content
It's crunch time for Northern's Eco Team.
Article content
Students at the Sarnia high school are putting in long hours getting an ultra-energy-efficient single-person gasoline-powered vehicle ready for the track at the storied Indianapolis Motor Speedway, where the team will compete this April in the Shell Eco-marathon.
It's where university, college and a few high school teams from North and South America put their engineering and organizational skills to the test to see who can successfully design, assemble and drive the most fuel-efficient vehicles.
Northern Collegiate is once again expected to be the only Canadian high school competing.
The team made its first trip to the marathon seven years ago and has returned each year since, except for a pause during the pandemic.
Article content
Students apply for spots on the team at the start of the school year and each spend about 300 hours outside of class researching, designing, assembling, testing and fine-tuning the vehicle.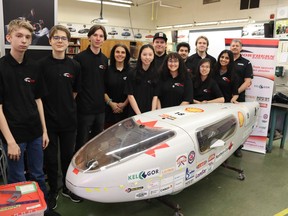 They also work with sponsors, including local unions and businesses, to cover the project's approximately $25,000 budget each year, set up a team website and work social media.
The team has to make it through three rounds of qualifying to earn a spot at the marathon held at different locations each year. In 2019, the Northern team travelled to California to compete.
"We have our last push now," teacher Doug McArthur said.
As well as finishing work on the vehicle, the team is planning to pack it up, along with tools and spare parts, to be shipped to Indianapolis for the marathon.
Article content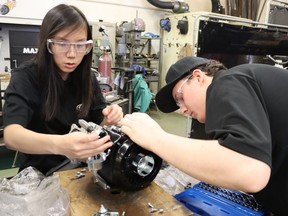 "The kids are just finalizing some of their changes, and they'll do a full disassembly of the car next week and then reassemble and make sure everything is perfect and back together," McArthur said.
This year's team has three student managers, including Elisabeth Mark who is also the driver.
"Our goal this year, as a team, is for everyone to expand and learn new skills," she said. "When you look at this very application-based technology project, you know that high school kids did it.
"I think that's pretty impressive."
Fellow manager Benjamin Neumann noted "just getting to the competition and making sure we get an actual, full run in" is a big accomplishment.
"That means we did everything correctly," he said.
William Nikel is the third manager. He said having the team take apart and reassemble the car before the competition is an important step to ensure team members know "how everything fits together, how everything works together so when we get to the competition we're not fumbling if something breaks."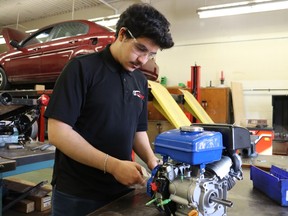 "We're about middle of the pack," McArthur said about Northern's record at the marathon. "We've have a 13th position; we've had a 16th."
Northern's best previous best unofficial run was more than 297 kilometres per litre.
The team's competitors include university teams, so finishing first would be tough, he said.
The real aim is to get the Northern students ready to pursue post-secondary education and careers, McArthur said, and it has proven successful at doing that.
"That has been the best part of the project. We're pretty proud of those kids," he said.