Car enthusiasts have continued to acquire sleek and expensive cars that give them the pulsating adrenaline rush.
Hawk-eyed Kenyans spotted the luxurious vehicles that went viral on various social media platforms.
President William Ruto and his car collections headlined the discussion, with most people appreciating his choice of vehicles.
Ruto's Lexus LX 570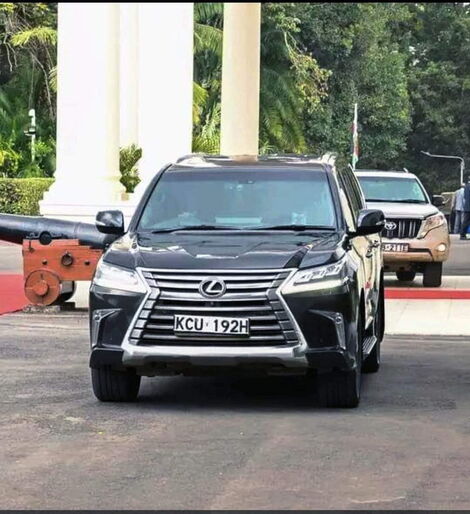 Lexus LX 570 owned by President William Ruto at State House Nairobi on Monday, September 12, 2022.
Twitter
PSCU
Black Lexus LX 570, KCU 192H, was a signature ride in President Ruto's campaigns.
Ruto used the powerful Sports Utility Vehicle (SUV)  to traverse different parts of the country before winning the much-contested presidential election.
On September 13, the Lexus LX 570 elicited debate after Ruto was ushered into a Toyota Landcruiser with a court of arms, signalling a protocol change.
Lexus LX 570 costs north of Ksh25 million. Its features include powerful suspensions to support the tyres and wide front seats. 
UDA 6-wheeled Truck
Ruto made headlines after unveiling a six-wheeled branded truck in July 2022 at the height of the campaign period. The truck cost north of Ksh30 million.
Kenyans on social media marvelled at the car's features, such as the scissors doors and the huge exhaust at the front of the vehicle.
However, it broke down several times due to technical issues sparking backlash from his supporters.
Raila Odinga's Toyota Land Cruiser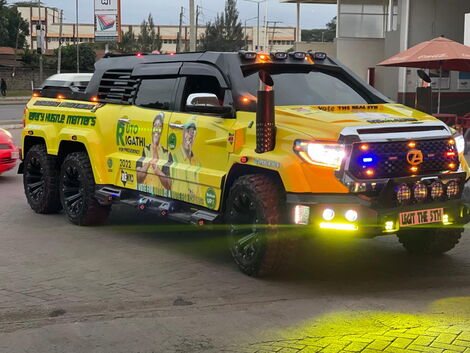 A 6-wheeled truck branded with UDA colours spotted on Friday, July 8
Twitter
LaQueenJ
Azimio la Umoja principal Raila Odinga stole the limelight at a rally in Mathare on Wednesday, October 12, after he showed up riding in a brand new Toyota Land Cruiser 300.
The Toyota Land Cruiser 300, which sparked reactions, retails at Ksh23.1 million.
Its features include a 3.3-litre Diesel or 3.5-liter Petrol V6 twin-turbo engine. The engine also uses a direct shift 10-speed automatic transmission.
Car enthusiasts lauded Raila for picking the car, reducing carbon emissions by ten per cent.
Rolls Royce Cullinan
Different social media pages on Tuesday, November 22, were awash with photos of a Rolls Royce Cullinan. The luxurious ride was pictured along Thika Road.
Reports indicated that the car was owned by a powerful politician who served at the State House in the 1980s.
Rolls Royce Cullinan, which costs north of Ksh42 million, is characterised by a twin-turbo 6.7 litre V-12, which provides 563 horsepower.  
Customised Mercedes Benz Resembling Pope's Car
On Wednesday, July 6, a customised Mercedes Benz resembling John Pope's signature car attracted debate in the country.
The before and after photos of a customised Mercedes Benz 116.
Canva
The car which was modified bore a number plate KTW 110. 
Victor Savwa, a Lody Auto Garage mechanic, tasked with customising the vehicle to resemble the Pope's automobile, stated that the car belonged to his friend who migrated to Kenya from India in the early 2000s.
He picked it up where it was abandoned and modified to resemble the Pope's signature ride.
The modification process cost over Ksh1.5 million, and the only parts that were not modified included the tires, rims and engine.
"In 2019, my friend came to me and had the idea of transforming it into a popemobile as a form of appreciation for the community spiritual leader who was set to tour the country at the time," Savwa stated.
"Their spiritual leader was set to travel to Mombasa for a one-week trip in July 2019, so my friend wanted the vehicle to be ready by the time he arrives," he added.
Bently Bentayga
In June, Bently Bentayga, estimated to retail at Ksh20 million, was spotted in Nairobi. The car attracted reactions due to its features. 
The sheer exhilaration characterises Bently Bentayga and V8 petrol-powered engine.
"No other SUV can compete with the Bentayga when it comes to craftsmanship, comfort or sheer exhilaration. Available with a 4.0 litre V8 petrol engine, a 6.0 litre W12 petrol engine or a 3.0 litre hybrid, it is a luxury SUV without comparison."
"Offering extreme performance with no compromise on comfort or practicality, the Bentayga is built for every road – and for places with no roads at all," Bentley's website states.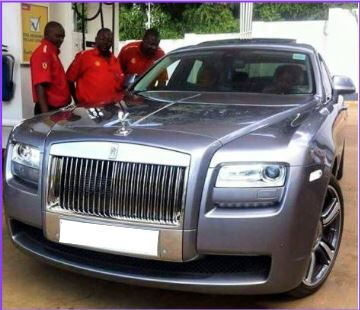 A Rolls Royce Phantom spotted in Kenya in 2020
File