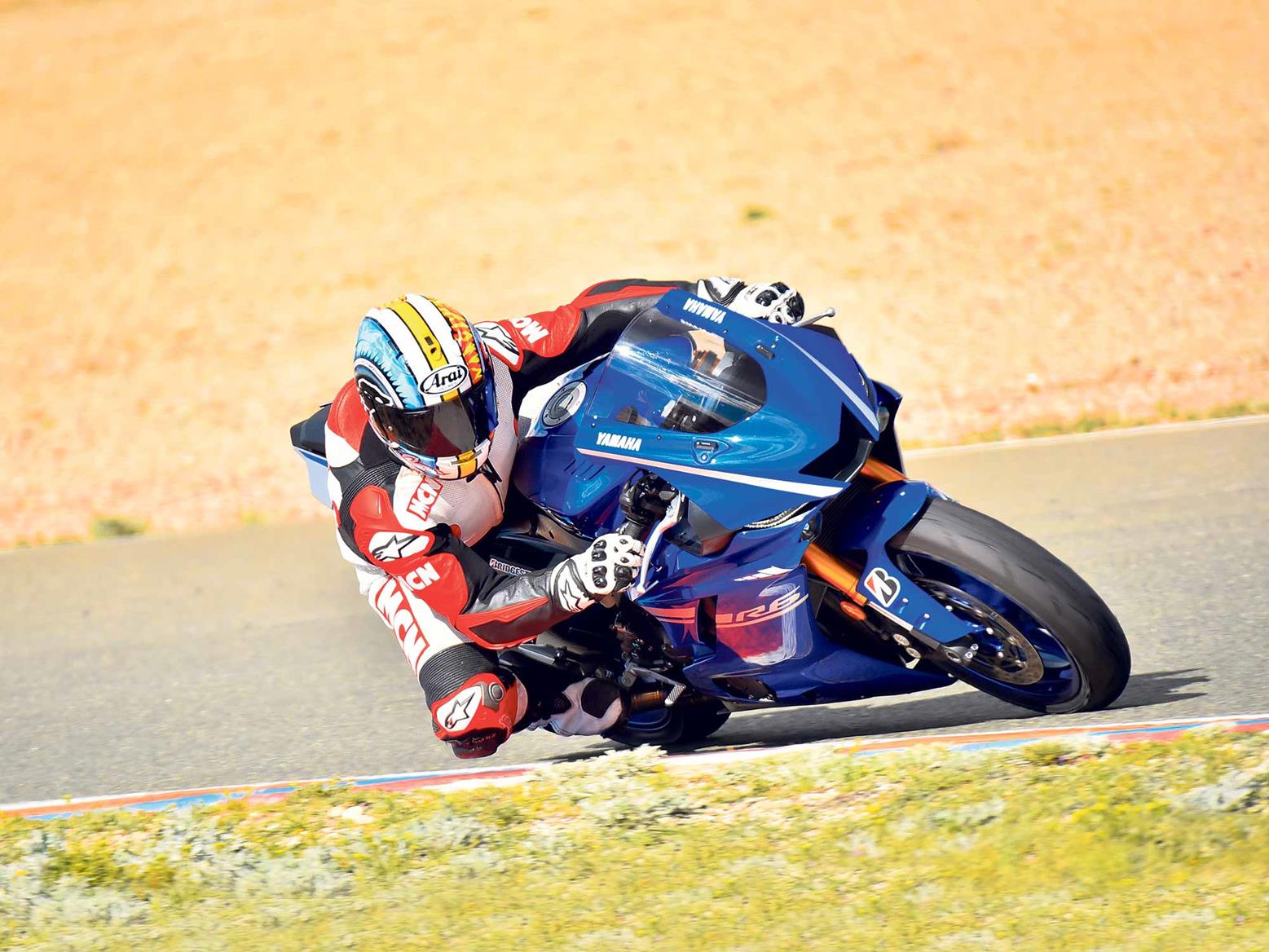 Supersport screamers: It's the best 600cc sports bikes for 2021


6

The 600cc sportsbike market has taken a hiding in recent years, with almost all major manufacturers slowing development of their middleweight three and four-cylinder screamers in favour of flagship superbike models.
With sales slowing and firms now locked in a litre-class arms race, the supersport landscape has been stripped bare. A track-only version of the Yamaha R6 is all that's available to buy new in the UK, plus any remaining Kawasaki ZX-6R and MV Agusta F3 675 models, as they're discontinued for 2021. 
Suzuki's GSX-R600, the Honda CBR600RR and Triumph Daytona 675 all disappeared from the UK with the introduction of Euro4, however the GSX-R and CBR continue to be available in other markets. The Honda has also been updated for 2021 with more tech and a fresh face, but the Japanese firm have confirmed it will not be coming to Europe. 
With that in mind, you might be wondering why we're compiling this list of the best supersport machinery at all. But, with almost all superbikes now comfortably surpassing a claimed 200bhp, armed to the back teeth with electronic aids and sold for some eye-wateringly high price tags, a revvy analogue 600cc pocket rocket may just be the perfect antidote; allowing you to get your sporting thrills without having to consider selling a kidney.   
What's more, just because you can't buy them brand-new, it doesn't mean there aren't some fabulous used deals to be had on the used market. So, sit back, grab a cuppa and find your next middleweight missile with us…
Best 600cc sportsbikes in 2020
---
Yamaha R6 (2017-2021)
Spec: 599cc / 116bhp / 190kg / 850mm seat height
Updated for 2017, the 599cc four-cylinder Yamaha R6 was first introduced in 1999 to sit alongside the first generation R1 superbike, unveiled in the previous year. In that time, the rev-tastic 600 has undergone several iterations; gaining fuel injection, more advanced suspension and more power along the way – plus, more recently – electronic rider aids.
Although looking markedly different from its 21-year-old ancestor, the same basic recipe remains in the current R6 and whilst the sales have dropped from the dizzying 4000 a year in the UK back at its inception, it continues to dominate in short circuit racing – taking both the World and British Supersport crown in 2020.
Although slightly down on peak power over the previous version, due to Euro4 emissions regs, the 116bhp R6 comes with traction control and ABS as standard and has continued to provide countless riders with plenty of high-revving road and trackday thrills at just over half the horsepower of some superbike alternatives.
For 2021, the bike has become the R6 Race – a £12,099 track-only version of the 2017-on road bike. At around half the price of a Honda Fireblade SP, it will still be plenty of bike for plenty of sportsbike fans, thanks to its credible chassis, SlimFast weight and less intimidating shove – but you won't be able to ride it home from your trackday at the end of the day. 
Read full Yamaha R6 review here
---
Kawasaki ZX-6R (2019-2021)
Spec: 636cc / 128bhp / 196kg / 830mm seat height
Like the R6 above, the ZX-6R Ninja name has been around for over 20 years, receiving its most recent major overhaul ahead of the 2019 riding season, ahead of being dropped for 2021.
The 636cc engine for the latest 6R comes from the 2013 model, however, is now Euro4 compliant. Hidden beneath the restyled bodywork, there's a new exhaust, mapping tweaks and shorter gearing – with the changes made resulting in a loss of 1bhp. For sharper acceleration, the front sprocket is now also a tooth smaller at 15/43 overall. There's also a quick shifter for upshifts only and two riding modes.
Sitting on Bridgestone S22 tyres, there is also ABS – making it the closest rival to the aforementioned Yamaha. This is again reflected on the track, with Kawasaki locked in an annual supersport battle with Yamaha for the top spot.
Away from racing, the ZX-6R is far nimbler than many litre-bikes could hope to be, changing direction quickly and predictably; all the while revving to a heady 16,000rpm redline. Although brilliant for when you want to go absolutely nuts on your favourite backroad, like every bike on this list, don't expect it to be roomy or comfortable. This thing's all about going fast. 
In its final year of sale, the Kawasaki also represented comparatively good value for money. Available from £9699, the cheapest R6 is a further £2500 more expensive – enough cash for a new set of leathers and lid before you hit the track.
Read full Kawasaki ZX-6R review here
---
MV Agusta F3 675 (2012-2021)
Spec: 675cc / 126bhp / 173kg (dry) / 830mm seat height
Although receiving tweaks since its introduction, the current F3 remains largely the same as the three-cylinder Italian stallion that first appeared nine years ago. Producing around 126bhp and complete with a gorgeous, throaty triple soundtrack, it was the Italian exotic alternative to the last of the screaming Japanese fours.
Styled in the same vein as the 798cc F3 800 triple, the 675 mounts a gorgeous minimalist bodywork to a credible trellis chassis create a timeless look its rivals could only hope to mimic. Like the Kawasaki and Yamaha, production ended at the 2021 advent of Euro5.
It also has the internals to back it up, with a MotoGP-inspired counter rotating crank, an eight-stage traction control system, up and down quick shifter, slipper clutch and ride by wire throttle. Unfortunately, all of this tech doesn't come cheap and in 2020, an F3 set you back £13,180 – almost £600 more than an R6 and just shy of £3500 over the Ninja.
Although expensive, it offered a sense of occasion and a soundtrack that its rivals simply couldn't. If looking good is as important to you as performance, then the MV is the way to go. However, despite its impressive tech, the MV struggles with its power delivery – sometimes serving up its class leading wedge in an unpredictable, jerky manner that detracts from the overall riding experience.
Read full MV Agusta F3 675 review here
---
Suzuki GSX-R600 (2011-2016)
Spec: 599cc / 126bhp / 187kg / 810mm seat height
They say that sometimes less is more and with the Suzuki GSX-R600, that's exactly right. Last updated for UK markets in 2011, it left blighty at the end of 2016 alongside the larger 750, however continued to be sold under derogation – leaving the GSX-R1000 as the Japanese brand's only option for British sportsbike fans.
First introduced in 1996 as a carbed, bubbly SRAD; the final GSX-R used a 599cc four-cylinder engine producing a claimed 126bhp, with the only electronic interventions being two power modes and an electronically adjustable steering damper. Compared to the blinged-up MV, it's as basic as they come, but that's no bad thing.
Shedding an impressive 9kg from the previous Gixer, and with slightly more midrange on tap; simply flick the key and go. Group tests following its launch revealed the bike to not be as stiff as the Yamaha R6, Kawasaki ZX-6R or Triumph Daytona 675 of the day, with plenty of feedback from the word go to make the rider fee; comfortable pushing to their limit straight away.
With no traction control to clear up your mess and a simple semi-analogue tacho rotating in front of you, it's a pure riding experience lacking in modern motorcycling that can now be yours for as little as £4500. Still plenty fast enough in a straight line, the money saved could then be spent to on modern tyres, better brake pads and lines and suspension components to ensure you're no slower around the track than a brand-new alternative.
Read full Suzuki GSX-R600 review here
---
Triumph Daytona 675 (2013-2018)
Spec: 675cc / 126bhp / 184kg / 820mm seat height
Like the MV Agusta above, the Triumph is one for the triple fans – sporting an absolutely gorgeous, rasping 675cc three-cylinder engine inside a superb aluminium frame, suspended by a set of quality springs. A visceral riding experience – only enhanced by an open Arrow exhaust – the final new models left showrooms in 2018.
First introduced in 2006, it developed from an under seat piped racer to a grown-up, well-rounded supersport masterpiece – taking multiple racing crowns both on the short circuits and roads and proving the UK could produce something every bit as good as their main Japanese and European rivals.
Available as either a standard or slightly fancier R model, complete with Öhlins suspension, the last generation Triumph is now available for around £6000 – featuring ABS and a quick shifter as its only electronic interventions. If that's slightly out of reach, older variants can be found on MCN Bikes For Sale for as little as £3500.
Read full Triumph Daytona 675R review here
---
Honda CBR600RR (2013-2017)
Spec: 599cc / 119bhp / 196kg / 820mm seat height
Last, but by no means least is the Honda CBR600RR. First revealed in 2003, it transformed from sporty, yet practical CBR600F into a focussed, uncompromising race rep – following the same recipe until its demise.
In the same year came a more focussed Kawasaki ZX-6R B1H – both taking a firm departure from their more forgiving predecessors. Although changing a great deal internally, the final RR to grace the UK didn't look all that dissimilar to the first – sporting the same snub-nosed beak and under seat exhaust. 
However, unlike the 2003 machine, the final bike produced around 119bhp from its 599cc engine and was suspended by Showa Big Piston Forks. There was also an updated ECU, claimed improved aerodynamics and ABS was also available. 
A relatively small update over the previous model, the final RRs left UK showrooms in 2017. Although still sold elsewhere, unless there's a major overhaul to meet stringent European emissions standards, we're unlikely to see another one any time soon.
---
More of MCN's Best articles