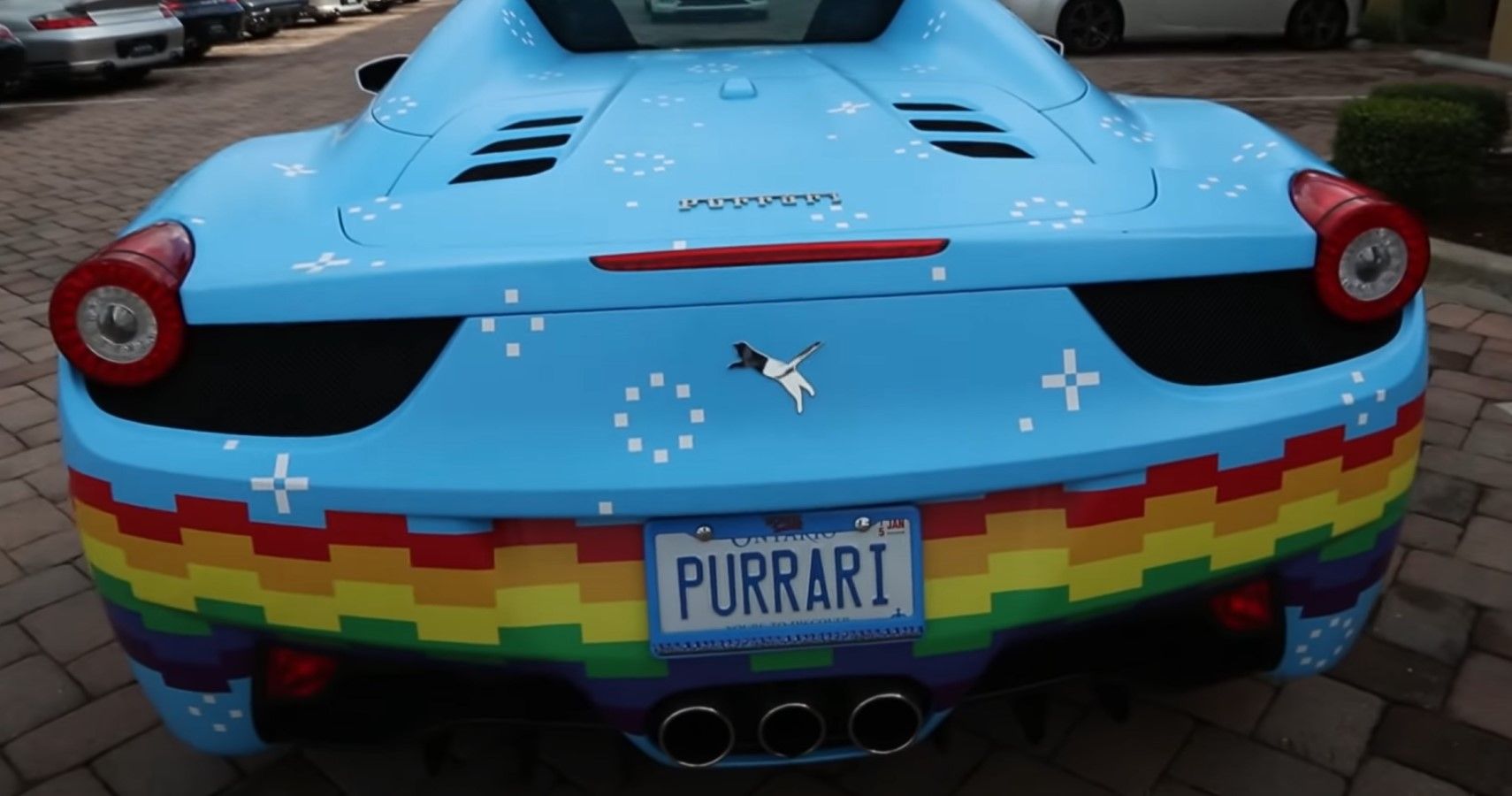 The Real Reason Ferrari Sued Deadmau5 Over His Customized Purrari 458
Modifying your brand-new supercar takes a strong will and a healthy bank balance. But when it comes to modifying a Ferrari, it also takes a lot more because the Italian marque takes its image very seriously. So seriously that plenty of owners who put a foot wrong have put themselves on Ferrari's naughty list. This includes a long list of celebrities "banned" from buying new Ferraris or, more precisely, new special edition models at the very least.
One such celebrity Ferrari owner who made big news for getting in trouble was Canadian EDM artist Joel Zimmerman, better known as Deadmau5. Back in 2014, the DJ put a Nyan cat wrap on his new Ferrari 458 Italia Spider. It stood out for sure, even if tasteful wouldn't exactly be used to describe it. The Deadmau5 Purrari, as he named it, became something of a sensation overnight, even winning an award at the Gumball 3000 supercar rally.
The questionable personalization wasn't what landed him in trouble with Ferrari, but what he did next! It resulted in Ferrari's US regional office even sending the DJ a cease-and-desist order. So, what made Ferrari get so mad in the first place?
Updated May 2023: We have updated this article with more interesting details on what exactly led Deadmau5 to enrage Ferrari. It wasn't the rather questionable Nyan Cat wrap, but a much tinier and, to be honest, well-detailed bits that made Ferrari send a cease-and-desist order.
Related: This Is Why Chris Harris Was Banned From Driving Ferrari's
Does Ferrari Not Like People Modifying Their Supercars?
The simple answer to whether Ferrari likes people messing with its cars is no. But the reality is that it's a little more complicated. Ferrari encourages the personalization of its cars, especially when customers go through Ferrari's in-house Tailor Made personalization service. The Italian marque even prides itself on speccing unique cars for its well-heeled customers. After all, who doesn't want a one-of-one Ferrari to brag about?
What Ferrari doesn't like too much is when people start to modify its cars, especially in the first year of ownership or while it's still being financed. Though, the company doesn't like customers tinkering with the mechanicals themselves even years after the car was first sold, as Richard Rawlings found with the infamous Gas Monkey Garage F40. You may be thinking: If someone buys a car, it's theirs to do with as they please. And while that's true, not all mods are created equal.
Ferrari is especially mindful of mods that the company deems distasteful or against the spirit of the car in the first place. It's the same reason the company will never, ever sell a pink Ferrari. And if you end up wrapping your Ferrari pink (or baby blue with a cat farting rainbows), be aware you might have just put yourself on Ferrari's watchlist.
What Ferrari definitely doesn't like at all, and is a surefire way to get banned from buying a new one or used one from an authorized dealership, is messing with the Ferrari logo or badges in any way. And that's exactly what Deadmau5 did with his Purrari. The iconic Ferrari Cavallino Prancing Horse badges were replaced with a prancing cat and the Purrari text in the same fashion all over the car. In Ferrari's view, this was a huge no-no.
Related: Here's A Look At Deadmau5 Funky And Eclectic Car Collection
Why Did Ferrari Send Deadmau5 A Cease And Desist Notice?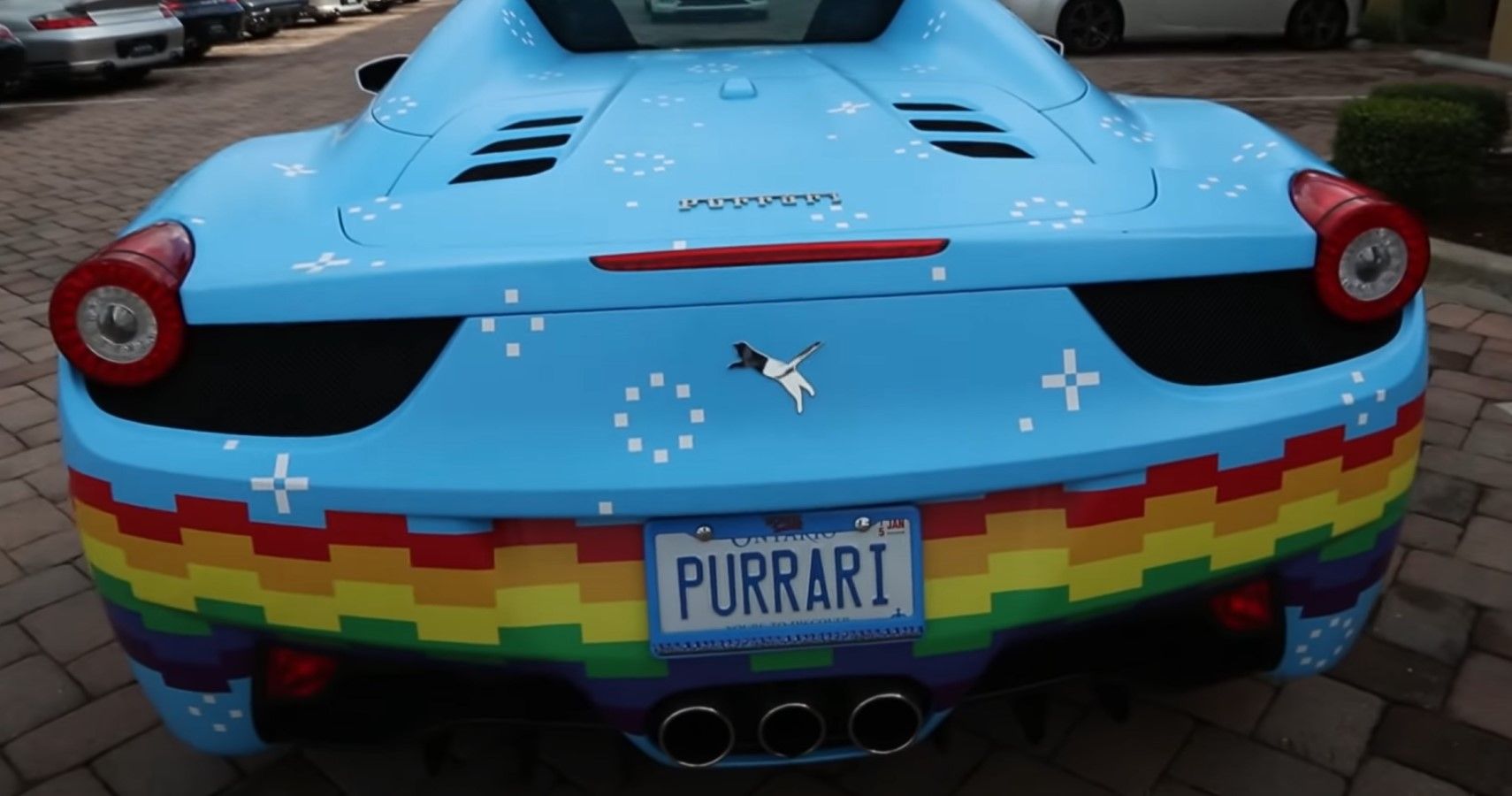 To make things worse, after Deadmau5's Purrari took part in the Gumball 3000, the artist put it up for sale on Craigslist. Ferrari also has strict rules about owners re-selling their cars within the first year of ownership. In fact, it makes owners sign a Right of First Refusal contract when they buy the car. It essentially says any Ferrari dealership should get first dibs on the car when it's put up for sale. This means Ferrari gets to decide who the car goes to, not the customer.
Between the Purrari logos and the "illegal" sale, Ferrari's US office sent Deadmau5 a cease and desist order, which is essentially a slap on the wrist. Ignoring one of these can usually lead to a lawsuit being levied against you, and you get sued. In Deadmau5's case, the company claimed the Purrari logos all over his Ferrari 458 amounted to copyright infringement and defamation.
Did Deadmau5 Get His Ferrari Taken Away?
Unlike the sick drop on the artist's hit Ghosts n Stuff, the Deadmau5 vs Ferrari story is a little anti-climactic. Because after the artist got hit with the cease and desist order, he actually reversed the mods on his car, turning it back to a regular, stock-ish-looking Ferrari 458 Italia with pink brake calipers. This meant removing the Nyan cat wrap and the Purrari badges. While it could be seen as Deadmau5 backing down from a fight, the DJ did take a dig at Ferrari's lawyers in a tweet following the return to stock.
Is Deadmau5 Banned From Buying A Ferrari?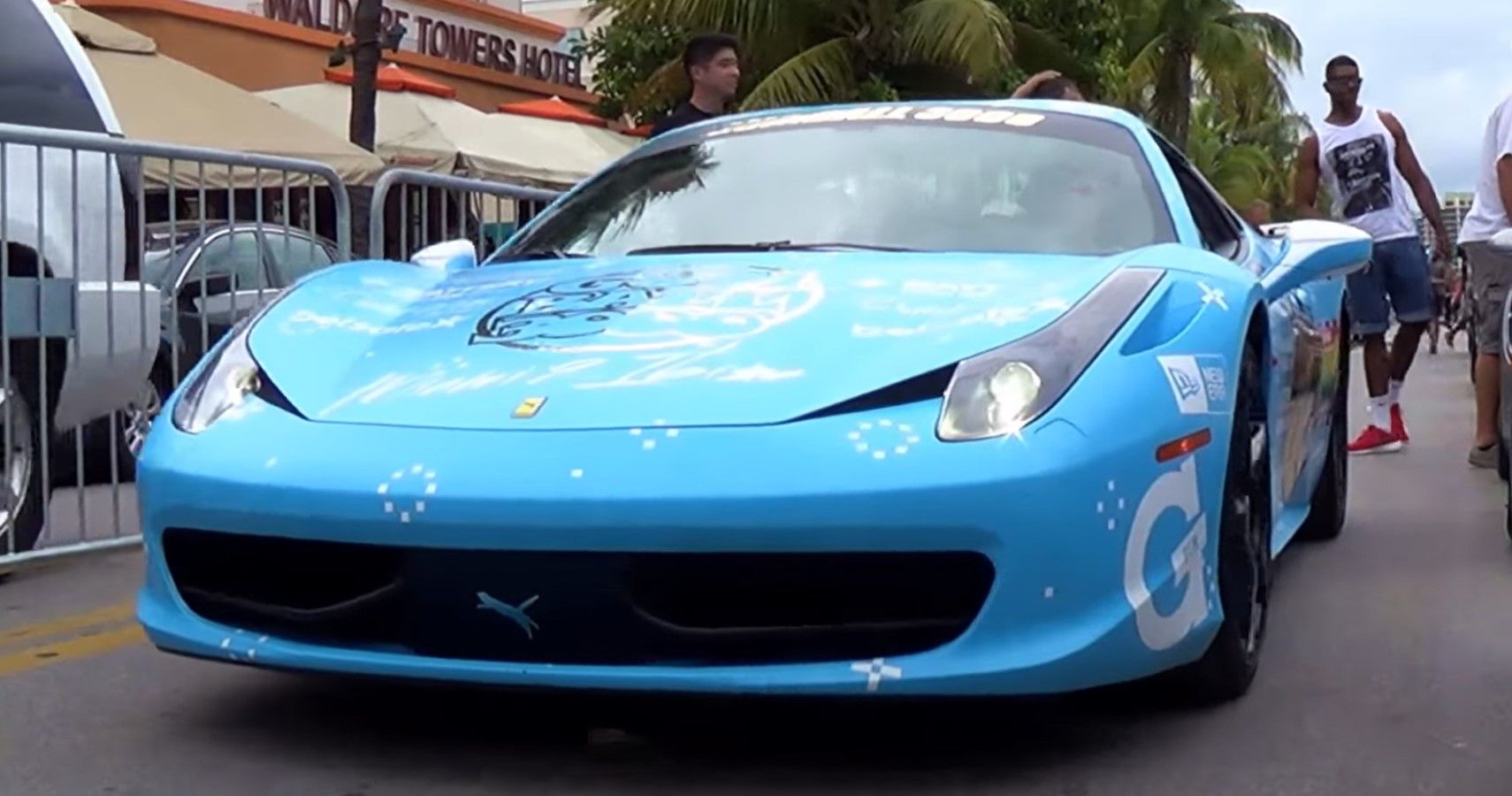 Deadmau5 might find it very tough to get on Ferrari's VIP list when it comes to the allocation of special-edition cars, but he is not exactly "banned" from buying series-production Ferraris. After the messy ordeal with the Italian exotic carmaker, it seems the artist has learned a lesson and moved on — from Ferrari.
For the record, the EDM artist didn't dull down from being creative with his other supercars. He was unapologetically creative (all wrapped by Sekanskin) with his Nyan-cat-themed Lamborghini Huracan (obviously named the Purracan), a McLaren 650S, McLaren P1, and McLaren Senna, among others.