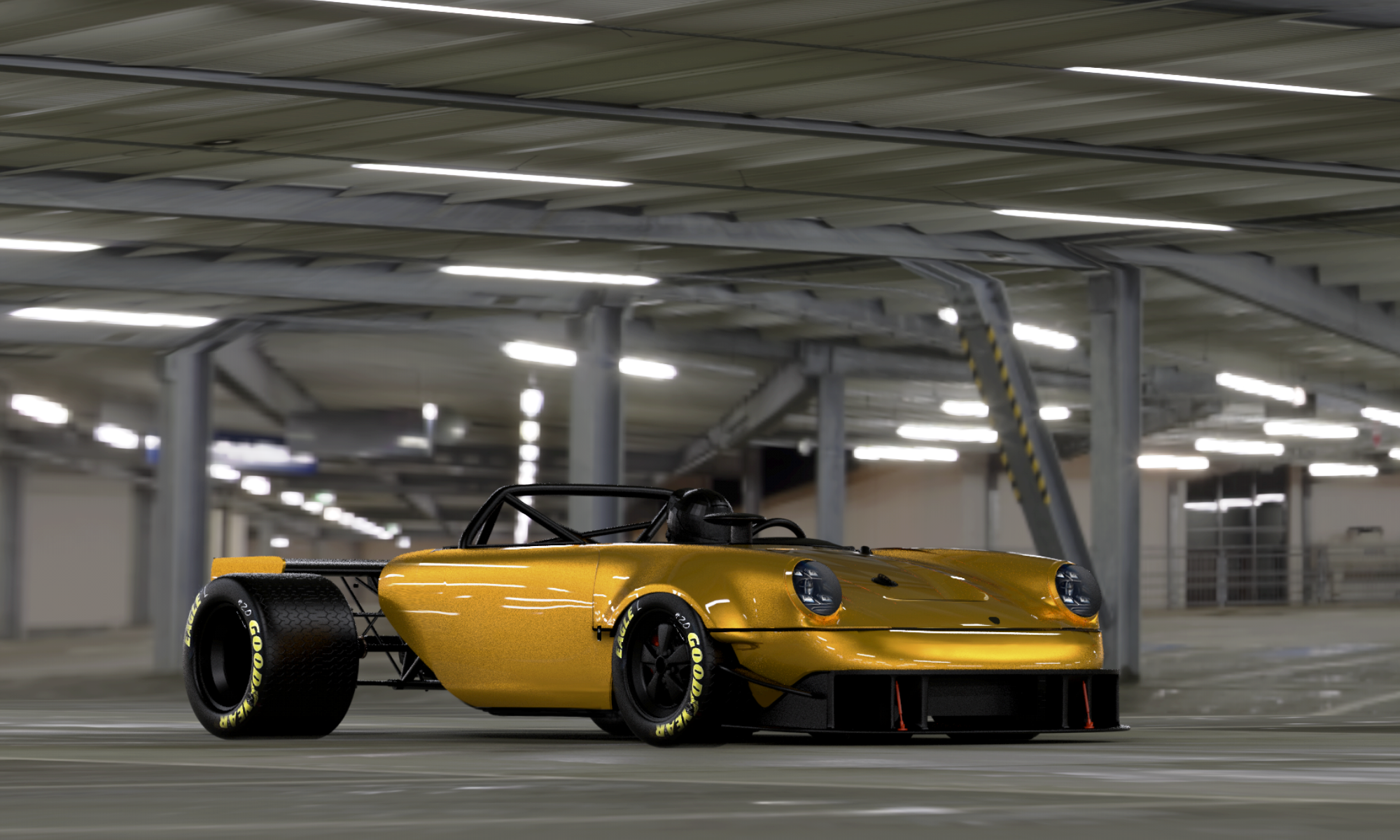 This Is What You Get When You Combine A 70s Formula One Car And A 911
If you have been active on automotive social media in the past decade it's likely that at some point you have come across concept renderings of wildly modified cars. These designs usually push the limit of what is physically possible with car modification, and that's the whole idea. The renders are created to imagine what car modification can achieve if anything was possible. However, some are more modest and have allowed real tuning geniuses to bring them to life. But out of sheer lunacy, some of the wilder creativity has escaped the screen and become a reality.
The best examples of this are The Mk2 Thunderbunny designed by Khyzyl Saleem (whose Instagram is the definition of carporn) and created for real by Jean Pierre Kraemer of JP Performance, and the Gullwing Speedster AMG, designed by Jon Sibal and built by Alan Iwamoto of S Klub LA. These two builds have shown that anything is possible with enough skill, imagination, and money. However, there is one design studio that is taking things a step further.
Oil Stain Lab Is Attempting To Change Coachbuilding By Building A Car Inserted Into The Pages Of History
Oil Stain Lab is run by two Canadian twins, Iliya and Nikita Bridan working out of Signal Hill, California. They are trying to transform coachbuilding for the modern age with an idea that grew from their love of 70s racecars. Inspired by cars such as the Ferrari 330P4, Porsche 917, and Jaguar XJ13 they wanted to pay tribute to the golden age of motor racing. After acquiring a Porsche 911 tub one day, they decided that they needed to create something extremely unique. But to Iliya and Nikita, simply building something no one had before was not enough. They wanted the build to be a new way of experiencing and unveiling an automotive project. To liven up the reveal of a car to the public in a way that makes them stop scrolling and say, "wait, what?". What they did was splice a bit of Hollywood storytelling into a blurred line of fiction and reality, and the beginnings of the car that has come to be known as the 'Half11' were forged.
Related: Ares Design Transforms This Porsche 911 964 Into A One-Off Heavily Modified Creation
It's quite often that internet projects are shrouded in mystery, this could be to keep various aspects secret, or to build suspense for the completed product. However, Oil Stain Lab has deliberately shrouded the Half11 project in mystery to create a digital adventure for anyone who comes across it. It started as all these projects do, with a render of a design from the depths of someone's mind. But this post wasn't of a car that had never been made, or was it? Oil Stain Lab decided they were going to insert their car into the pages of history before it ever got to the present. What has followed is one of the most creative project documentations for a car we have ever seen. When we first saw one of the later renders on Instagram (above) we couldn't quite understand what we were looking at. It was obviously a new take on an old design inspired by 70s racecars, but after digging further we discovered that it may never have existed. The car that can be seen racing at Monza in 1970 and the 1968 Targa Florio was 'lost' to the pages of motor racing history, to be forgotten and gain a mythical-like status. That was until it was found in a barn in 2018. The Porsche Type 455.5 had been found.
Why A 911?
If you had the choice of any car as a base for your project what would you choose? Iliya and Nikita decided on the Porsche 911, simply because it's the perfect sports car. A blend of sublime driver feel with everyday usability, but also because it's one of the most modified platforms and has been used for many different applications, so why not expand on that again? But the 911 lacks one thing, it's not as exotic looking as a Lamborghini or Ferrari. So they took it upon themselves to do just that.
The Half11 isn't simply a re-bodied 911 with a mid-mounted engine a Formula One rear end. It's a question to the past, what if the 911 was chosen to lead Porsche's racing efforts in the 60s? It's a modern version of a prototype that never existed, a homage to what could have been, and maybe what should have. So far the project is still in the development stage, but Oil Stain Lab is offering prospective buyers some very tantalizing options for engines. The chassis is designed for 700 HP and that can be provided by a range of six-cylinder air or water-cooled Porsche powerplants, or more excitingly Judd or Cosworth V8's. They are also offering Electric and Hydrogen powered options, but being as this is supposed to be a 'historic racing car', we feel these wouldn't suit the application. The bodywork is all aluminum with the first car being open-top, gradually the car will evolve into the coupe you see above. Interestingly, Oil Stain Lab intends to only create 25 Half11's to reflect how many were needed to have been built for homologation in 1968. Each car will be built to the exact specification of the customer and they estimate it to cost circa $600,000 for a conservatively optioned car.
Related: Ares Design Transforms This Porsche 911 964 Into A One-Off Heavily Modified Creation
This project has blurred the lines between what is fact and what is fiction in such a way that it's hard to know if what we see online is real or not. This is exactly what Iliya and Nikita want, for us to question the unknown. Thankfully in this instance, the Half11 is very much a car we hope to one day see in the flesh. What is most interesting, however, is the attention to detail that the Bridan twins and Oil Stain Lab have gone to to make this car more than just a project we can follow online. By using high-level production, genius creativity, and a playful execution, the Half11 has led many to believe it was actually a Porsche prototype racecar of the late 60s and early 70s. They are even providing 'racing history' with each one sold, making each car unique and more than just a limited-run supercar. We highly recommend keeping up with this project on Instagram, as it's a thrilling journey for any petrolhead.
This Mercedes 300SL Restomod Rendering May Just Happen
A modern interpretation of the classic Mercedes could become a reality.
Read Next
About The Author