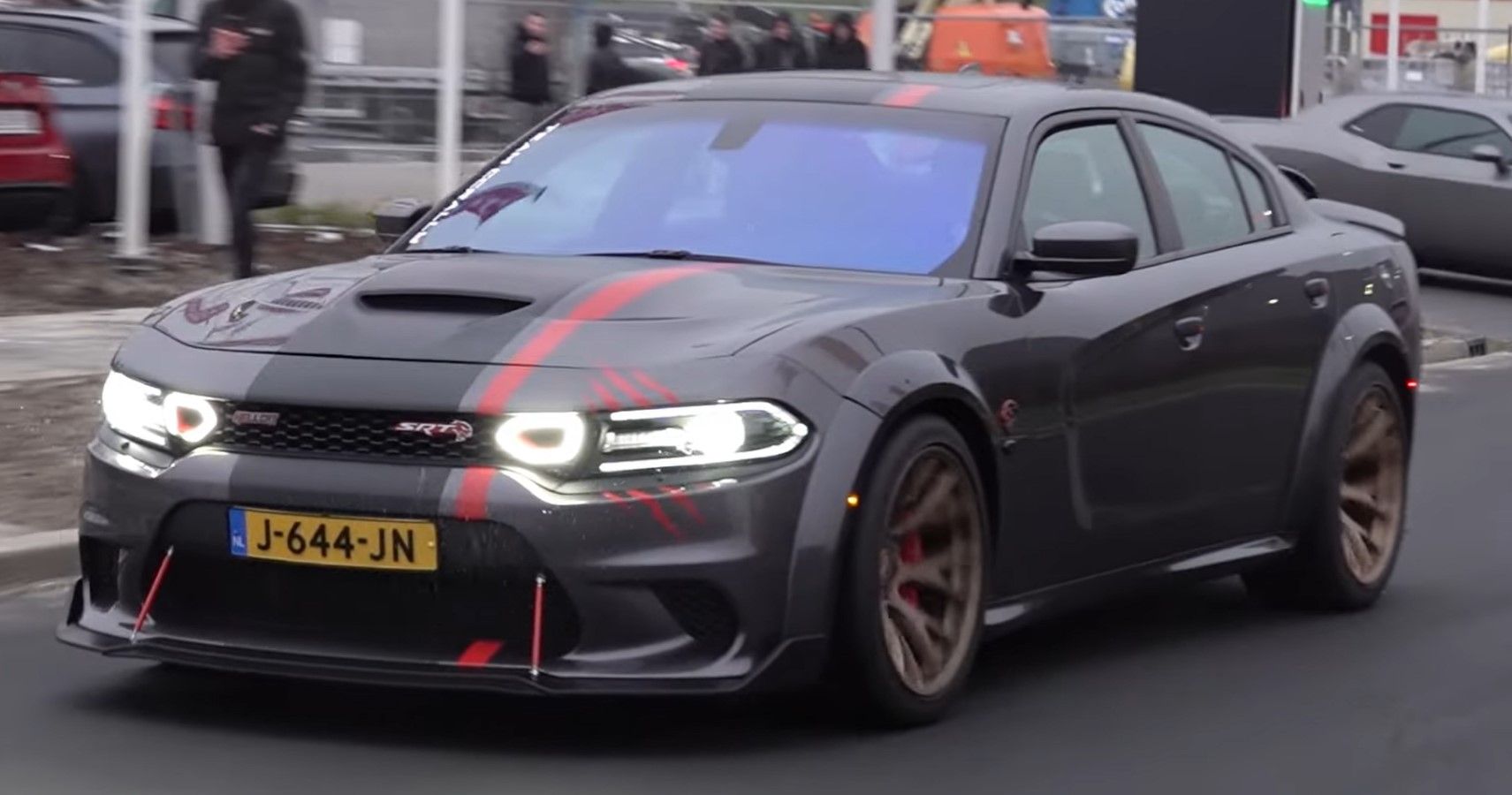 Watch A Modified Dodge Charger Hellcat Bring The Muscle Car Fever To Europe
Two Dodge cars show America's muscle love on European streets. But the modified Hellcat Charger with a custom exhaust is what gets all the attention.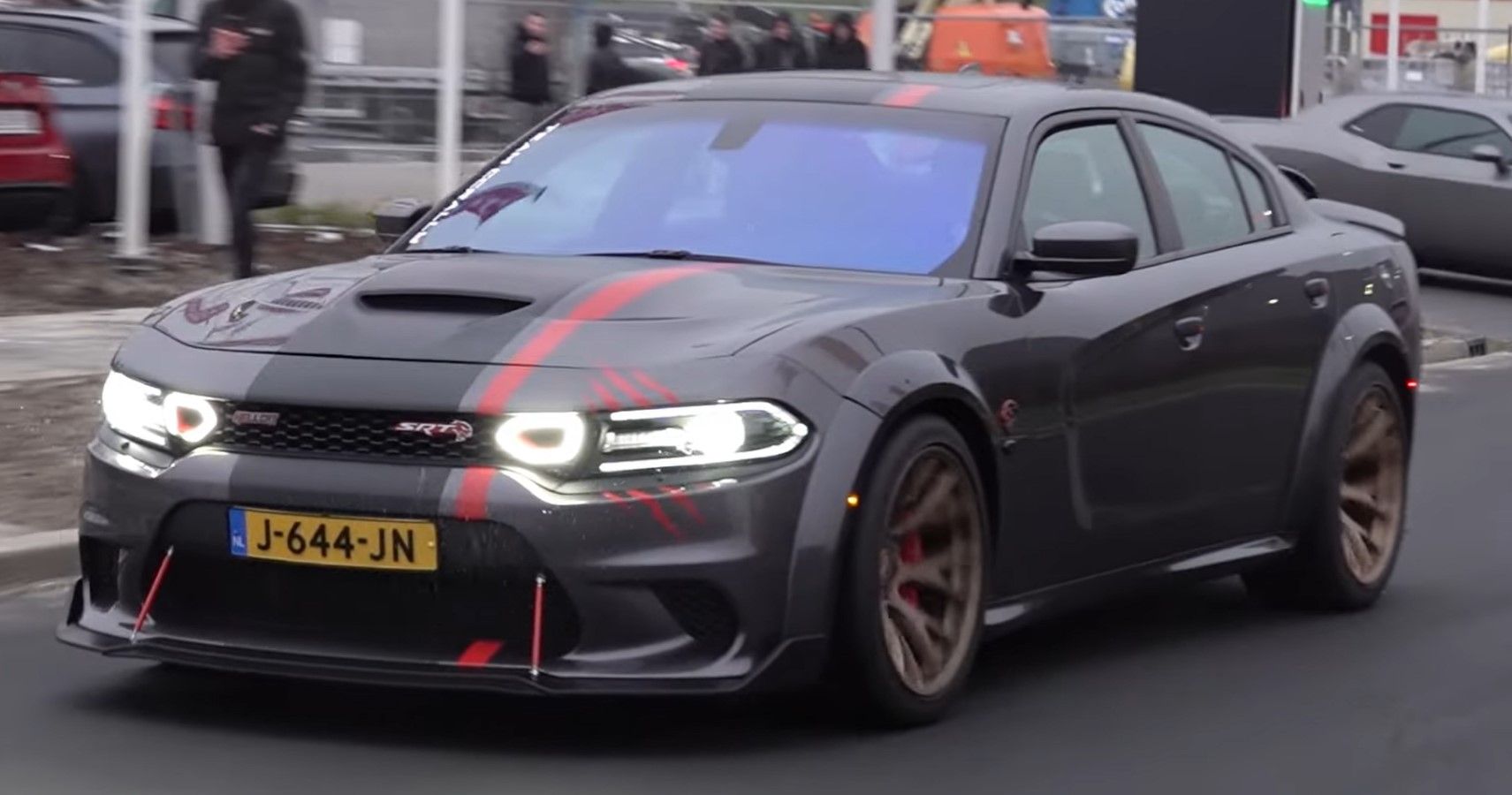 Dodge is pulling the plug on its muscle cars after 2023. The 'Last Call' Chargers and Challengers are the last new pure muscle cars from the house of Stellantis, along with the 2023 Chrysler 300C. And so, seeing a modified Hellcat Charger in times like these make us excited.
This custom Dodge Charger Hellcat Widebody is special because it was spotted in Europe. It gets a lot of attention with a distinctive exhaust note, thanks to a custom exhaust system and a custom aerodynamic body kit, and cool Brass Monkey Wheels.
This Dodge was seen with a pack of European sports cars. And among Porsches, Audis, and even tricked-out Volkswagens making noise, it is the modified Charger Hellcat that turns heads. And it is due to the fact that a 797HP Charger Hellcat with a supercharged HEMI V8 is a rare car in Europe. And a modified one, rarer!
Related: This Tastefully Modified 1971 Dodge Challenger By Restomods Has Us Green With Envy
Rare Modified Hellcat Charger Sighting In Europe
Modified muscle car sightings in America are no big deal. It is only when a 1000-HP Hellcat build comes along that we lose our minds. But that's not the case in Europe, where muscle cars are generally rare. And that's why a modified American muscle like this Dodge Charger Hellcat Widebody is a unicorn across the pond. YouTube Channel Gumbal shows us two iconic Dodge cars flaunting American muscle among Europe's home-grown sports cars from Porsche and Audi.
Yes, we say "Dodge cars" because the modified Hellcat Charger is followed by an early third-gen Dodge Challenger SRT8, which is surprisingly stock. We get to see two extreme ends of the muscle car spectrum. The stock Challenger SRT8 is a time capsule, whereas the Charger Hellcat teaches us the art of muscle car modification.
This Modified Hellcat Has A Cool Body Kit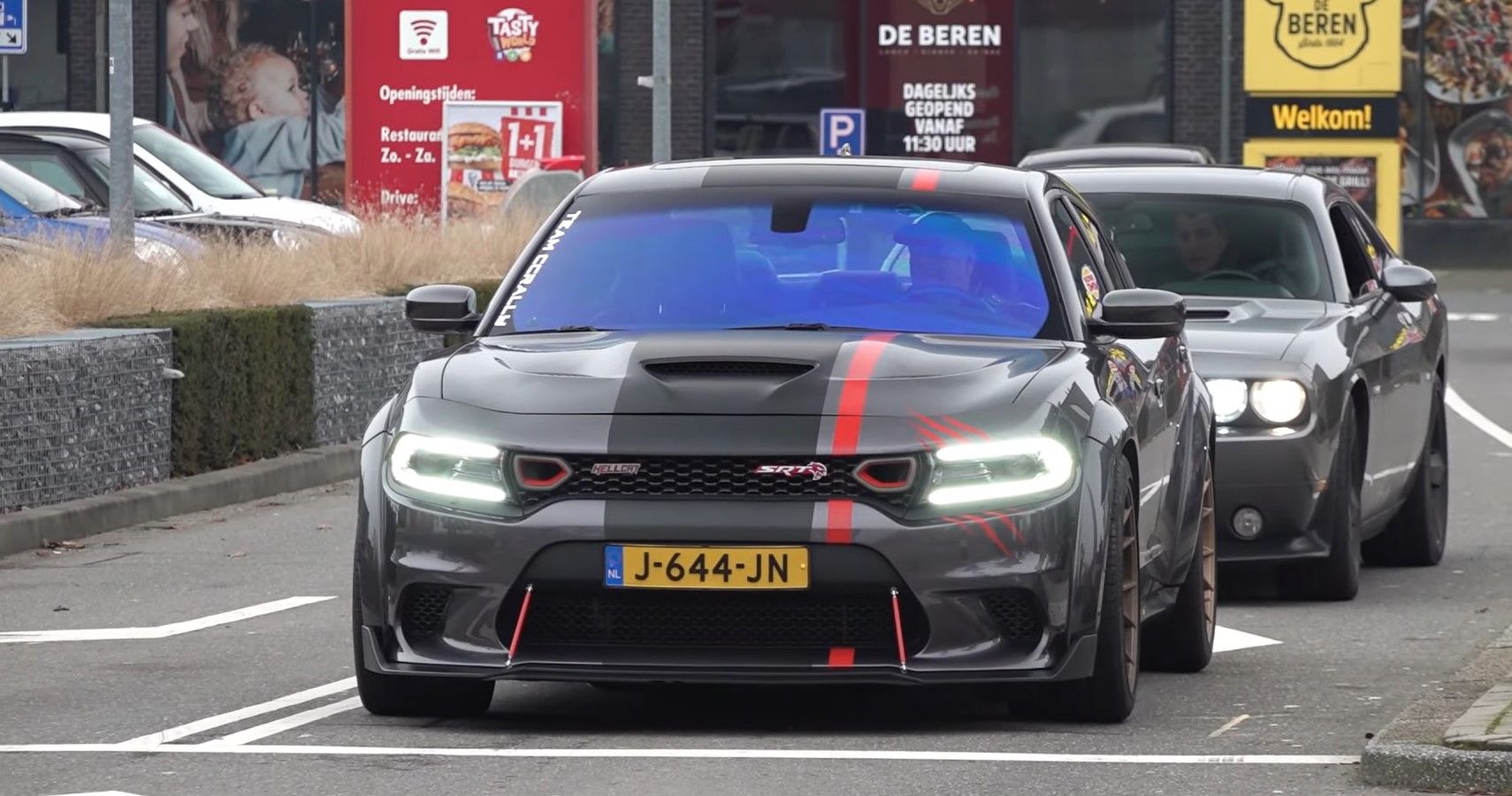 A stock Dodge Charger SRT Hellcat Widebody is actually quite wide from the factory. But this particular custom Charger has been given a tasteful aerodynamic upgrade! It gets a slew of custom parts from the house of Vicrez. The front fascia gets more aggressive with a custom front bumper. It is garlanded with a cool custom splitter that protrudes notably to the front. It is held sturdily in place using two custom splitter rods finished in red.
The front grille is also custom, with two cool air inlets at either end and two sinister badges of "Hellcat" and "SRT" near each of the vents. The stock hood is retained and hides the beastly supercharged HEMI V8 that has a hellish whine! This custom Hellcat Charger also gets a cool set of Brass Monkey wheels.
Interestingly, the Brass Monkey design seen here is from the Dodge Challenger option list. Nonetheless, it looks sick, especially with the red Brembo calipers behind. And the brass shade is a beautiful contrast to the gray-and-red exterior makeover. The Hellcat badge on the front fender also gets a red halo treatment.
The rear fascia also gets an aggressive makeover with a custom bumper and a chunky diffuser attached to it. It also flaunts a custom rear splitter. The gray paint job gets a spicy addition with a thin red body strip that runs alongside the chunky stock black vinyl strip. At the rear, the "Dodge", "SRT", and the "supercharged" badges get a sinister red makeover.
Related: These Modified Dodge Chargers Are More Powerful Than Most European Sports Cars
This Charger Hellcat Gets A Custom Exhaust System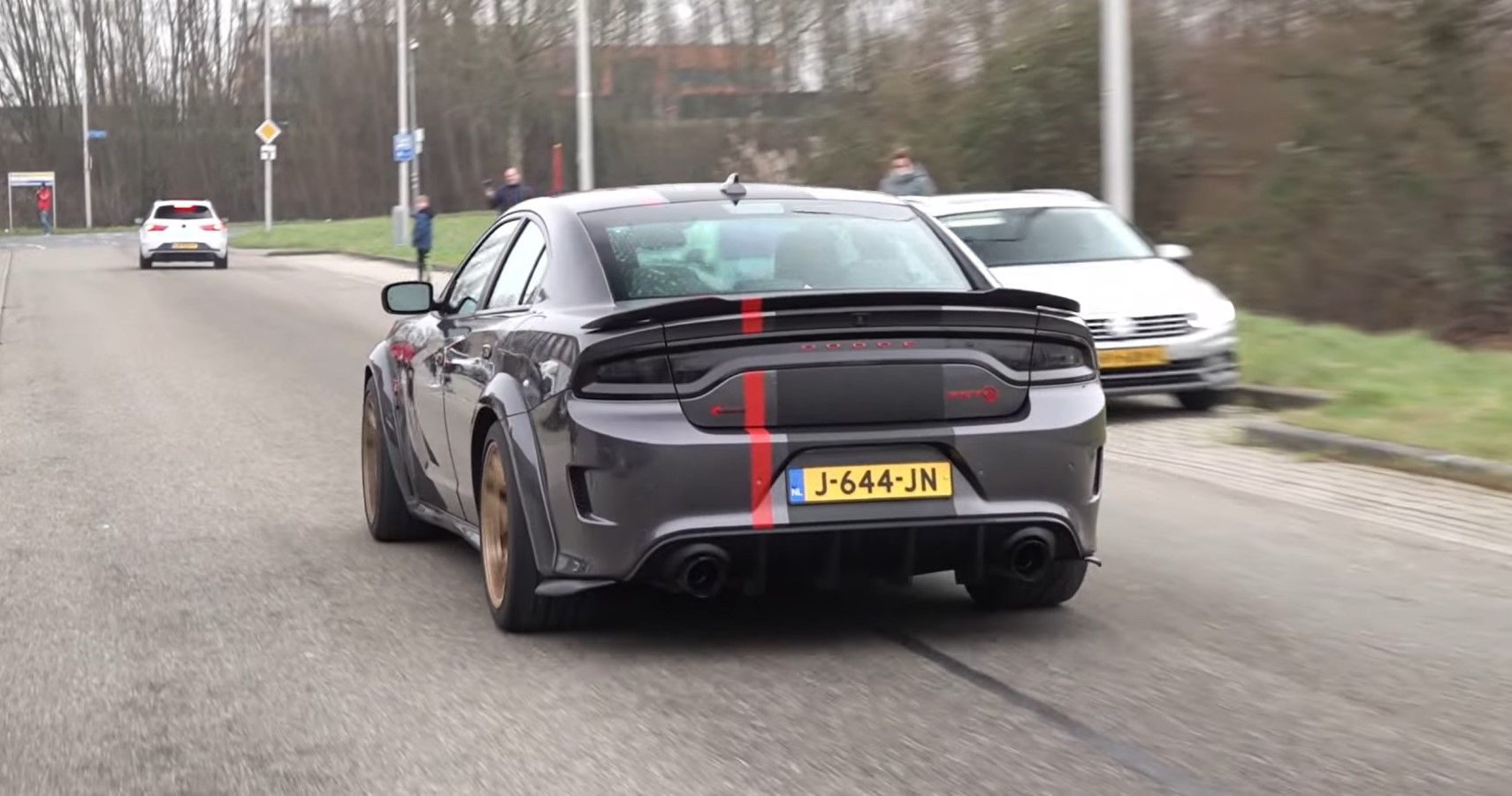 The major reason that got us hooked to this custom dodge hellcat video is its exhaust note. This Charger SRT Hellcat Widebody gets a custom Cat-Back exhaust system by Vicrez. The combination of stainless steel build and a less restrictive flow gives this Hellcat Charger a truly Hellish exhaust note. And that is exactly what makes this mad American muscle a head-turner.
Vicrez makes this full-system exhaust specifically for the Charger HEMI V8 engine. And the best part is that it's a plug-and-play fitment with no cutting or welding required. While performance gain figures are not stated by Vicrez, we do know that a stainless steel Cat-Back exhaust system is lighter than a stock setup.
Muscle Cars Are Dying But Not The Love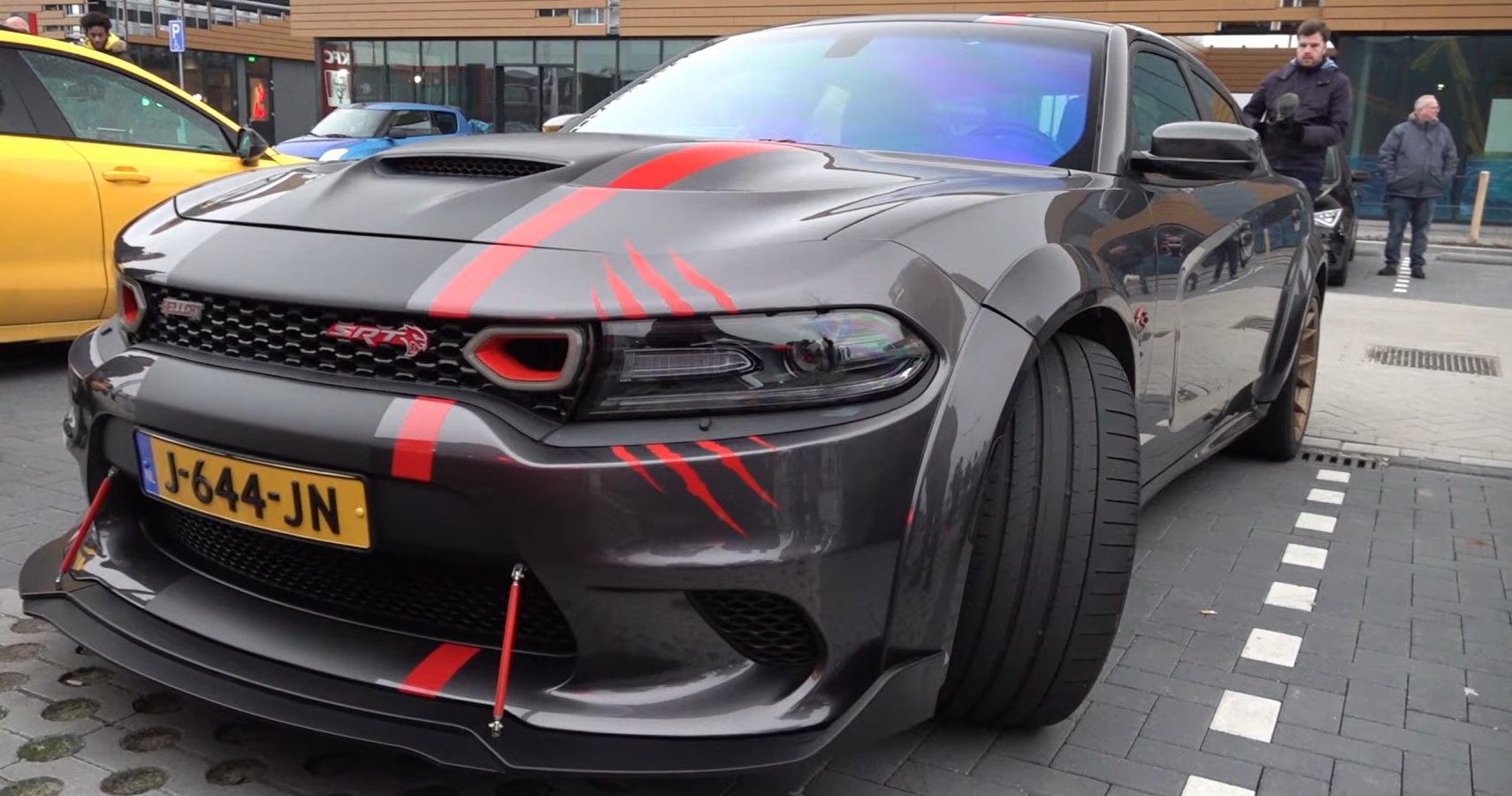 The end of pure muscle cars is inevitable. Apart from Dodge, Chevrolet is also pulling the plug on the iconic Camaro. Ford is the only automaker that is holding onto things with another pure generation of the pony car, thanks to the all-new Mustang. In times like these, seeing a true-blue modified muscle car warms our hearts.
The list of mods in this particular Dodge Charger Hellcat is plenty and delightful. The visual and performance mods come together to form a sick custom showcase of American muscle. And to see it across the pond, among European sports cars, makes it way cooler.
Source: Gumbal Via YouTube