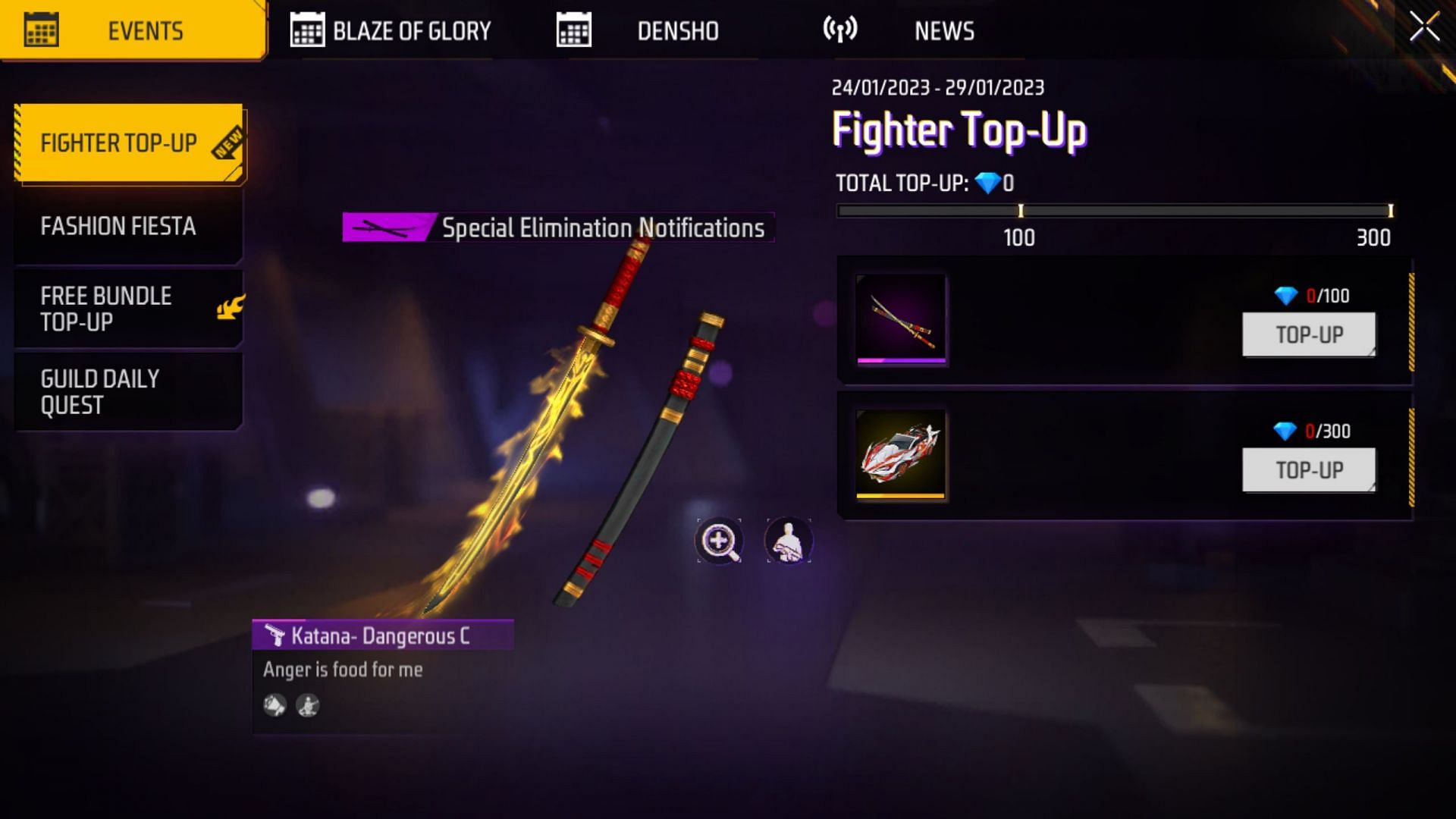 How to get free Dangerous Curse Katana and Kitsune Kami Sports Car
Free Fire has a plethora of cosmetics, with new items being added every day. These cosmetic items can be obtained through various means, such as participating in top-up events, Luck Royales, and more.
Top-up events offer excellent value for players as they can purchase in-game currency to qualify for complimentary cosmetic item rewards.
The new Fighter Top-Up event is now accessible on the Indian server of the battle royale title. The event features a Dangerous Curse Katana and Kitsune Kami Sports Car skin as the rewards. This article will offer a complete overview of the ongoing Free Fire MAX top-up event.
---
New Free Fire MAX Fighter Top-Up event for January
Free Fire MAX top-up events are popular among players as they allow them to acquire cosmetic items without using diamonds, and they also use the purchased in-game currency to get even more cosmetics.
The newest Fighter Top-Up event started on 24 January 2023, and players can benefit from it until 29 January 2023. The requirements for the ongoing event are outlined below:
Purchase 100 diamonds to get a free Katana – Dangerous Curse
Purchase 300 diamonds to get a free Sports Car – Kitsune Kami
The ongoing Free Fire MAX top-up event has two requirements, and any purchase of diamonds will count as progress toward both goals. Players only need to acquire a total of 300 diamonds to receive both free rewards.
---
Steps to acquire free Katana and Sportscar skin
You can follow the steps outlined below to purchase diamonds in your Free Fire MAX account and collect rewards from the new event:
Step 1: Access the official Free Fire MAX top-up section.
The diamond packs and their corresponding prices on the Indian server are as follows:
100 diamonds for ₹80
310 diamonds for ₹240
520 diamonds for ₹400
1060 diamonds for ₹800
2180 diamonds for ₹1600
5600 diamonds for ₹4000
Step 2: Click on the button below your preferred diamond pack and complete the payment.
Once the diamonds are added to your account, you will be eligible to claim the rewards from the new top-up event. The event only requires the purchase of 300 diamonds, so the pack that costs ₹240 is the best option.
Step 3: Access the events area and select the Fighter Top-Up.
Step 4: Click the claim button beside the available rewards to receive the items for free.
All the items available in the top-up event are free since you are not required to spend the premium in-game currency. You only need to purchase diamonds while the event is underway.
The event provides more value for in-game top-ups. However, since events are a regular component of the game, you can always wait for the next one before you make a purchase.
Check out the latest Free Fire MAX redeem codes here.
Edited by Siddharth Satish